! DOCTYPE html PUBLIC "-//W3C//DTD XHTML 1.0 Transitional//EN" "http://www.w3.org/TR/xhtml1/DTD/xhtml1-transitional.dtd"> <! html xmlns=" http:// www.w3.org/ 1999/ xhtml">
Commercial Radon Mitigation
Vapor Intrusion Mitigation (VIM)
WPB Enterprise has installed residential and commercial sub-slab depressurization systems for VOC , Methane, CO2, & Radon in Residential Homes, Commercial Sites and Military bases
Commercial Radon Mitigation
Vapor Intrusion Mitigation (VIM)
WPB Enterprise has installed residential and commercial sub-slab depressurization systems for VOC , Methane, CO2, & Radon in Residential Homes, Commercial Sites and Military bases
The radon mitigation design for St. Lukes Hospital included increased outdoor air and a sub-slab depressurization system
Radon and Vapor Intrusion Mitigation (VIM) design almost always requires careful sub-slab communication test measurements

We have designed specific equipment to provide sub-slab data.

This published paper discusses sub-slab
| | |
| --- | --- |
| A critical component to system design is measuring the differential pressures under the slab and the inside to outside pressure difference. | |
Sometimes it is important to determine the building leakage and the amount of outdoor air needed to pressurize the building.

In this case we needed a triple blower door to induce enough pressure change.

Published paper has additional information about
Blower Door Testing
| | |
| --- | --- |
| If the building has crawl spaces it may be necessary to measure the air quality first before entering. | |
| | |
| --- | --- |
| We have a large blower available to ensure safe working conditions in areas with limited ventilation | |
| | |
| --- | --- |
| This PVC pipe with the fan mounted on the roof is depressurizing 60,000 square feet of this 1/2 million square foot warehouse. | |
| | |
| --- | --- |
| Commercial buildings typically have steel re-enforced concrete that requires diamond core drills | |
A strip mall was built over an abandon land fill.

This explosion proof fan was used with the sub-slab depressurization system to eliminate Methane inside the building

The technician is measuring the Methane in the exhaust

Published paper about VOC mitigation
| | |
| --- | --- |
| The depressurization fan should be installed outside the conditioned space of the building and twenty feet away from any building inlet vents. | |
| | |
| --- | --- |
| This residential building was over a mine shaft and had excessive airflow from the soil requiring two fans to depressurize the sub-slab | |
| | |
| --- | --- |
| This sub-slab depressurization system was installed on military base housing in Okinawa Japan. | |
In this case the piping was routed up the outside but the fan was located on the roof.

Published paper about School Mitigation
A magnehelic gauge to indicate system operation can be located near the piping or in a remote location.

Labels indicate who to call for service
This was a large factory in Michigan with VOC's that we designed a sub-slab depressurization system for.

Example of WPB

VIM - VOC
Mitigation Design
| | |
| --- | --- |
| Double SOEs | |
| | |
| --- | --- |
| Fan Measurement | |
The radon mitigation design for St. Lukes Hospital included increased outdoor air and a sub-slab depressurization system
Radon and Vapor Intrusion Mitigation (VIM) design almost always requires careful sub-slab communication test measurements
We have designed specific equipment to provide sub-slab data.
This published paper discusses sub-slab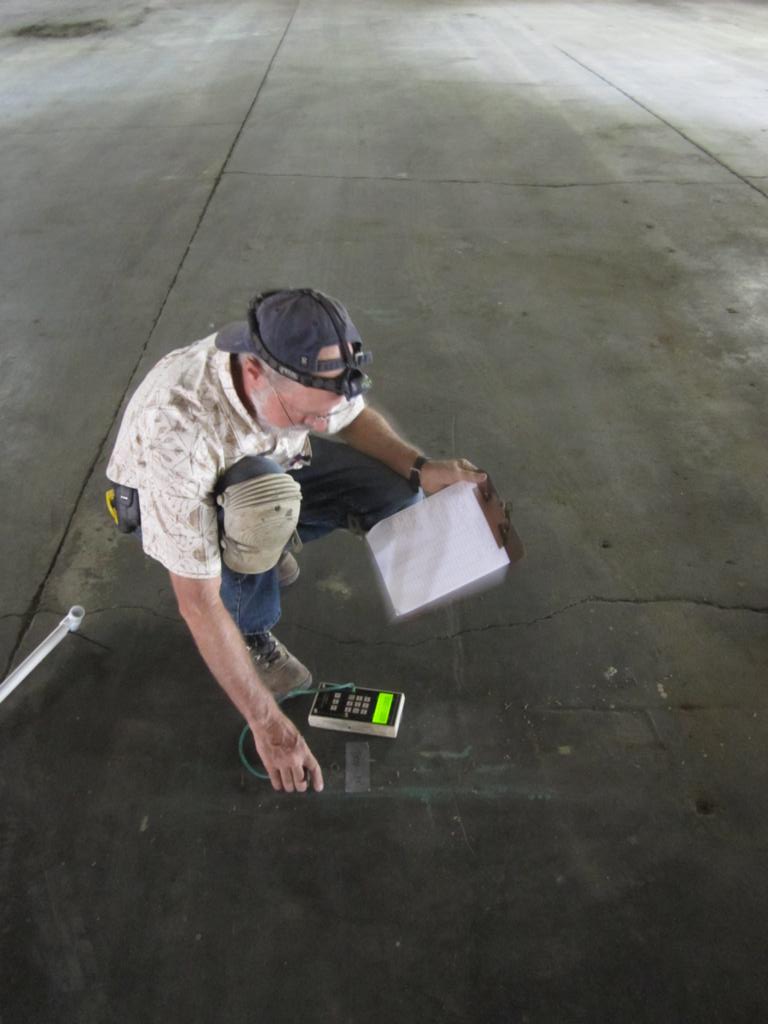 A critical component to system design is measuring the differential pressures under the slab and the inside to outside pressure difference.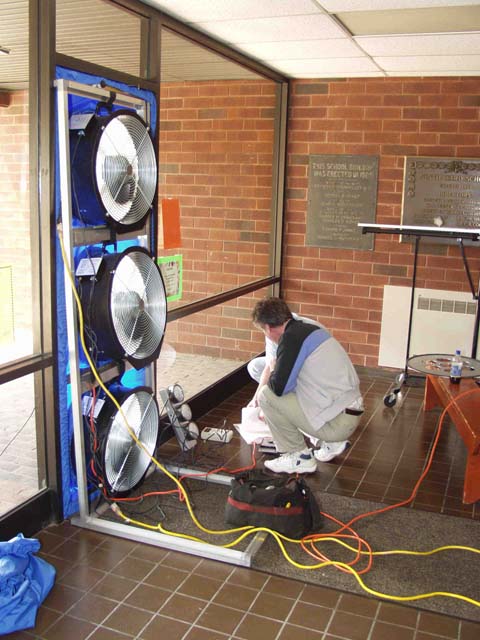 Sometimes it is important to determine the building leakage and the amount of outdoor air needed to pressurize the building.
In this case we needed a triple blower door to induce enough pressure change.
Published paper has additional information about
Blower Door Testing
If the building has crawl spaces it may be necessary to measure the air quality first before entering.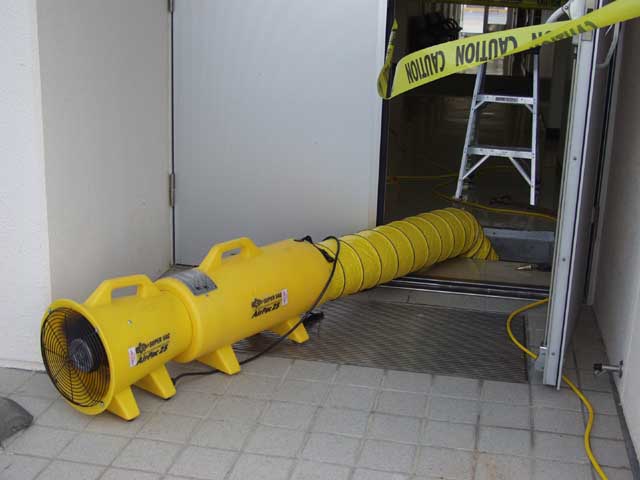 We have a large blower available to ensure safe working conditions in areas with limited ventilation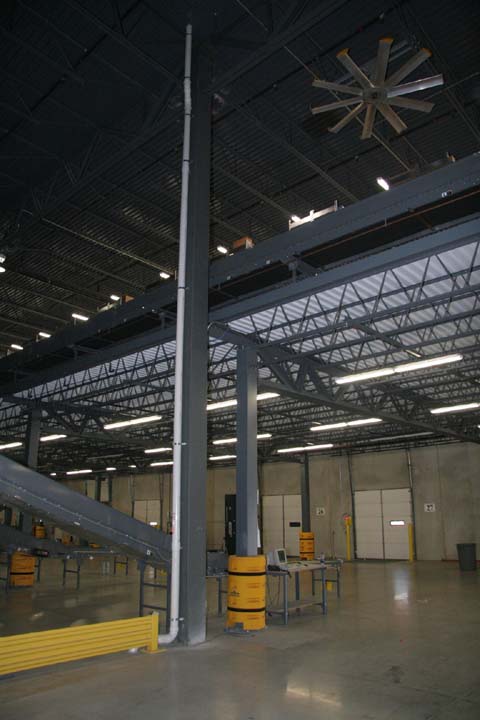 This PVC pipe with the fan mounted on the roof is depressurizing 60,000 square feet of this 1/2 million square foot warehouse.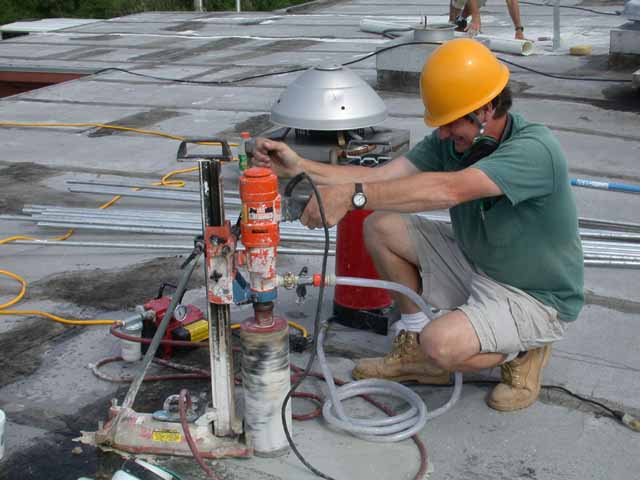 Commercial buildings typically have steel re-enforced concrete that requires diamond core drills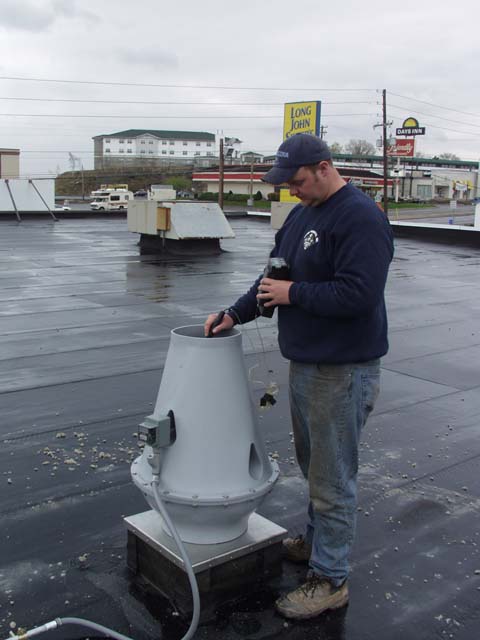 A strip mall was built over an abandon land fill.
This explosion proof fan was used with the sub-slab depressurization system to eliminate Methane inside the building
The technician is measuring the Methane in the exhaust
Published paper about VOC mitigation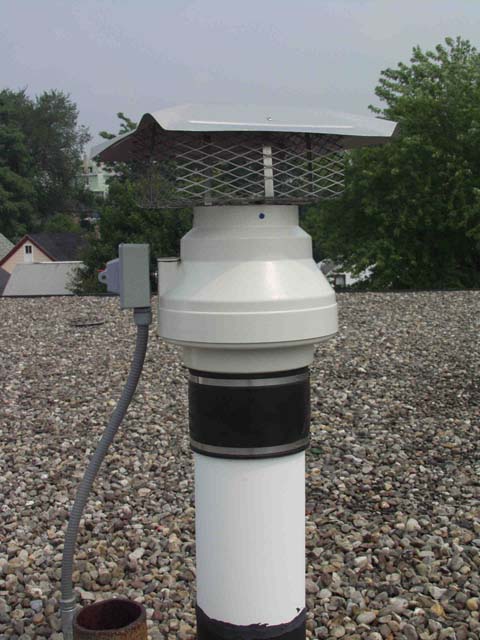 The depressurization fan should be installed outside the conditioned space of the building and twenty feet away from any building inlet vents.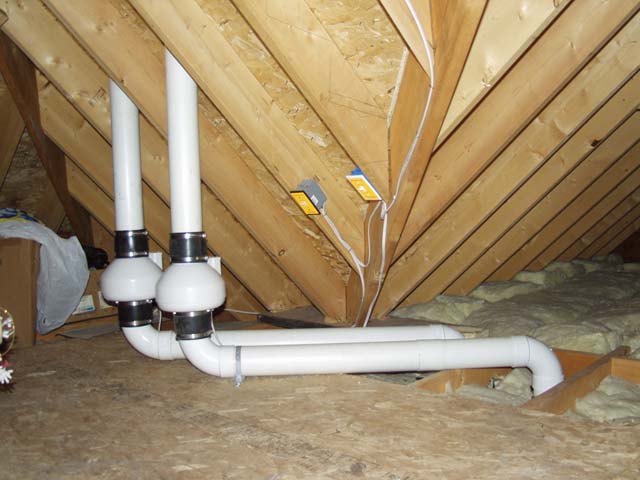 This residential building was over a mine shaft and had excessive airflow from the soil requiring two fans to depressurize the sub-slab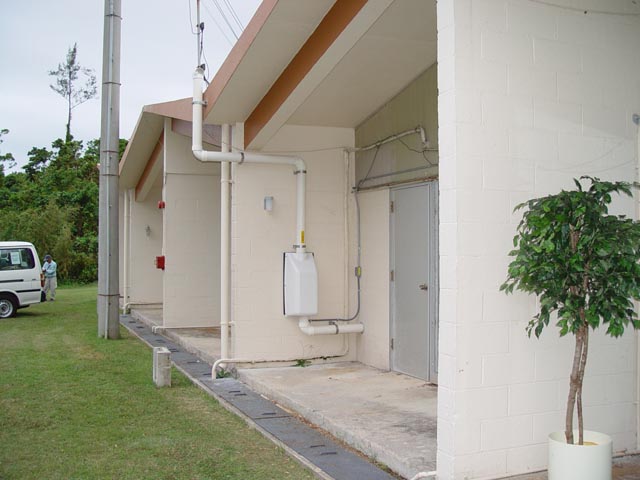 This sub-slab depressurization system was installed on military base housing in Okinawa Japan.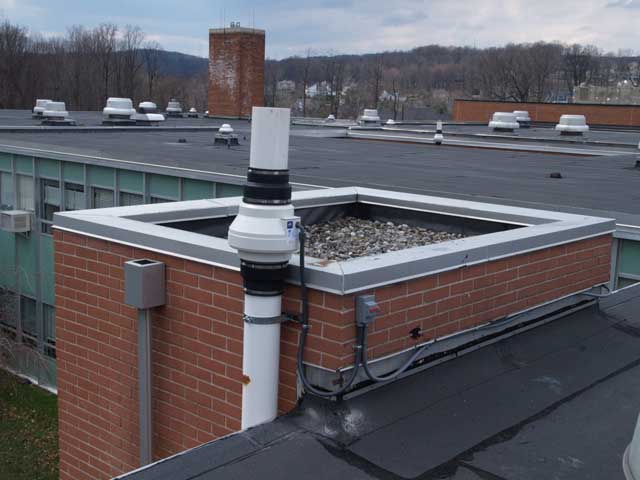 In this case the piping was routed up the outside but the fan was located on the roof.
Published paper about School Mitigation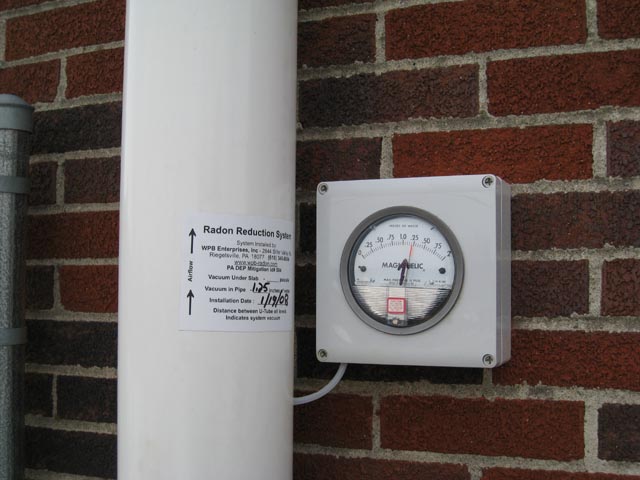 A magnehelic gauge to indicate system operation can be located near the piping or in a remote location.
Labels indicate who to call for service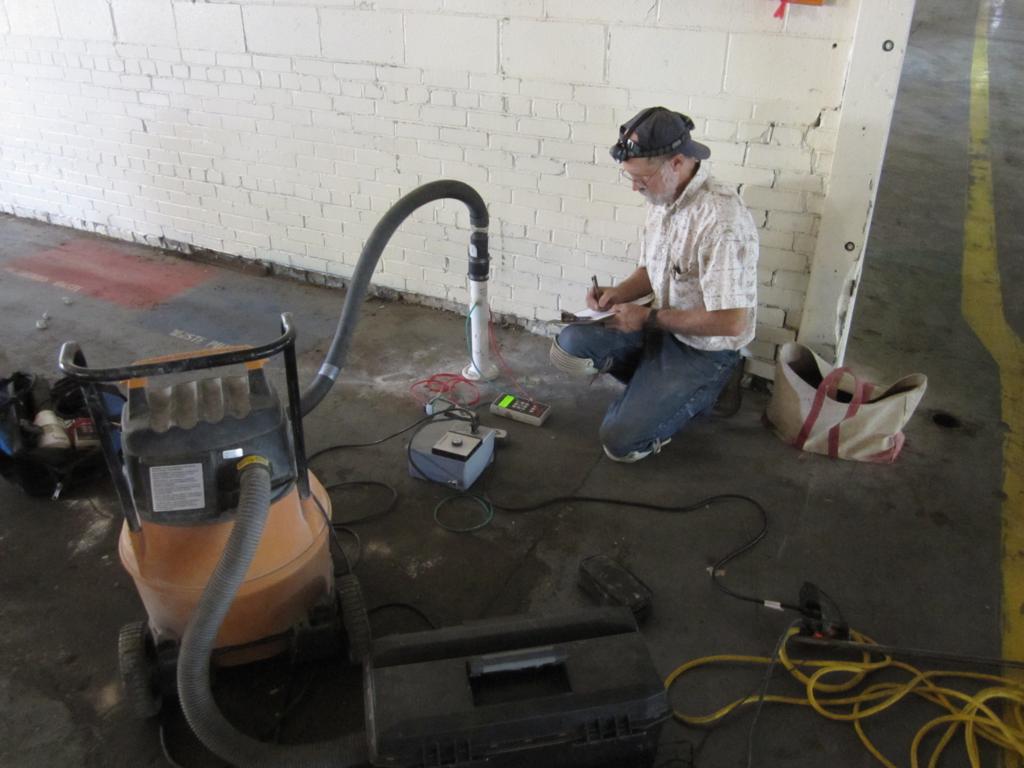 This was a large factory in Michigan with VOC's that we designed a sub-slab depressurization system for.
Example of WPB

VIM - VOC
Mitigation Design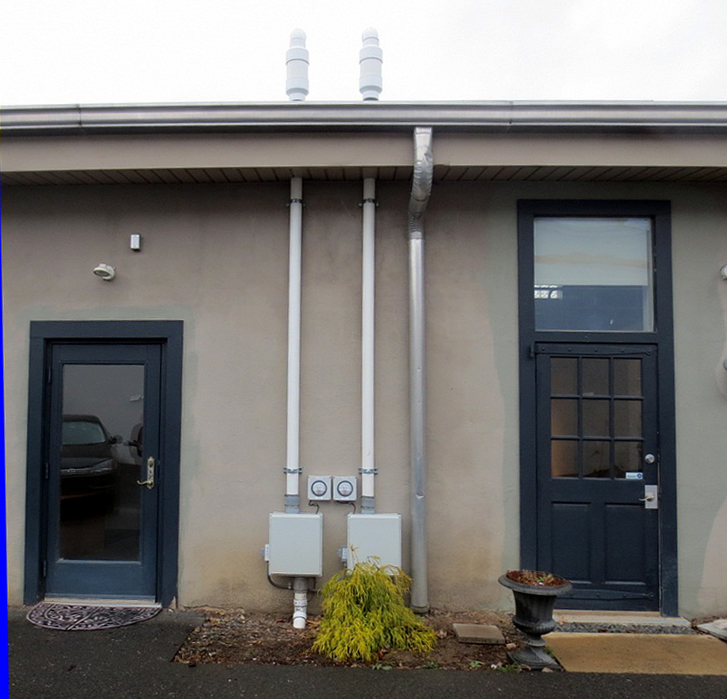 Double SOEs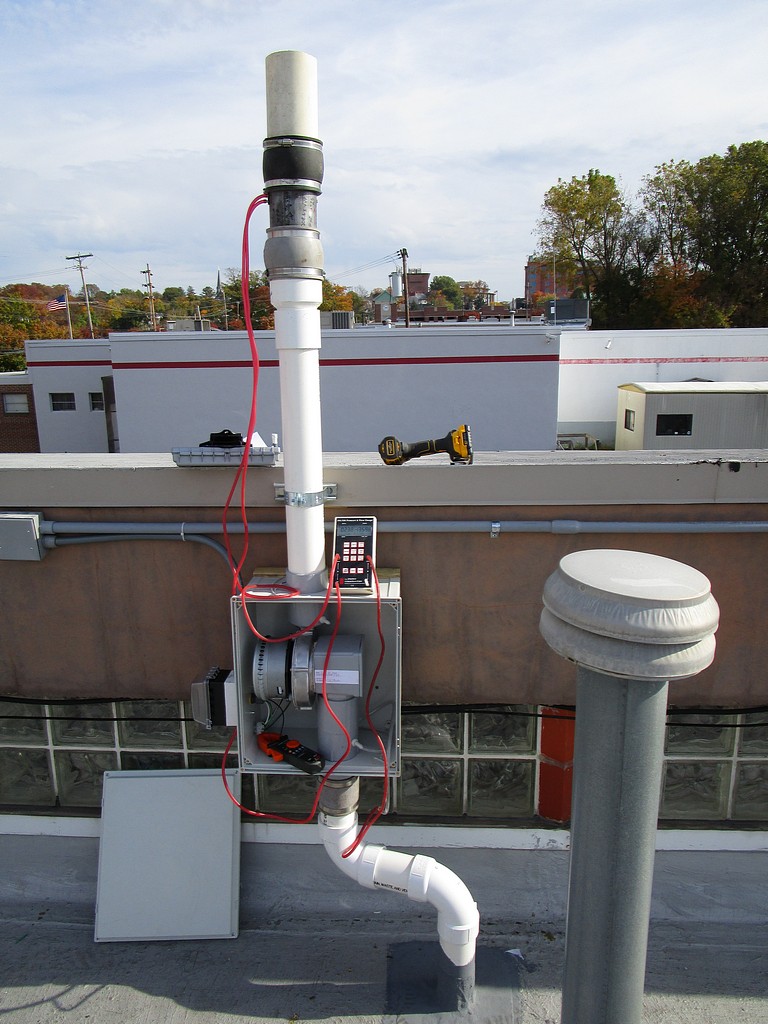 Fan Measurement