I try and get away for a week or two, twice a year. It makes you appreciate not only the beautiful places around the world but our beautiful Eastern Pennsylvania. Below our some of my favorite photos as I try to capture that beauty.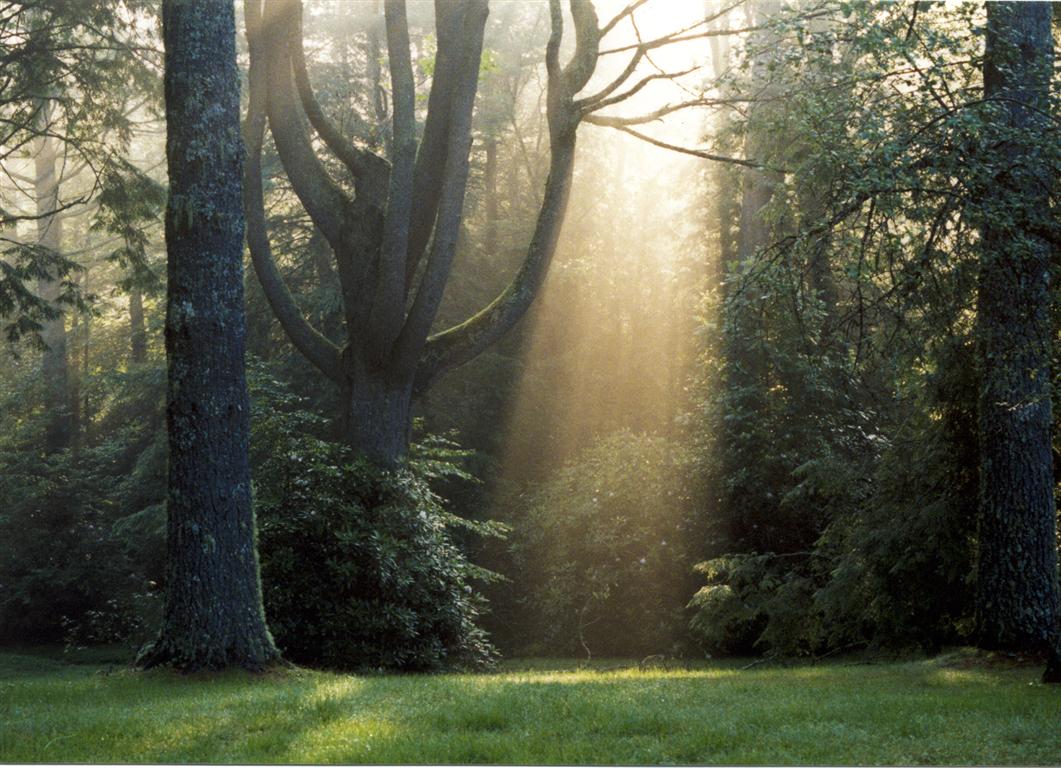 Every year we visit Highlands, North Carolina. One morning the sun was streaming in through the trees and I captured this photo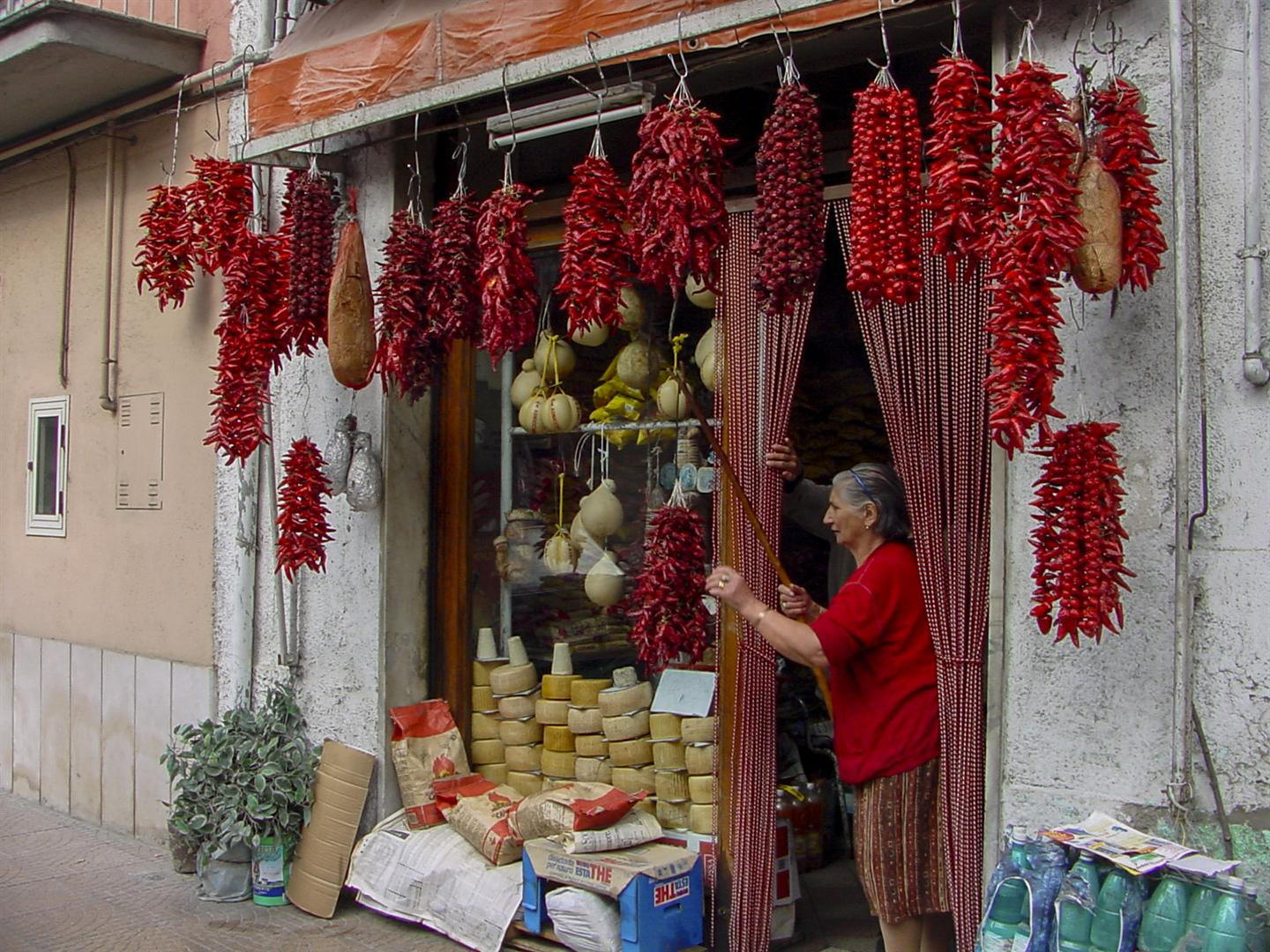 My wife's grandparents came from the small village of Grottaminarda in Italy. We bought some cheese and dried peppers from this local shop.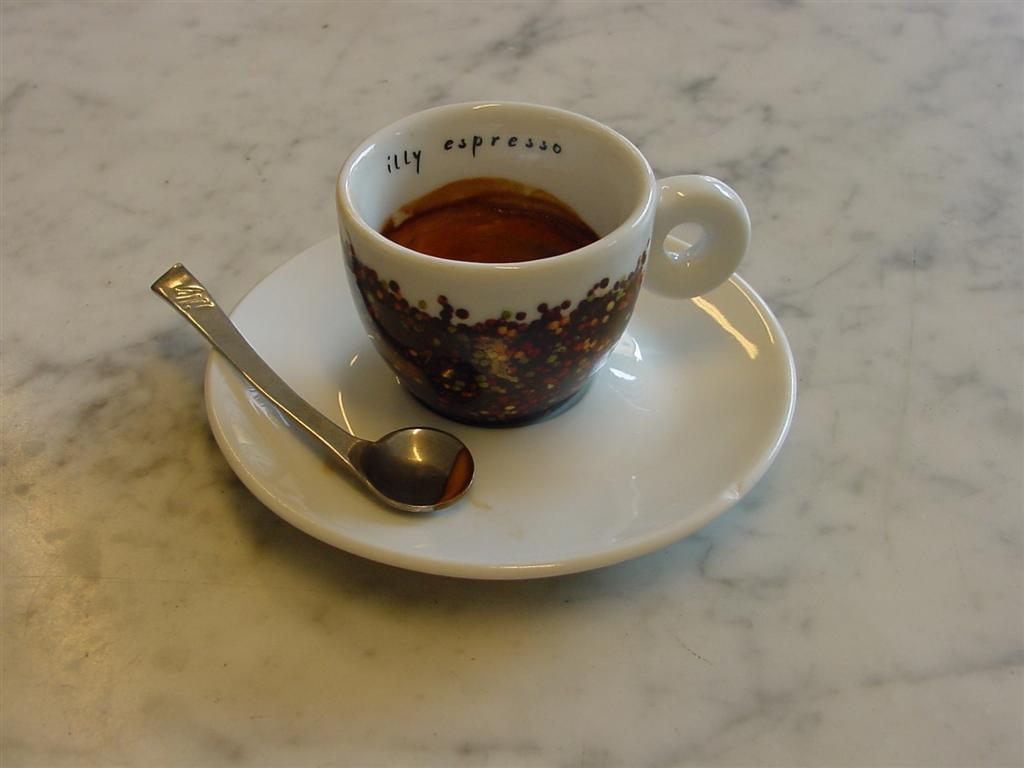 As we were driving south of Florence we stopped at a small cafe to get an afternoon espresso.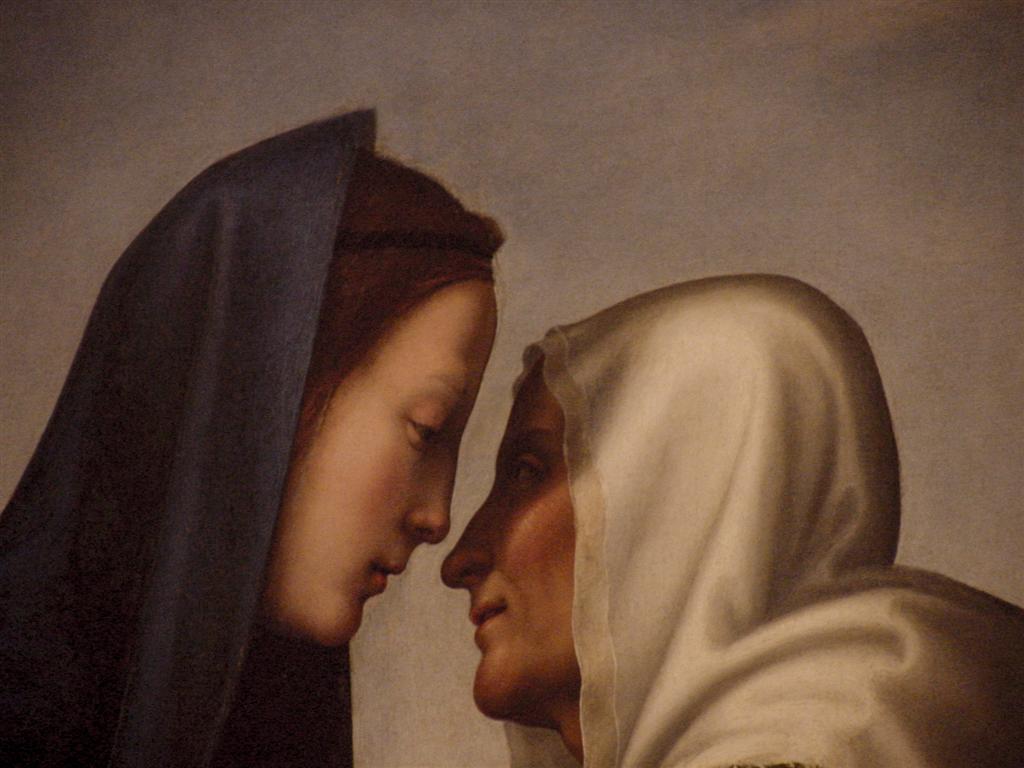 One of the oldest museums in the world is in Florence. This work, called "The Visitation" was one of the pieces on display.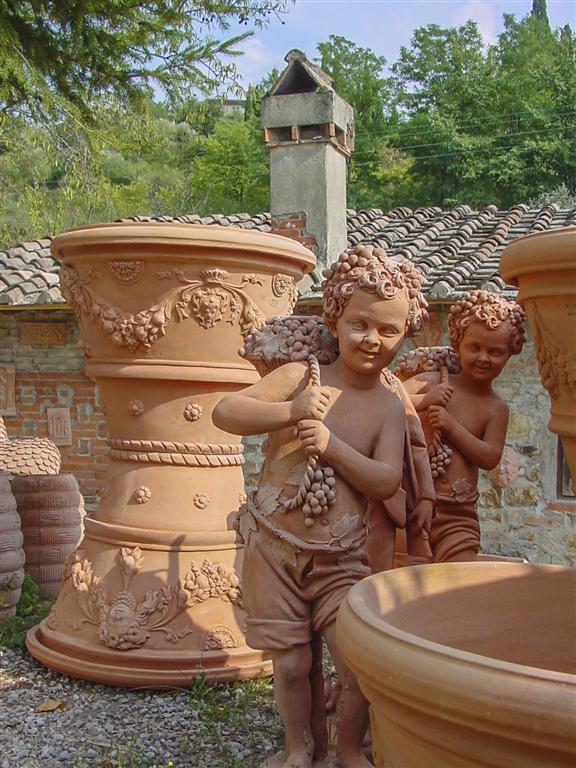 Impruneta Italy is renown for their highly detailed handmade pottery. Italy is so photogenic.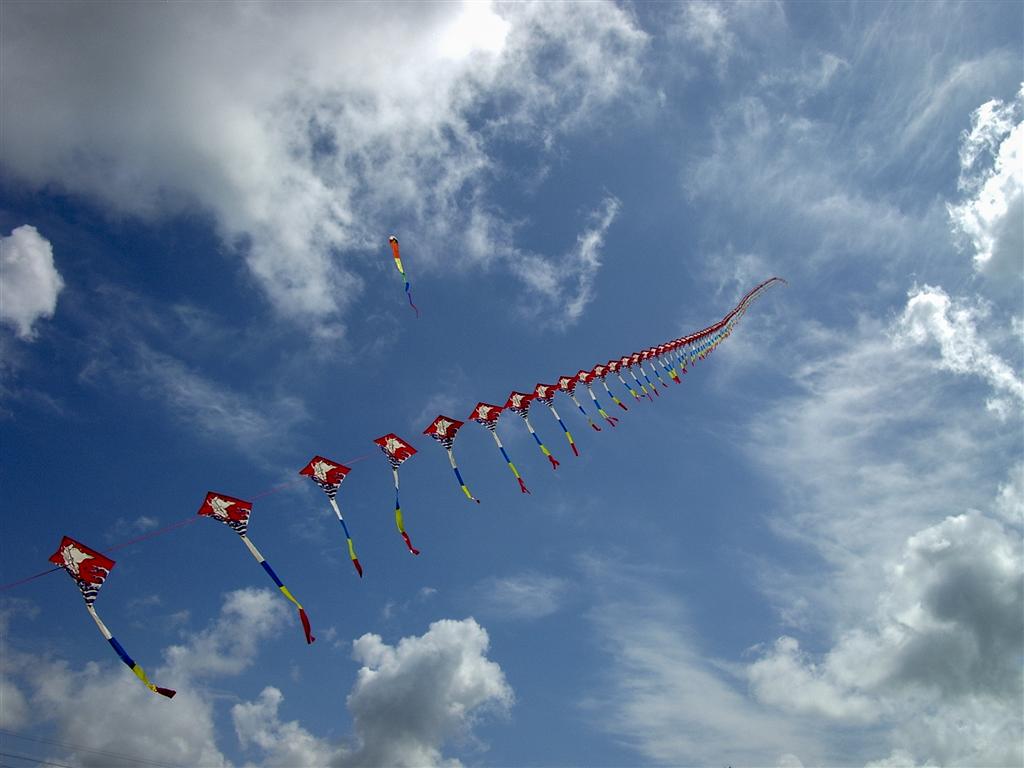 There was a kite flying contest at a Beach Park in Guam that commemorates the recapturing of Guam from the Japanese in 1944. I love the way these kites disappear into the sky.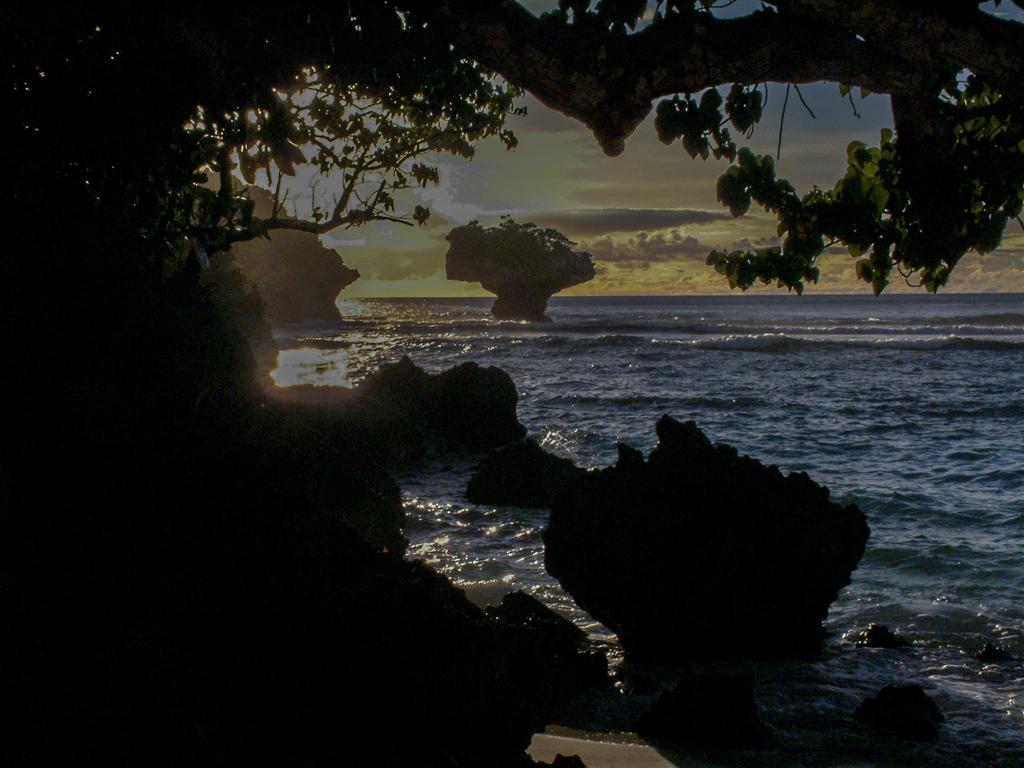 This is Hupato Beach at Anderson Air Force Base in Guam. We were installing radon systems at the Navy base next door. This rock formation is off the beach.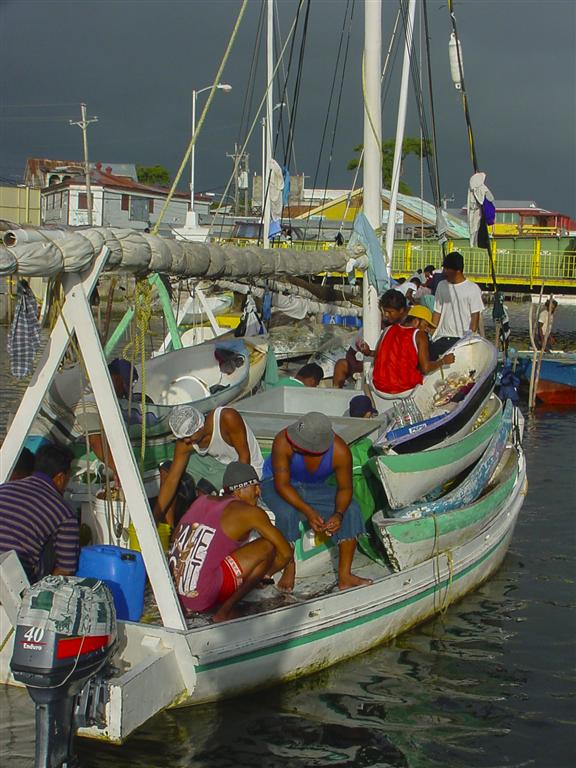 In 2001 we vacationed in Belize. These fisherman were about to pull out at dawn in Belize City harbor.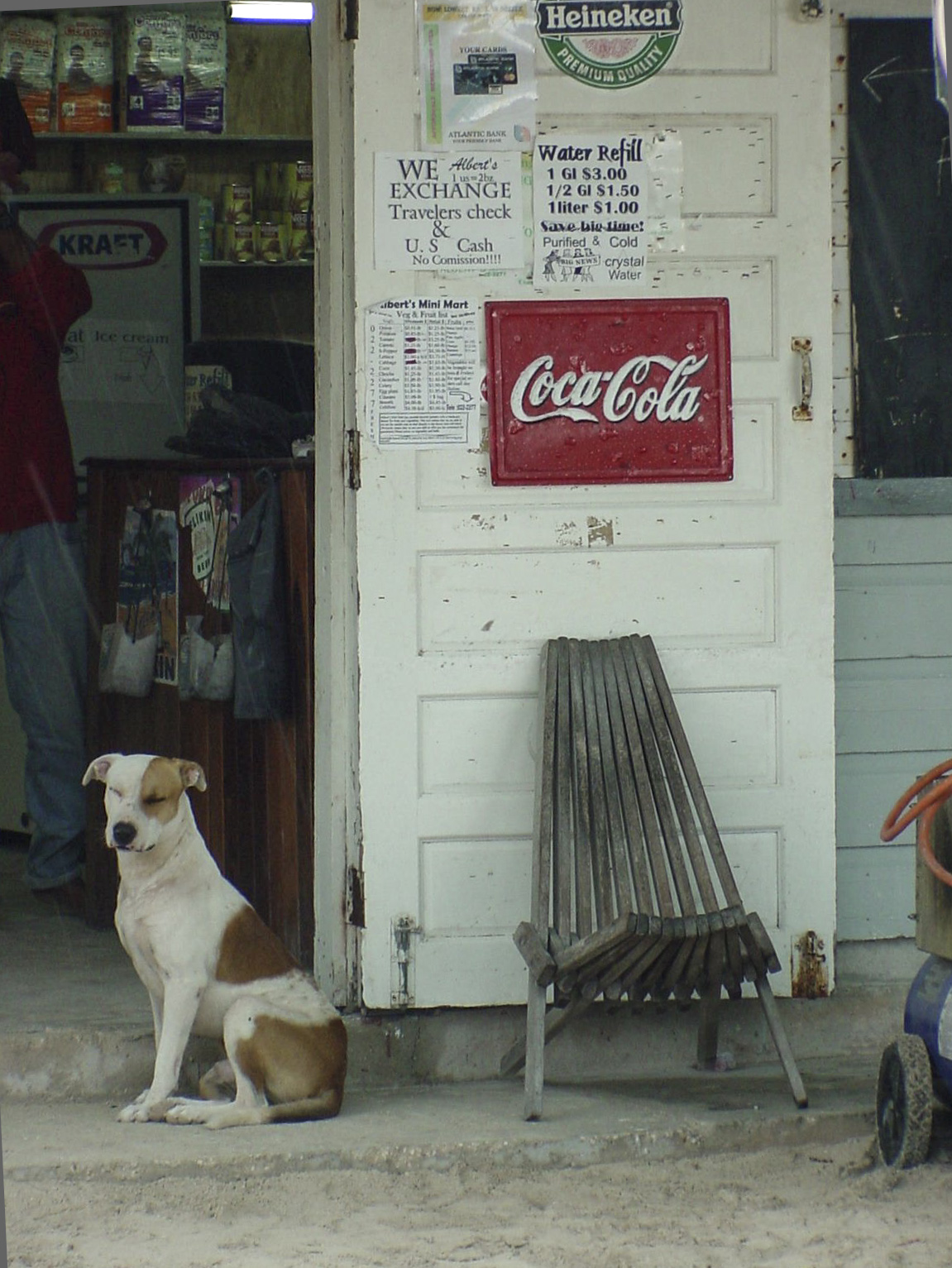 We stayed on the small island of Caye Caulker which is a boat ride from Belize City. This sleepy dog was sort of guarding the store.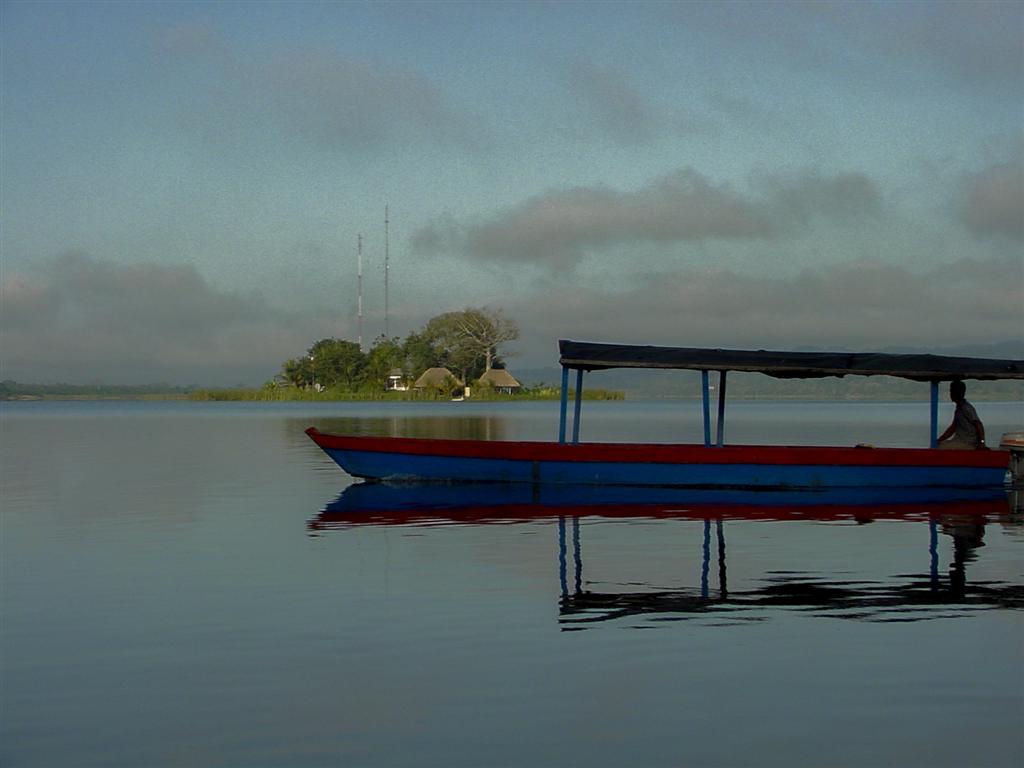 We took a side trip into Guatemala from Belize to see the ruins of Tikal. Nearby Flores is surrounded by a lake where they still use water taxis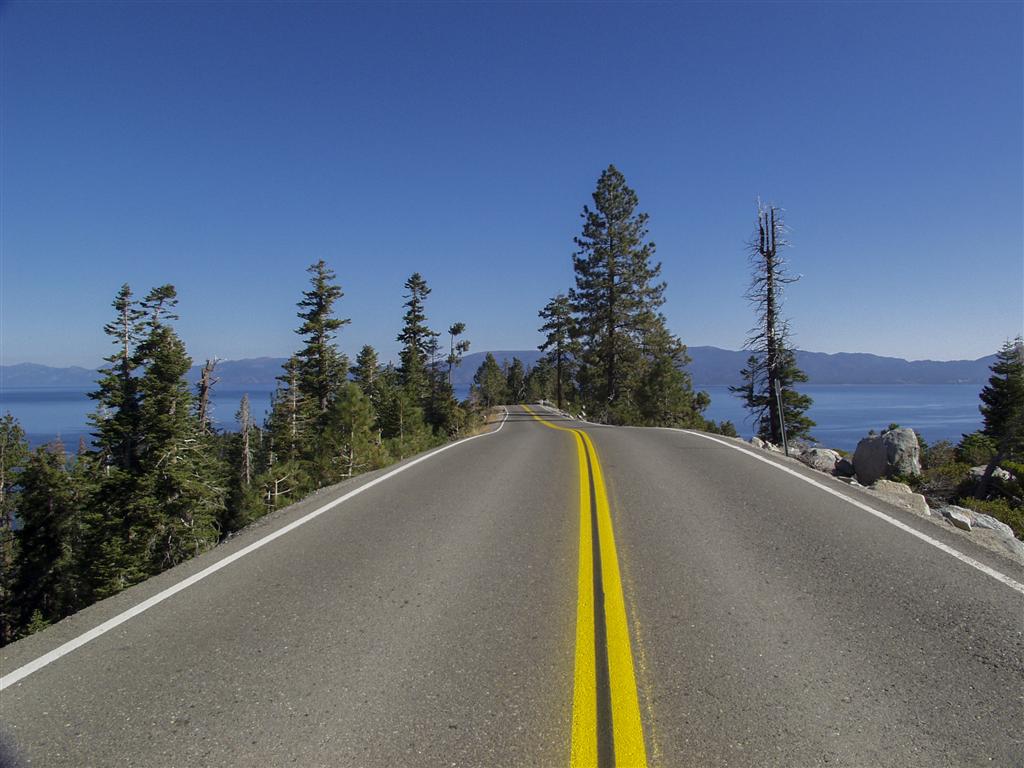 I got a chance to do some hiking above Lake Tahoe before a radon conference in 2002 and caught this picture on the way back to the conference.
After attending my sister-in-law's wedding in Marin County above San Francisco we took a North drive into the Napa wine country and visited the cellar of this winery.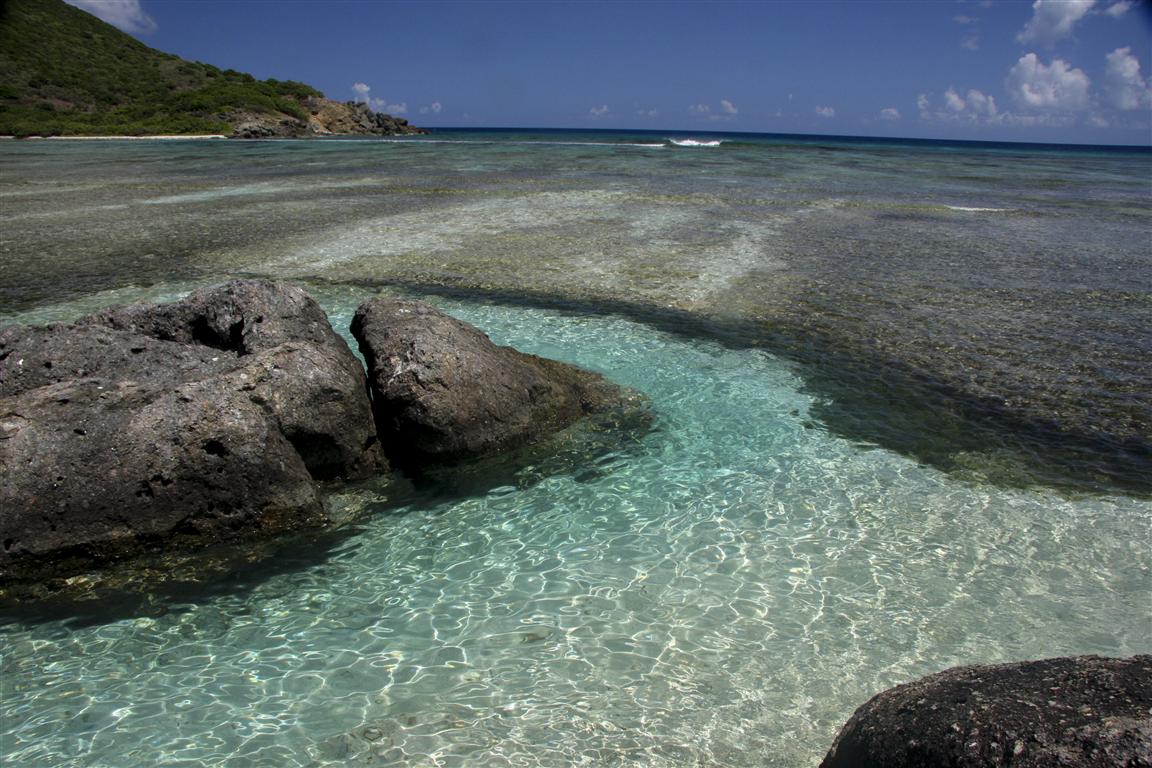 Sailing around the British Virgin Islands (BVI) is my all time favorite way to totally relax and enjoy the adventures and sites. This was the view hiking across from our anchorage at Little Yost Van Dyke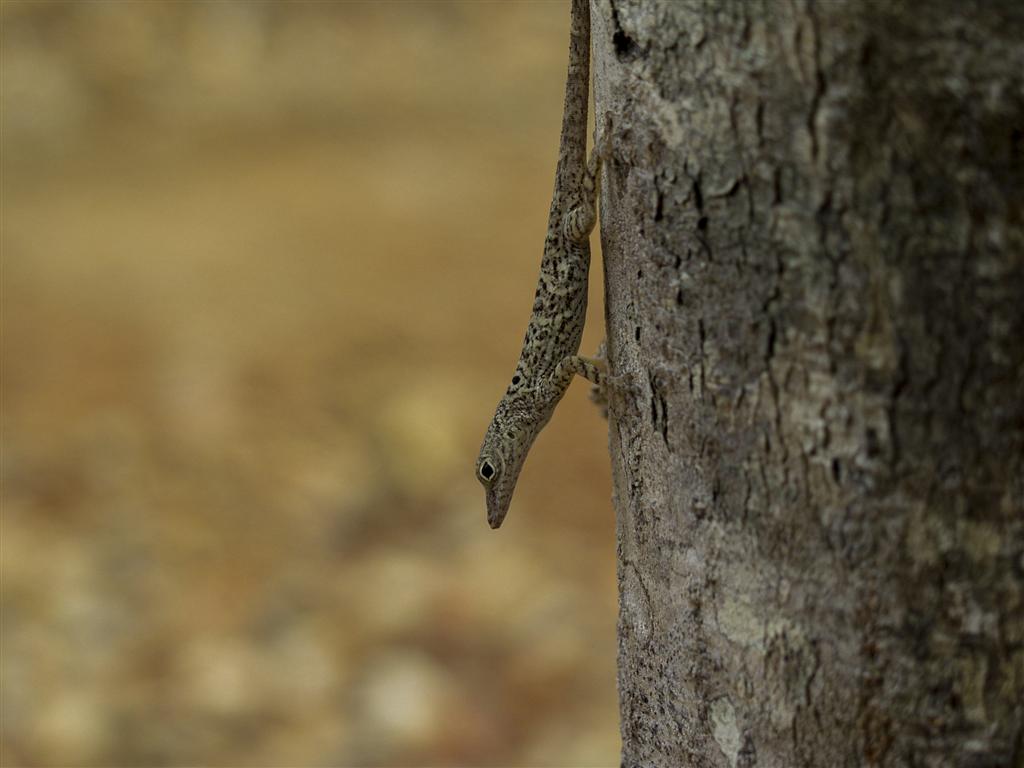 This chameleon caught my eye as I was taking a morning hike on Norman Island in the British Virgin Islands.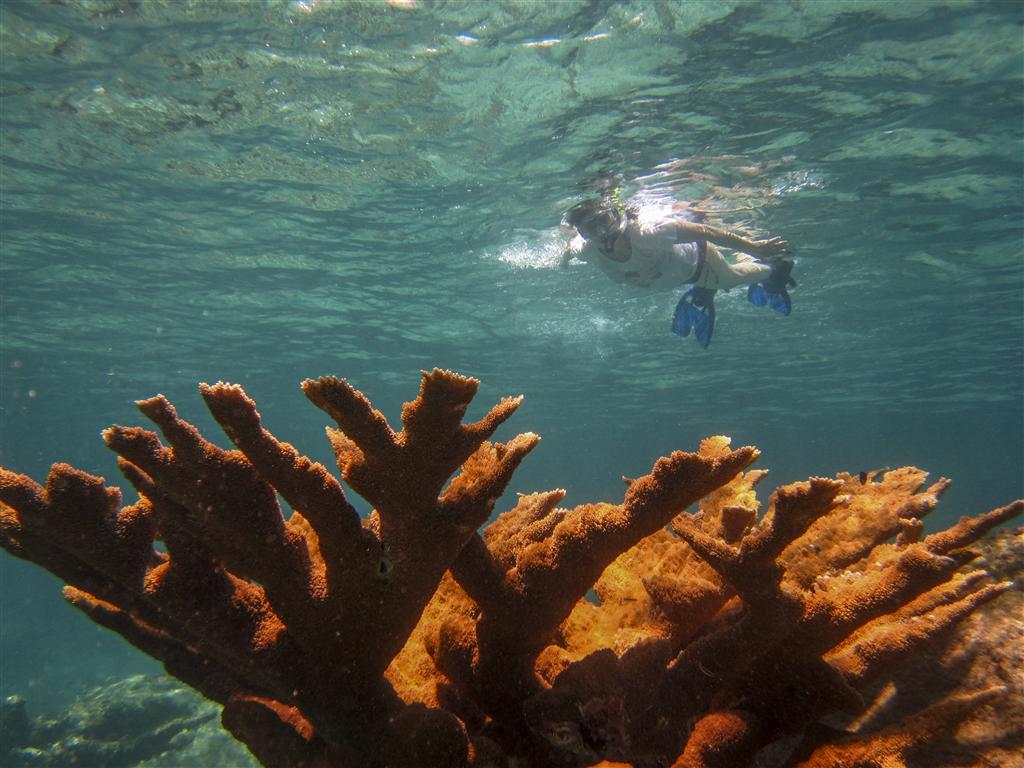 Snorking in the BVI is always a highlight.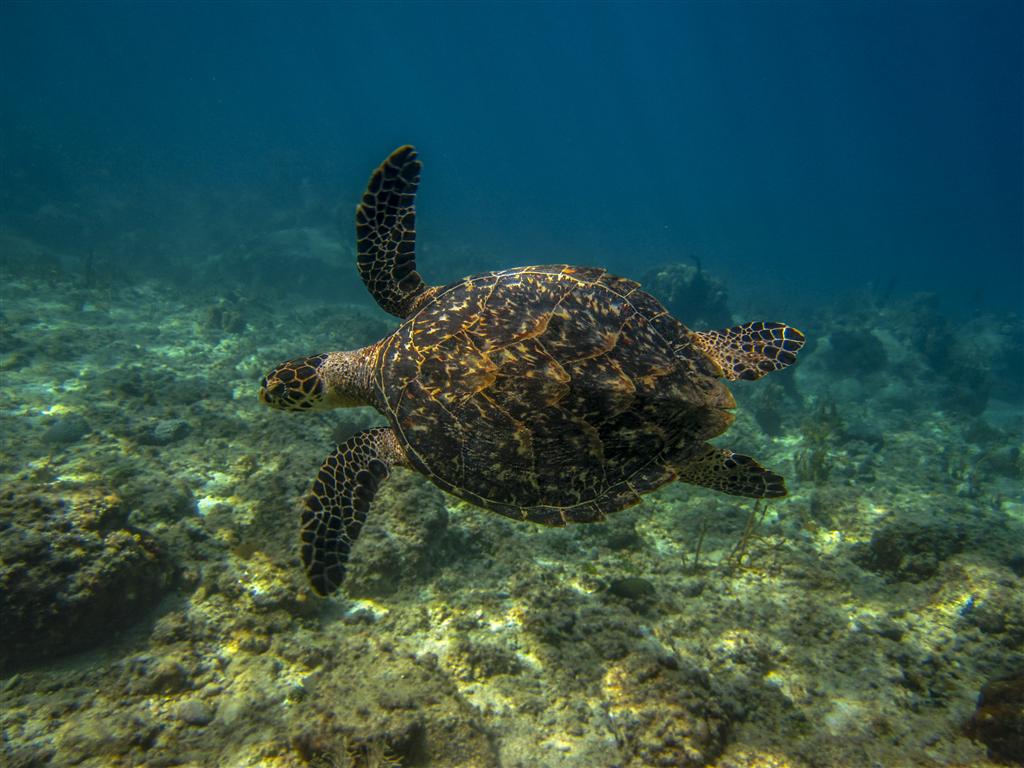 Especially when you spot a Leather Back Turtle and try your best to keep up with him.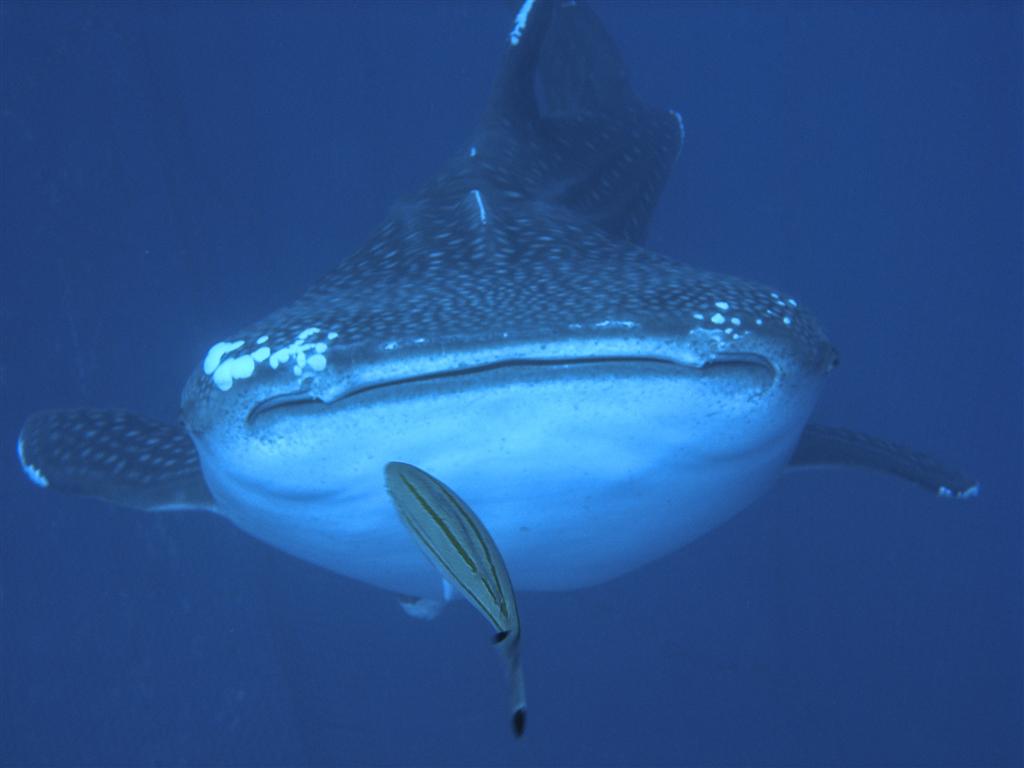 While installing radon mitigation systems at Kadena Air Force Base in Okinawa, I was able to scuba with this 28 foot whale shark. Unfortunately he was held in captivity but it was an incredible experience being so close to this gentle creature.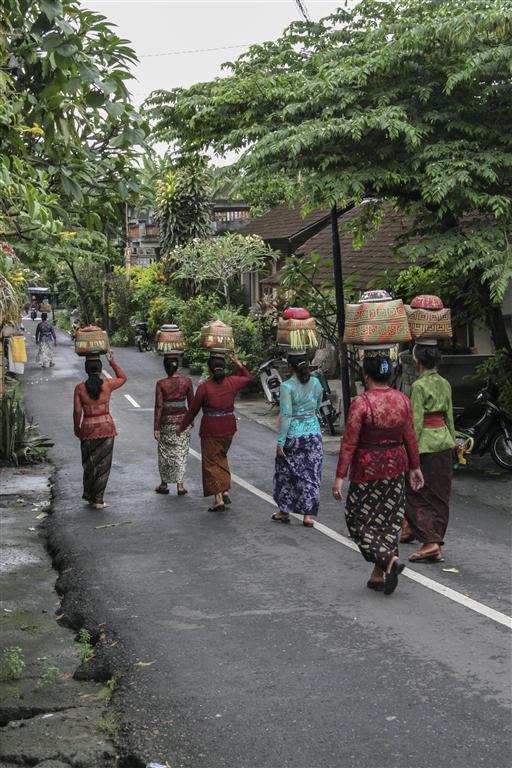 All across Bali you see women and men carrying objects balanced on their heads. The people of Bali are so friendly, religious, creative and hard working.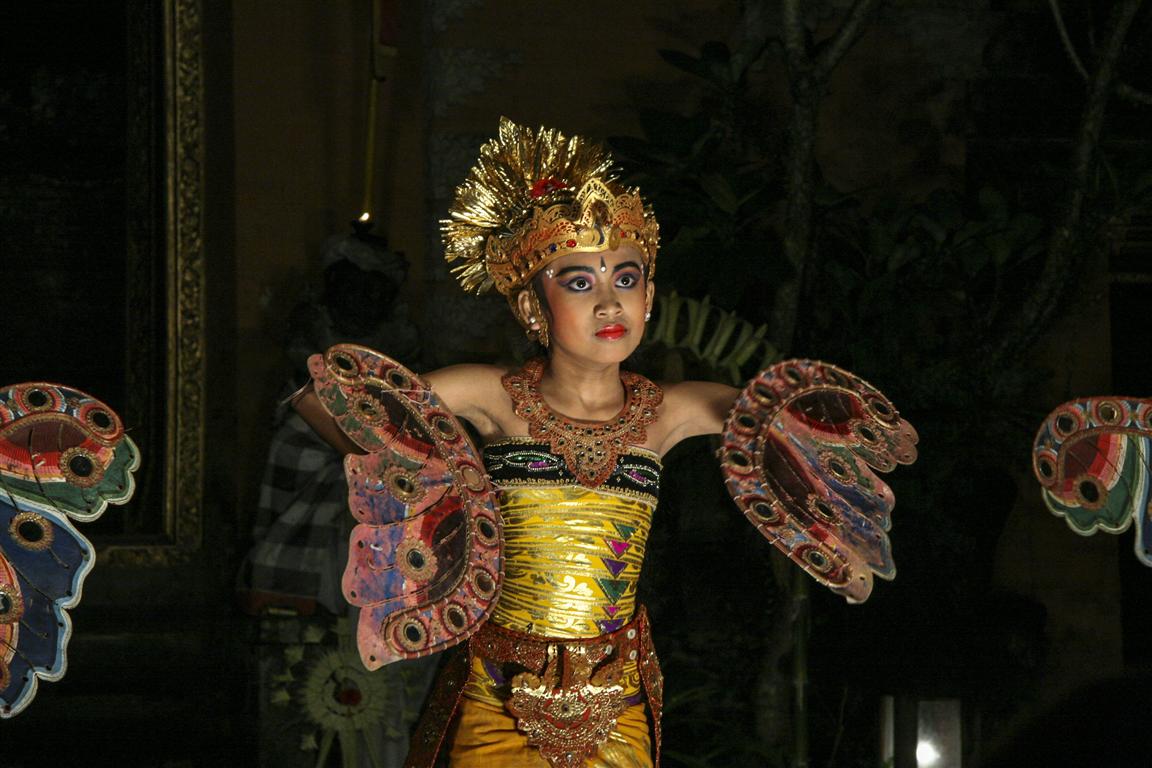 The Barong dancers of Ubud in Bali are world re-known and so special that we went to three different performances and enjoyed them immensely.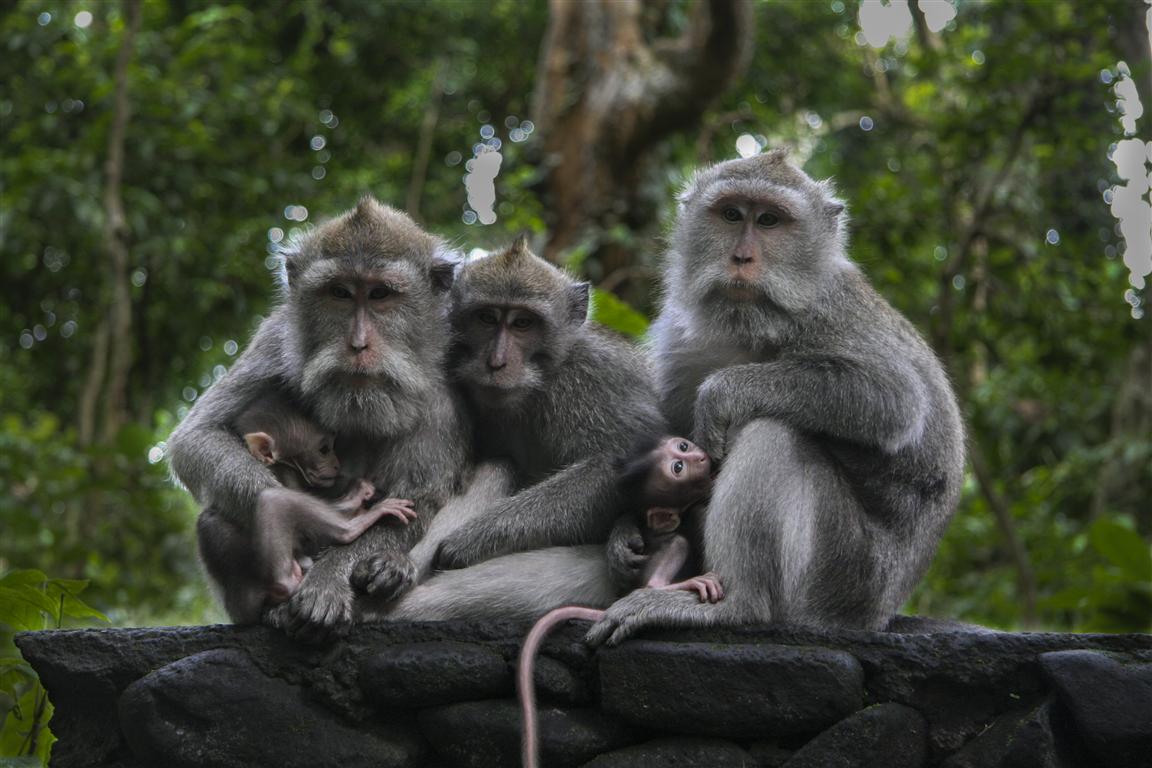 An extended family in the sacred park in Ubud where the monkeys run free.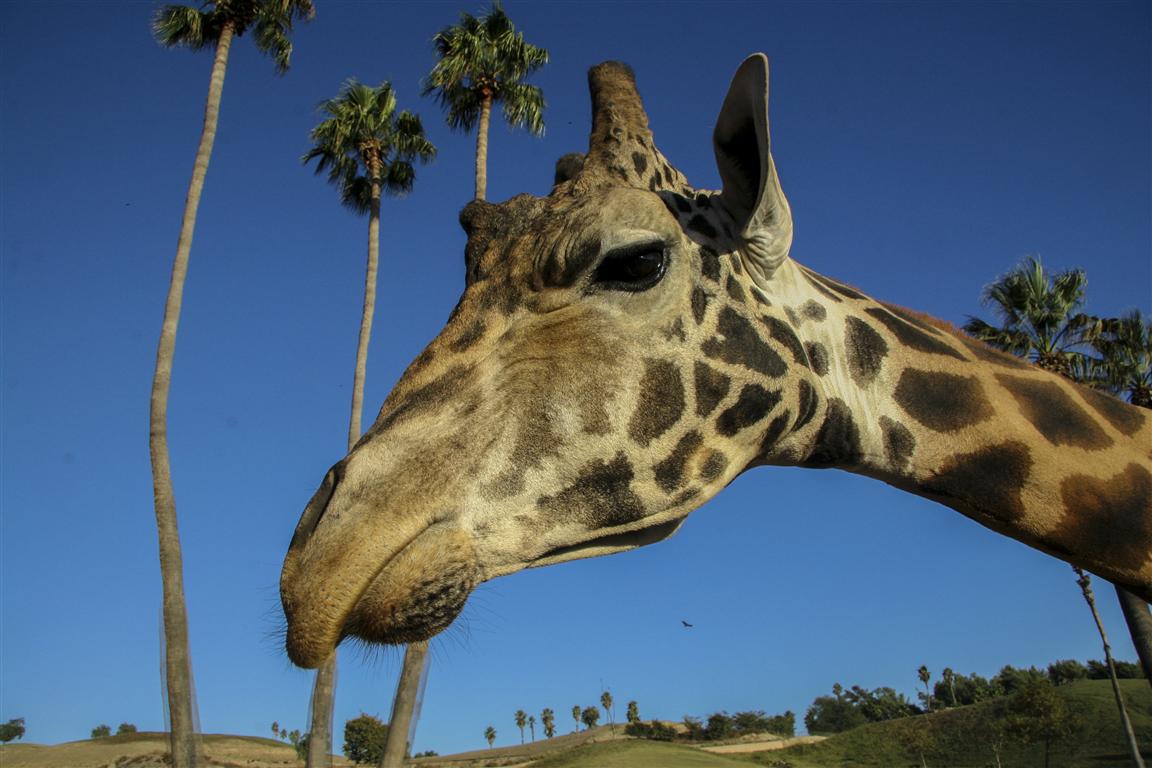 I was able to ride in the back of a truck through the San Diego Wildlife Park and captured this lovely Rothschild giraffe whose native home is Kenya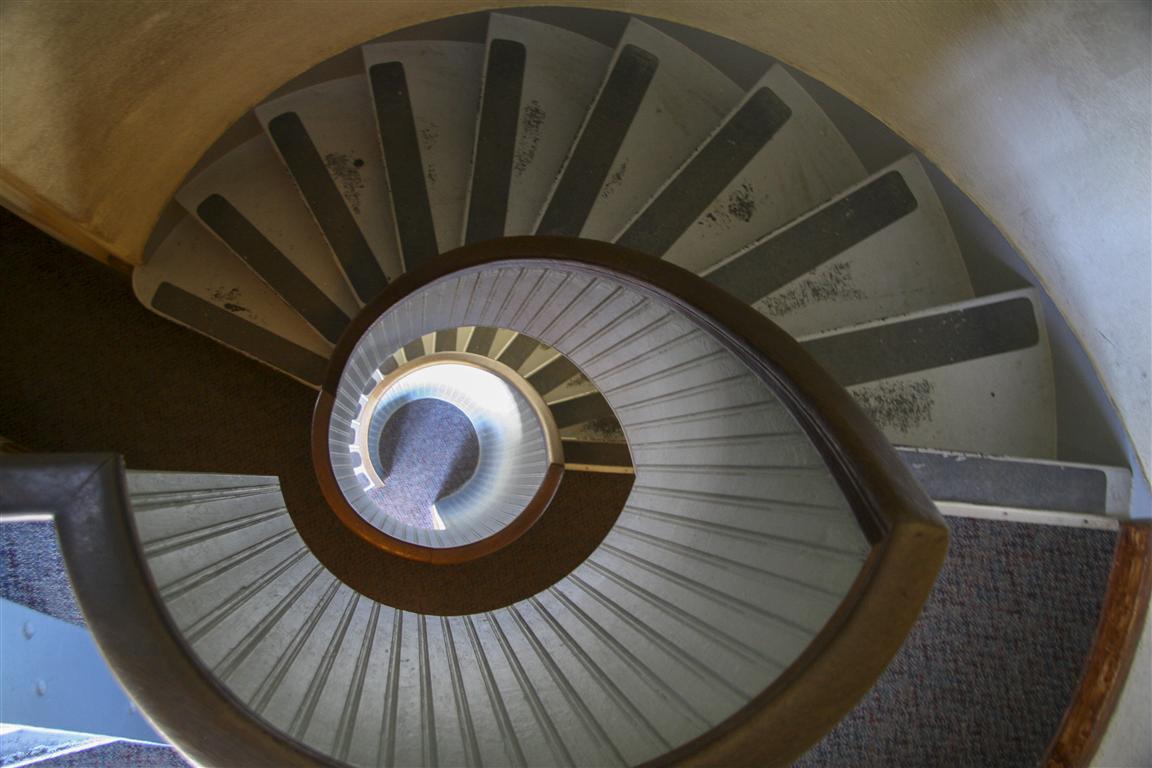 The light house above San Diego has a marvelous circular stairwell to the top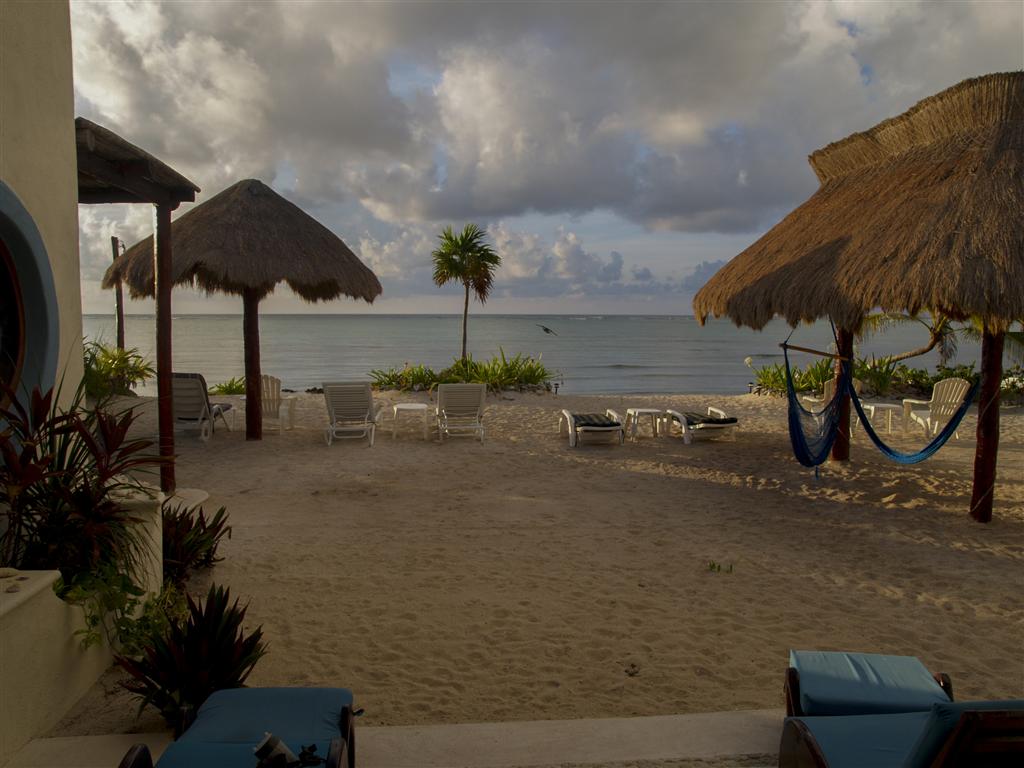 We visited Cozumel Mexico to do some diving in the summer. We caught a ferry to Tulum and this was the view from our bedroom one morning.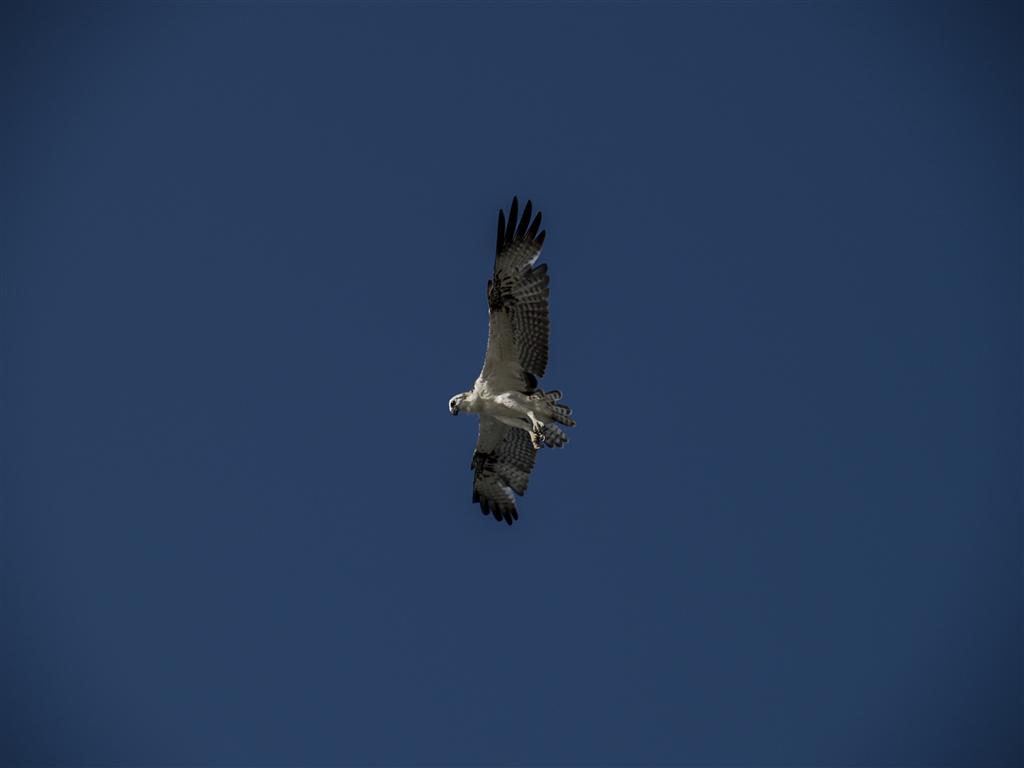 I took an early morning walk on the beach and this Osprey began to hover overhead.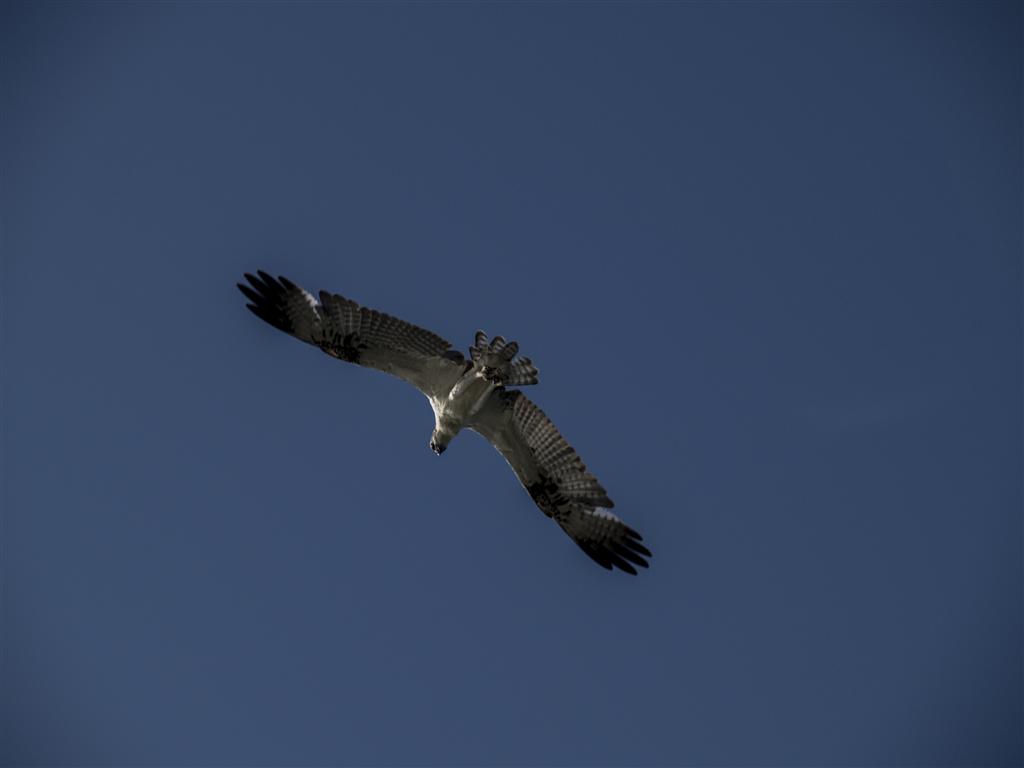 He suddenly went into a dive.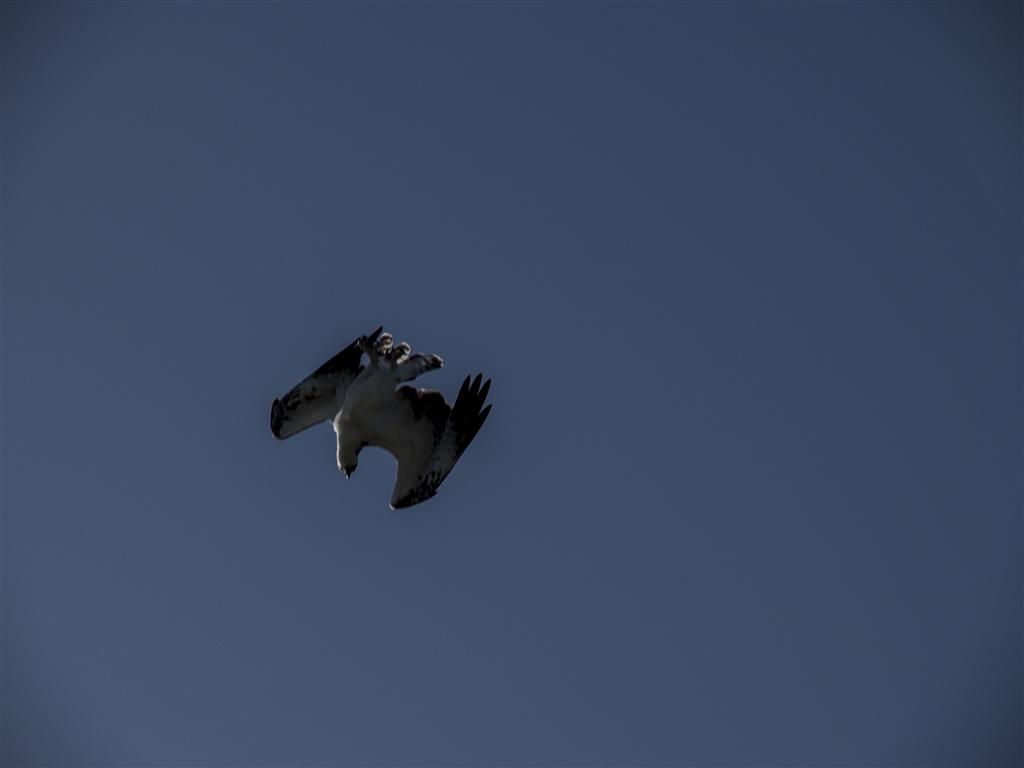 Collapsed his wings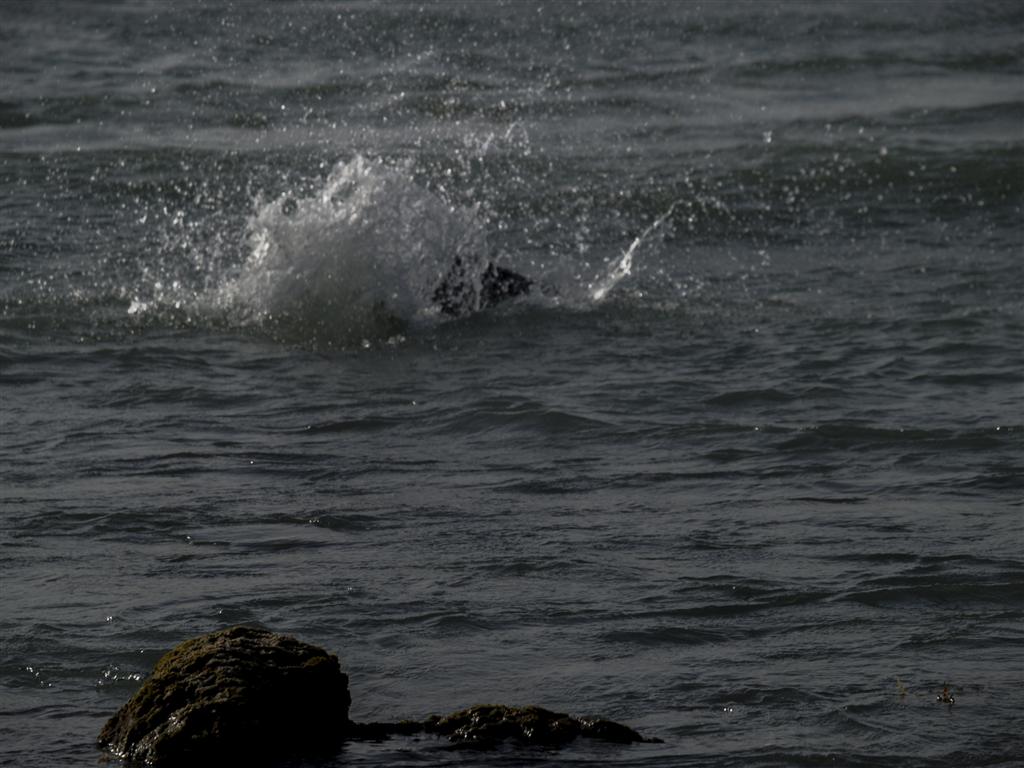 Smashed into the water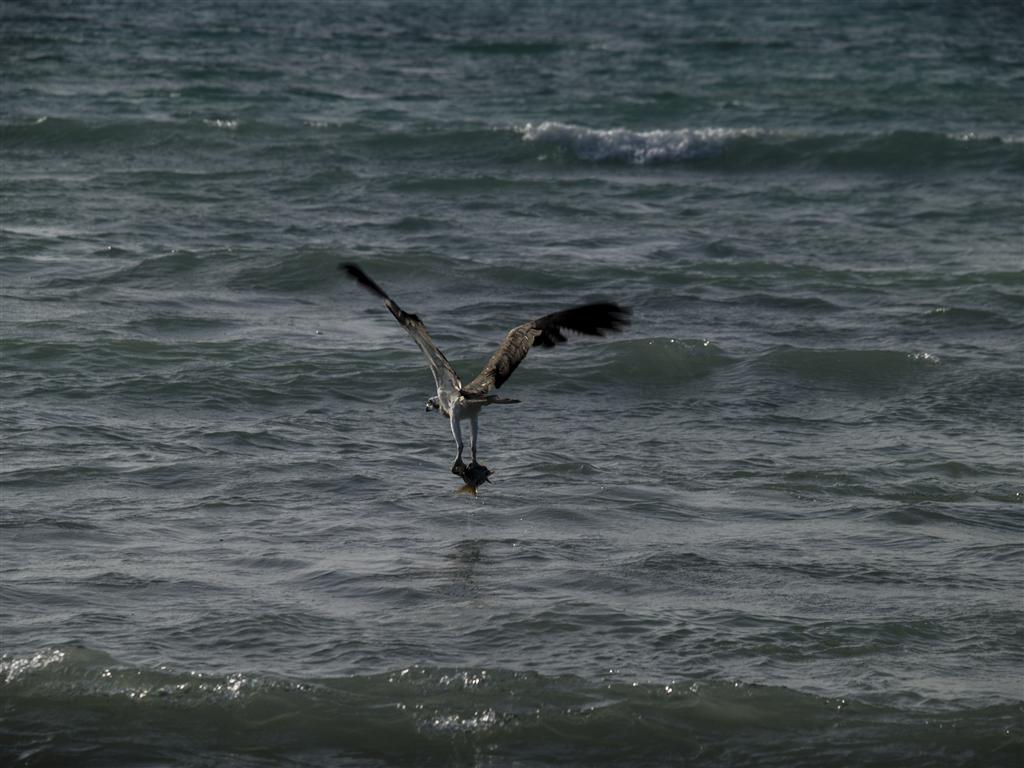 And took off with a fish in his talons. I was shaking with awe.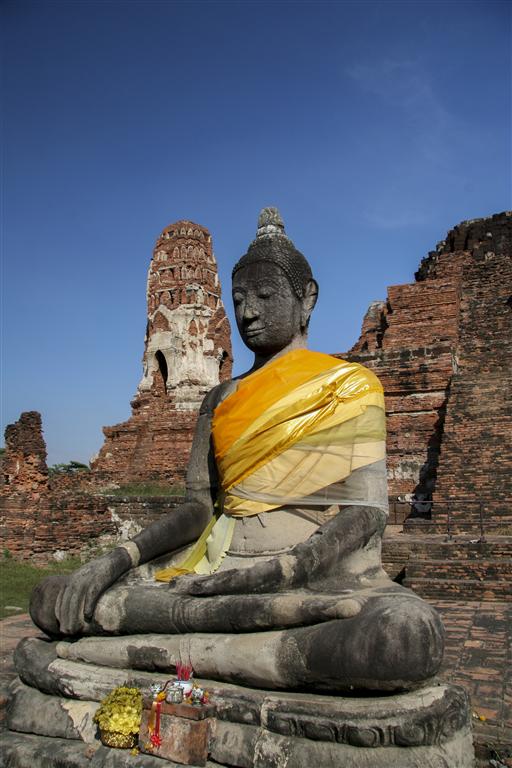 We toured through Thailand in January 2006. There are more Buddha statues in Thailand than any place in the world.
But I never get tired of seeing them.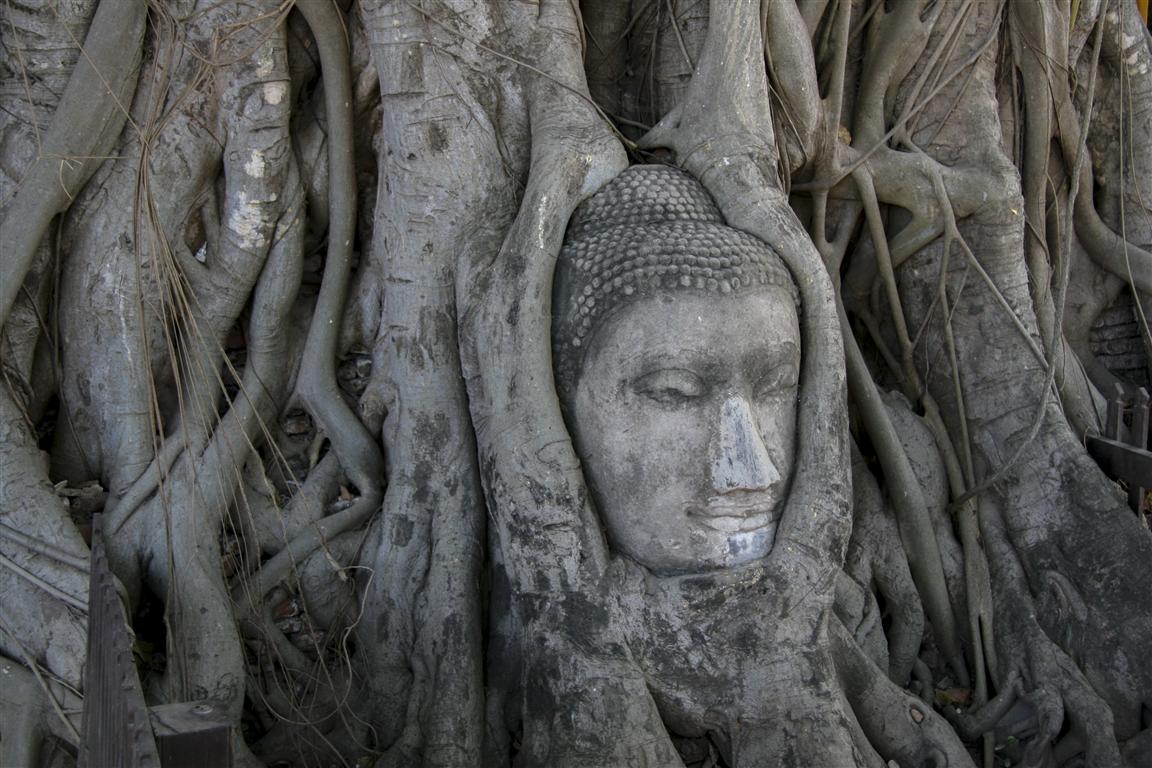 This Buddha in particular, in the temple ruins of Ayuthaya was very special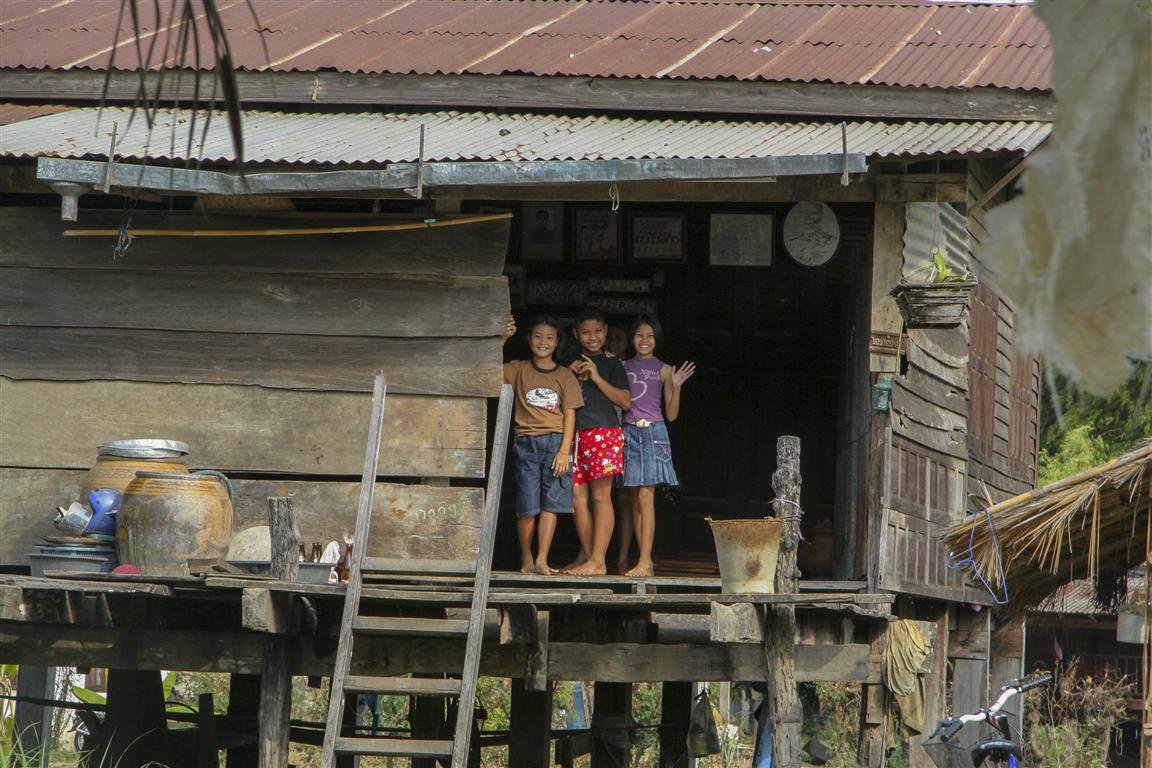 In Sukhothai we rented mopeds and drove through the countryside. These lovely Thai kids waved and smiled at us.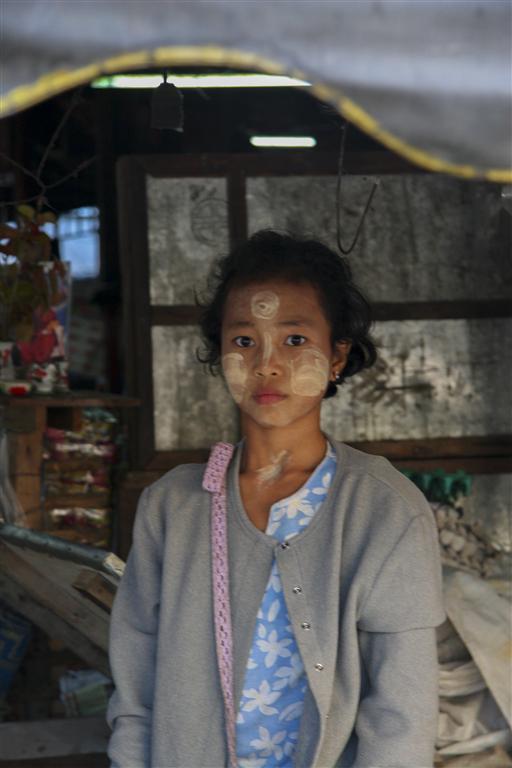 In the market place of Mae Sot, this Burmese refugee girl struck a regal pose. The Burmese color their faces this way.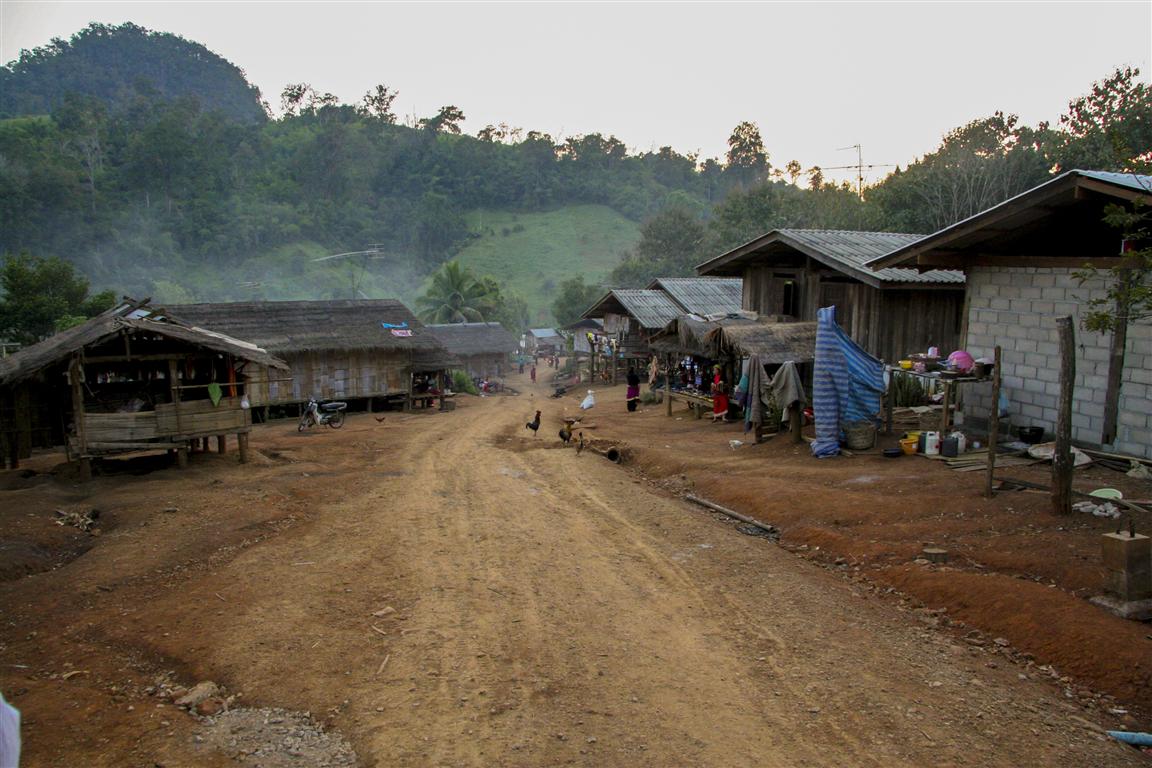 After trekking in the Northern - Golden Triangle of Thailand, we spent the night in this Burmese Karen refugee village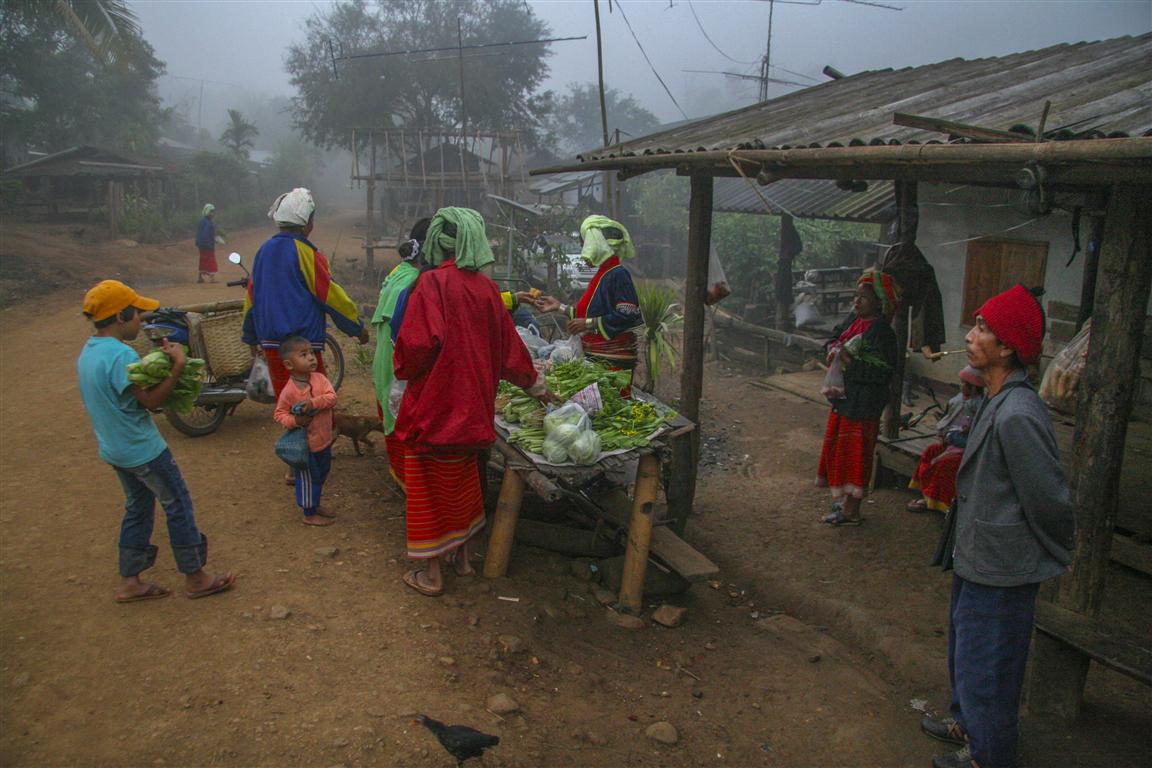 Early the next morning this was the scene as a motor-bike delivered fresh vegetables that were then sold to the villagers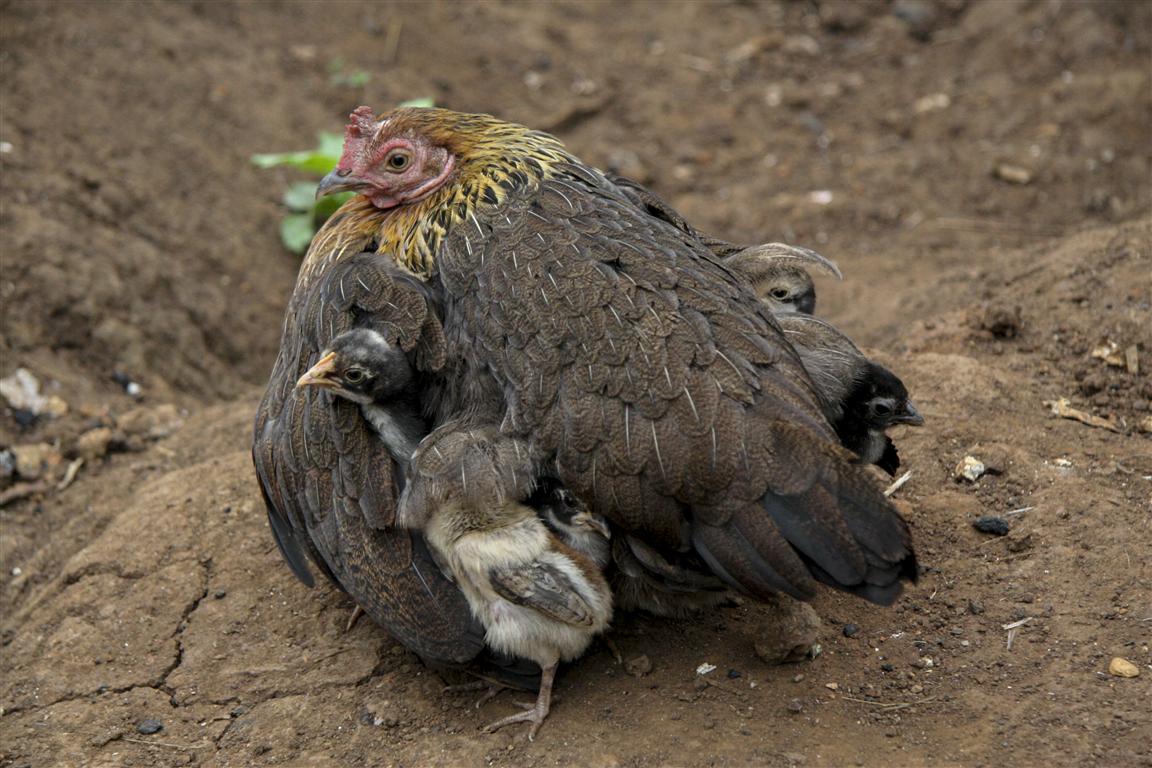 The next morning this hen was protecting her young while we sat around the fire cooking some breakfast.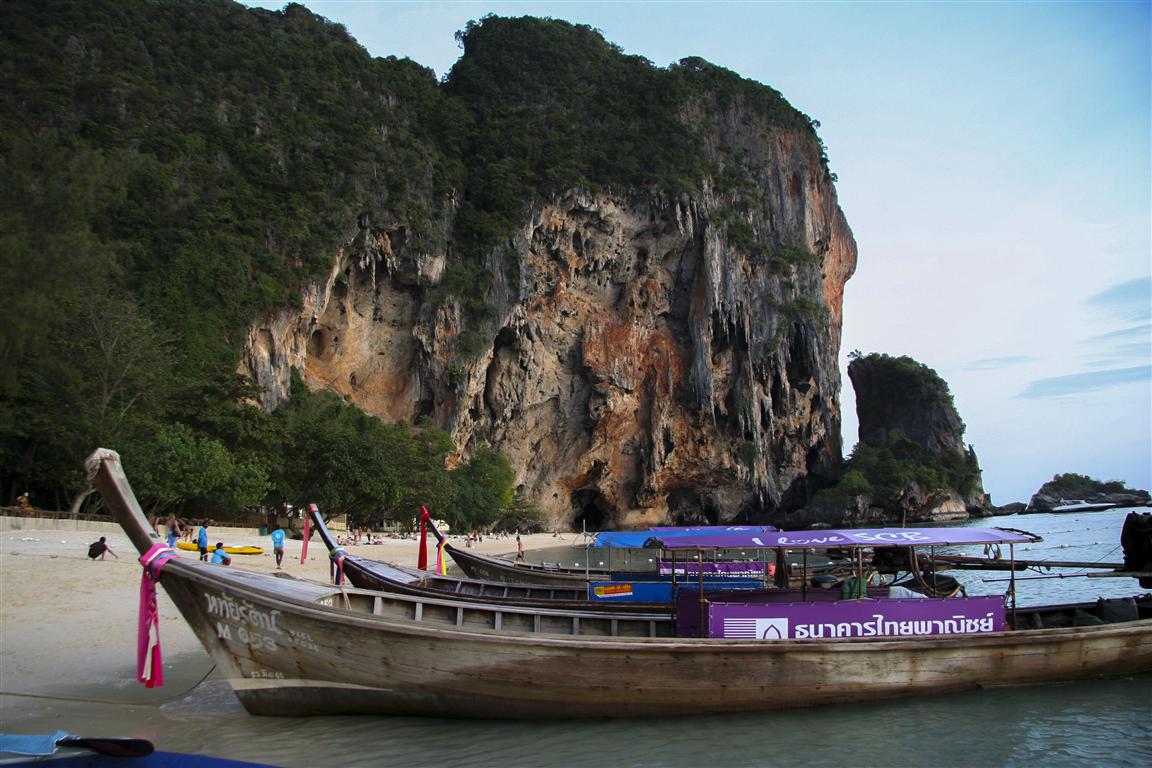 We finished the trip In Krabi on southern end of Thailand. it is a rock climbing paradise. You get there via these long boat taxi's. Krabi just missed getting hit by the Tsunami that wiped out Phuket in 2004.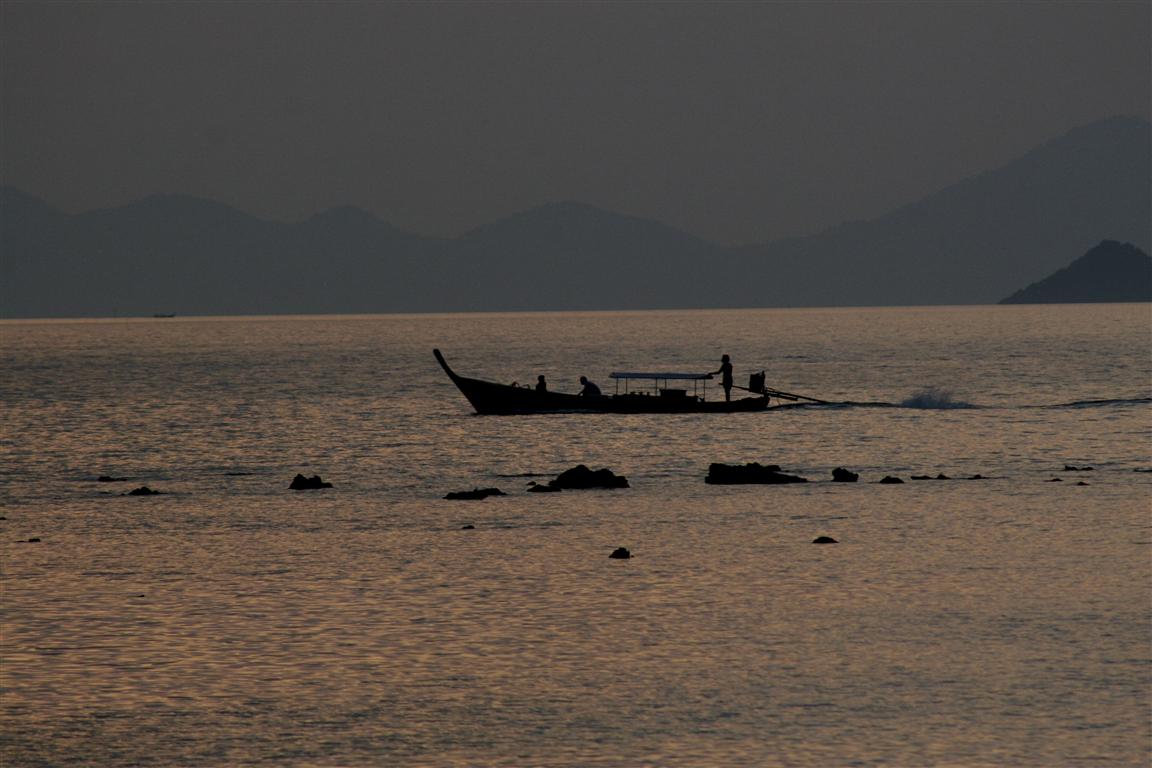 Watching the longboats leave at sunset from the beach is pure magic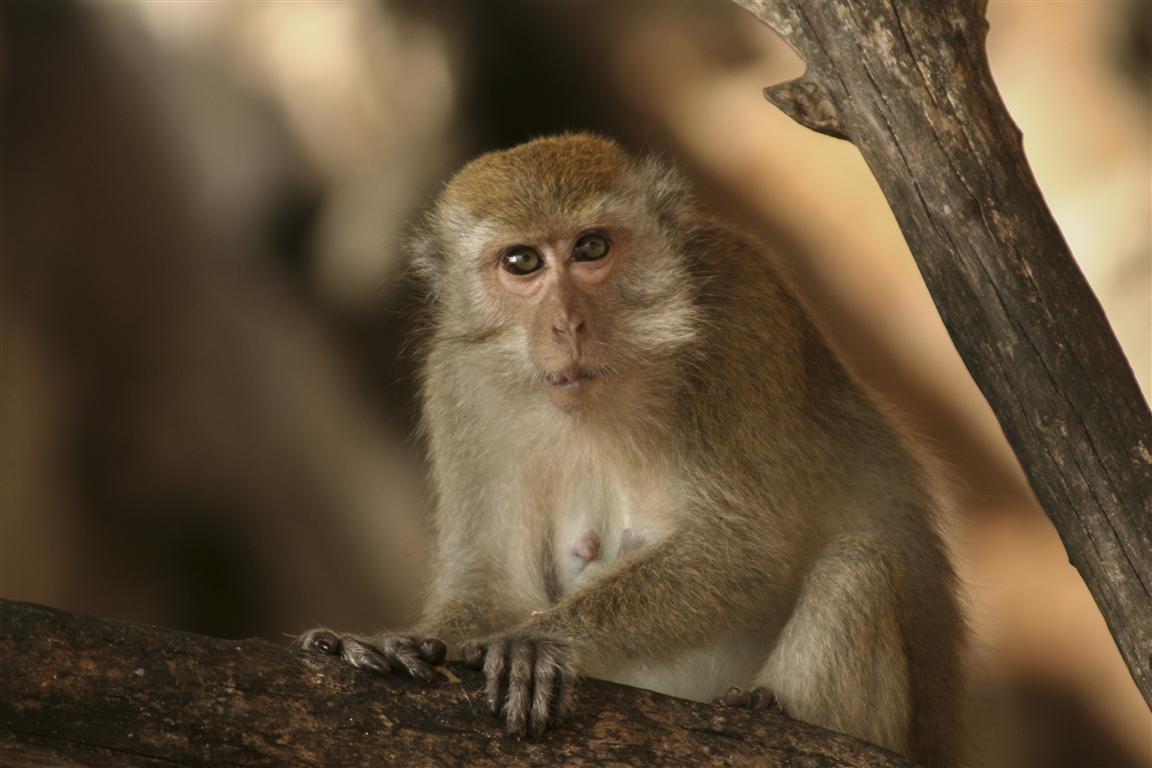 You can run into Monkey's anywhere in Thailand. Even on Krabi.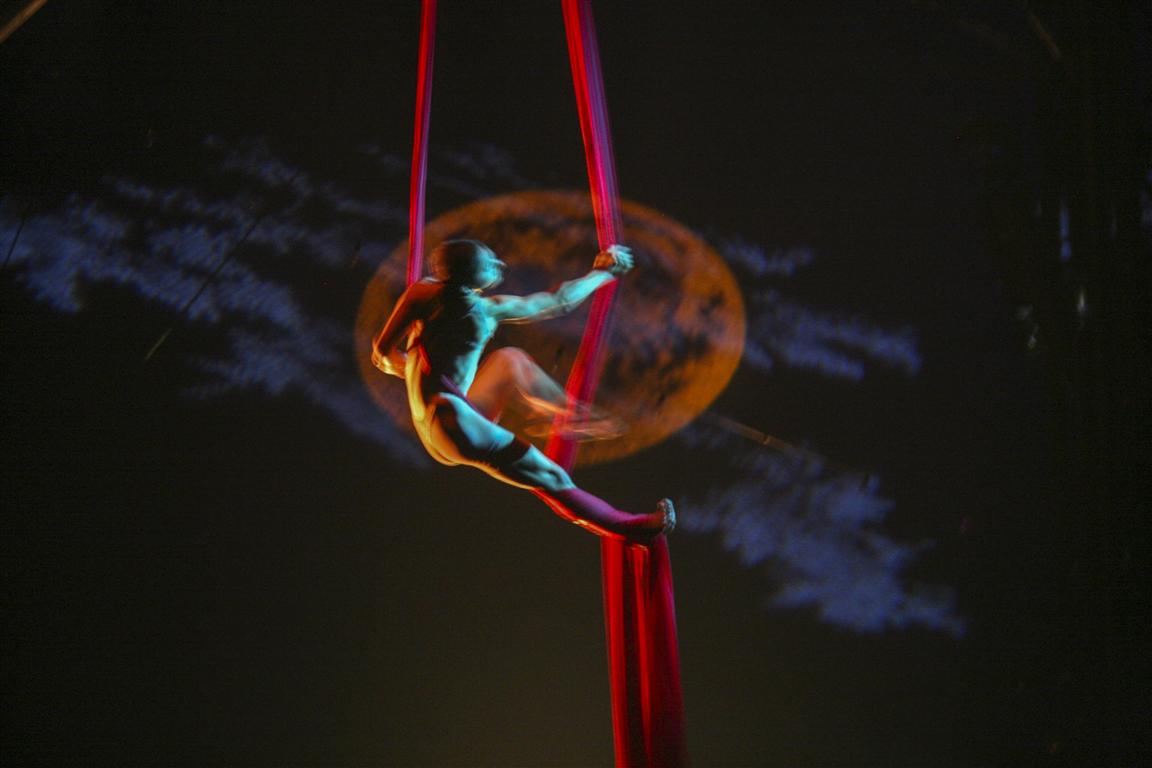 An aerial contortion in silk at the Cirque du Soleil. We treated ourselves to the most awesome, artistic, musical, and enjoyable performance in Philadelphia. www.cirquedusoleil.com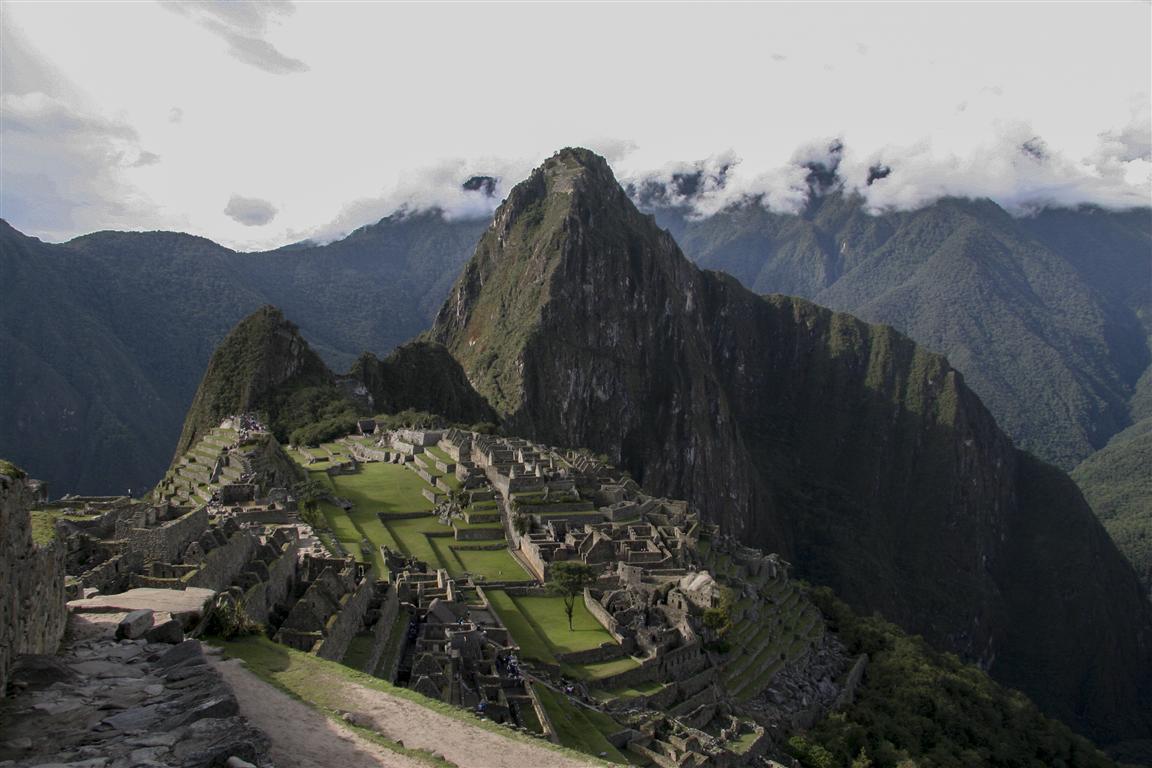 If you visit Peru you have to view Machu Picchu from the Inca Trail. And take time to climb Wayna Picchu behind it.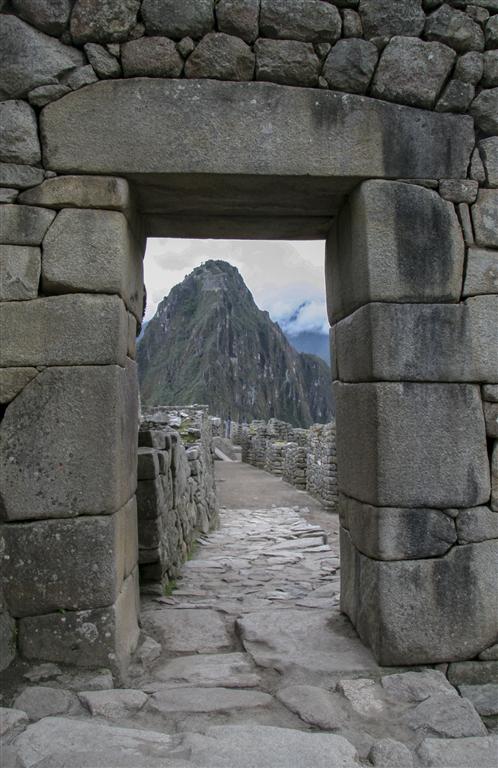 This is the stone work of the entrance gate to Machu Picchu.
The stone work of the Inca's was amazing. This is from the sun temple in Ollantaytambo, in the Sacred Valley Between Machu Picchu and Cuzco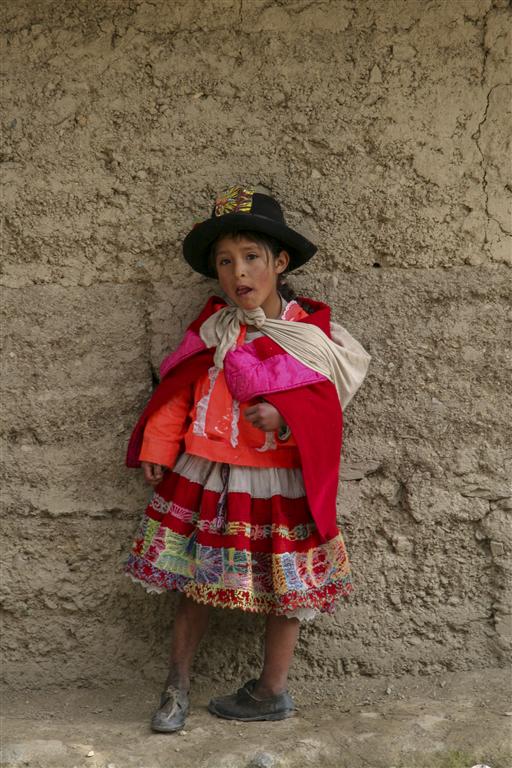 We were visiting a family friend, Evan & Patty who were living in Ayacucho, Peru. Evan & Patty took us up into the mountains. The Peruvian girls wear the most lovely colorful outfits.
We spent the night in a small mountain village. These colorfully dressed girls on the way to school were more curious about me than I was with them.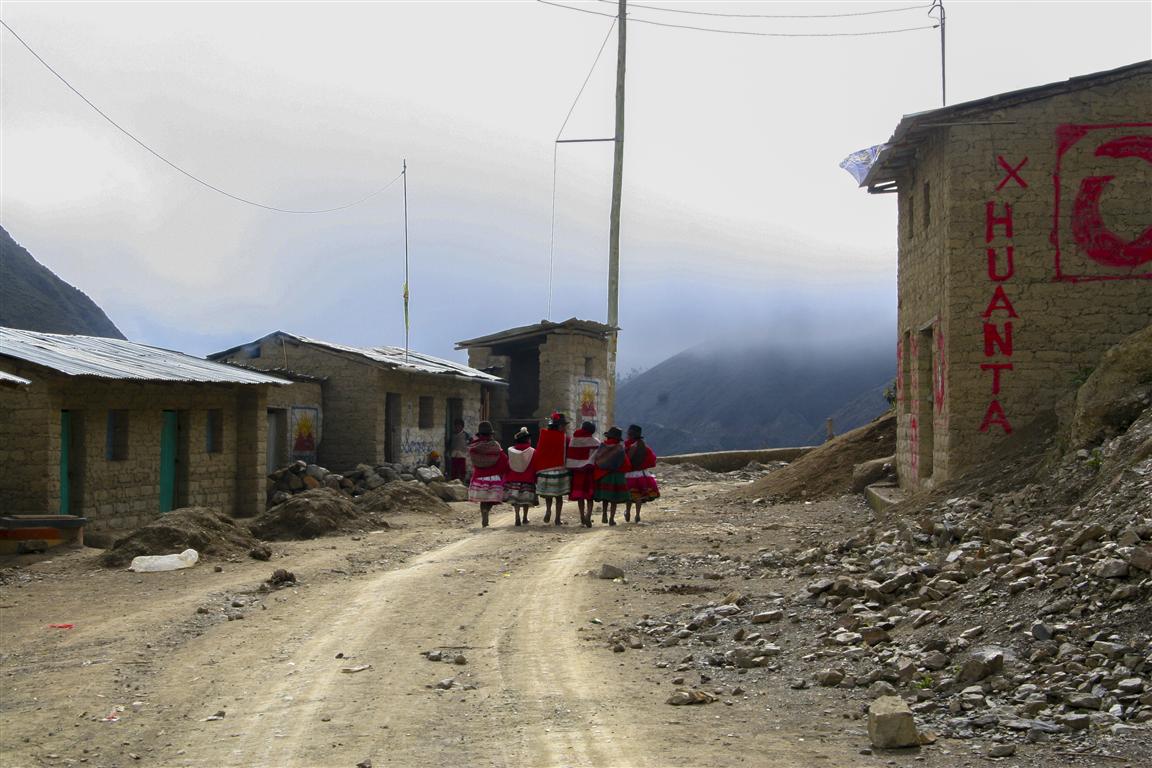 This is the same girls walking off to school. Amazing huh.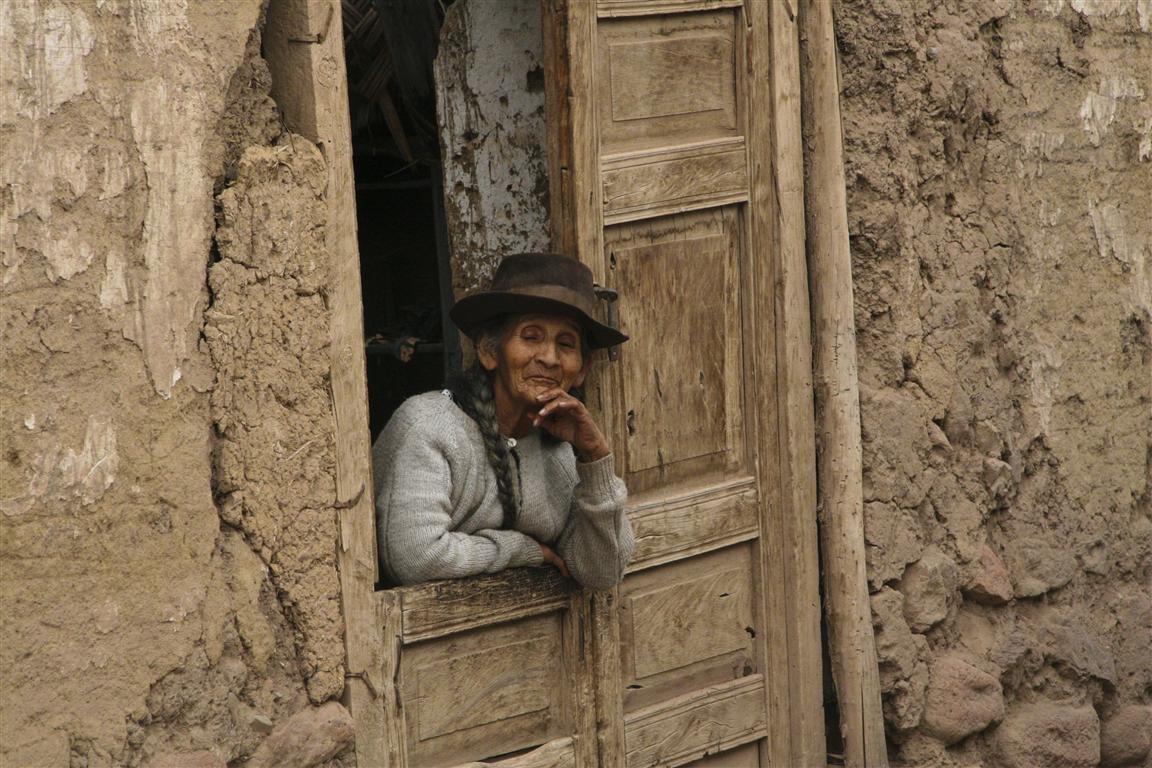 This woman wearing a traditional Peruvian hat was napping in the doorway as we came down from the mountain village.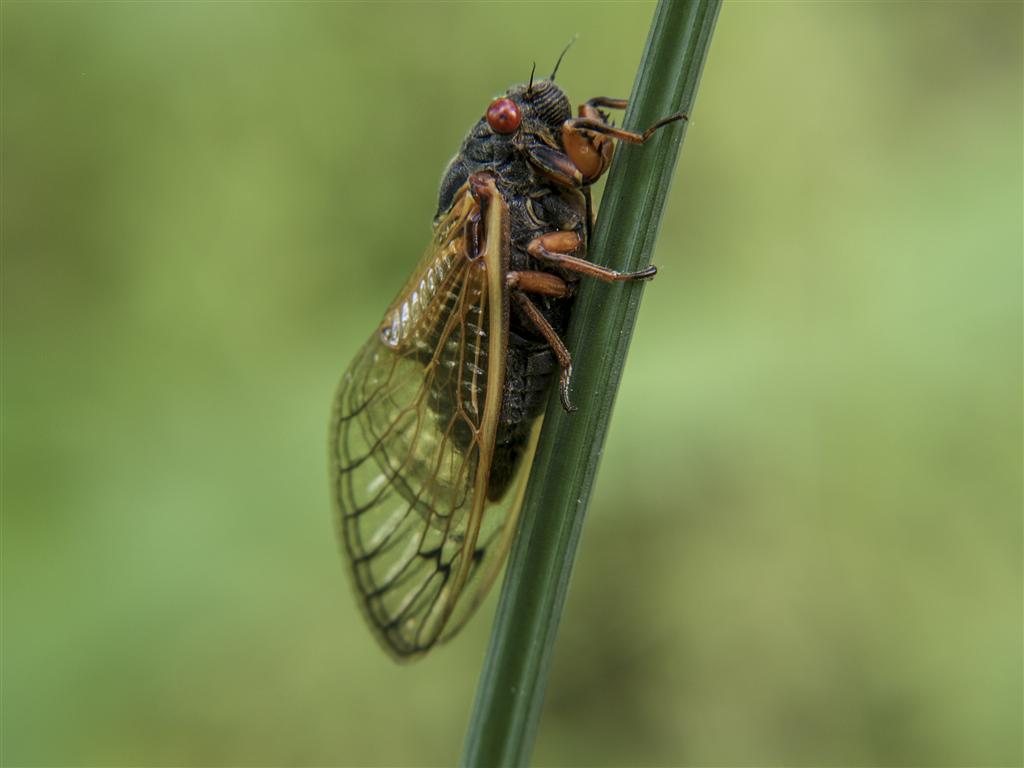 Back in Pennsylvania we get the deafening noise of cicada's who come out of the ground every 17 years!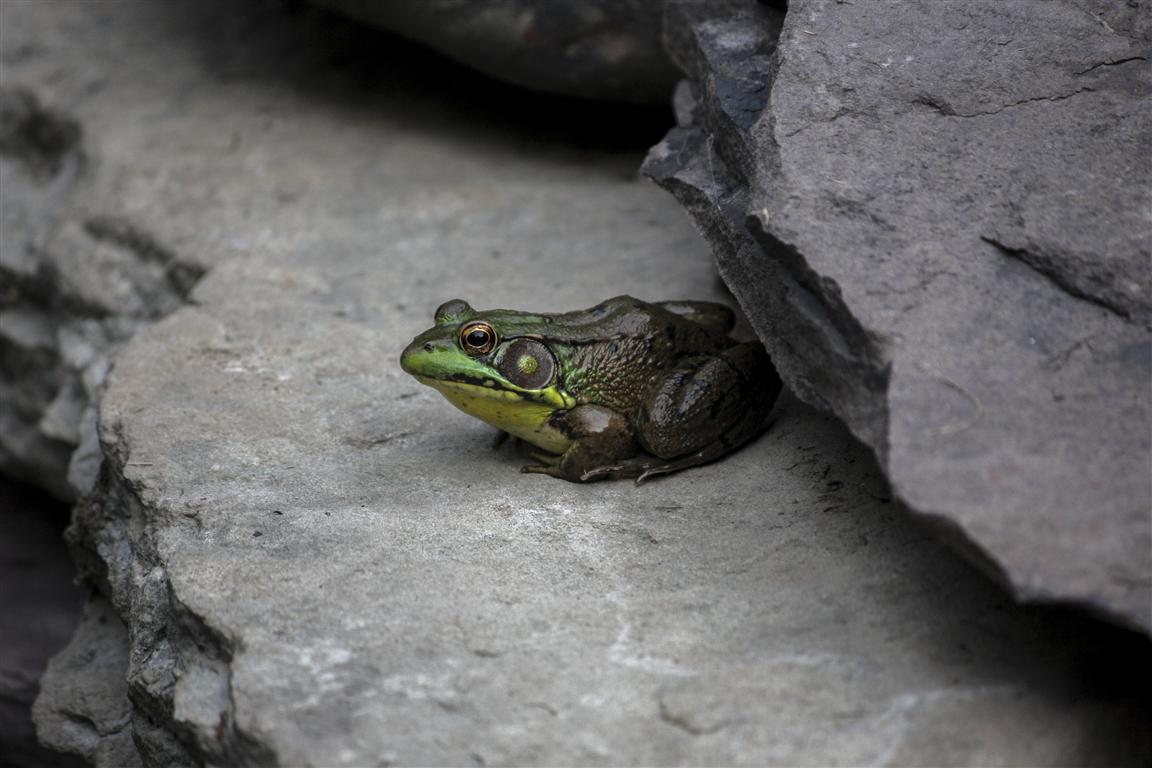 One of my big home projects was to build a frog pond next to the walkway to the house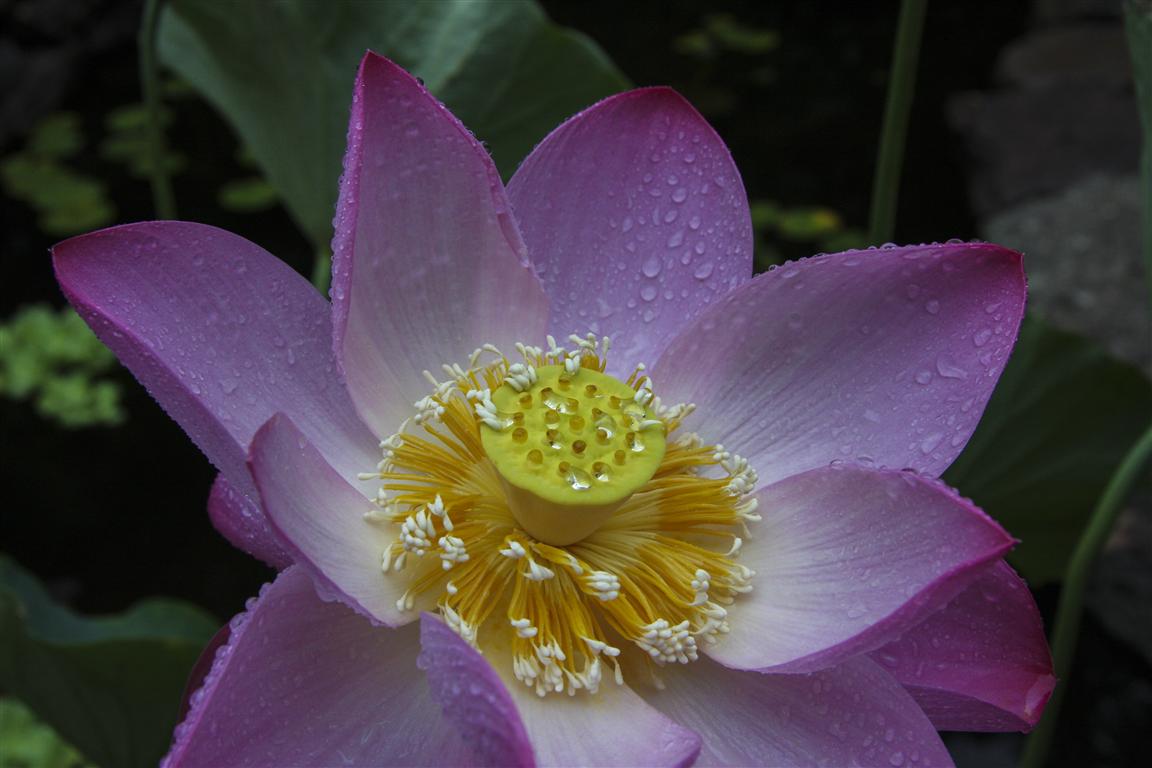 This is a lotus flower I raised in the frog pond. It lasts only three days.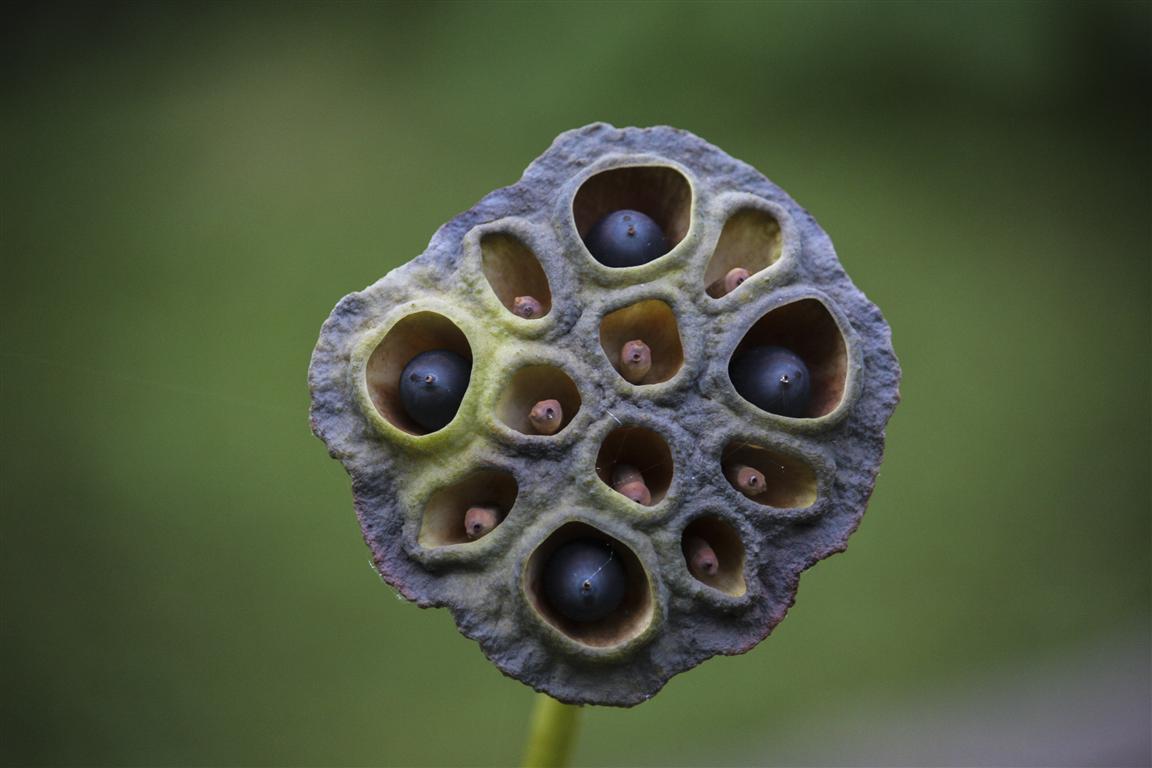 When the Lotus Flower dries, it turns into this wonderful colorful sculpture.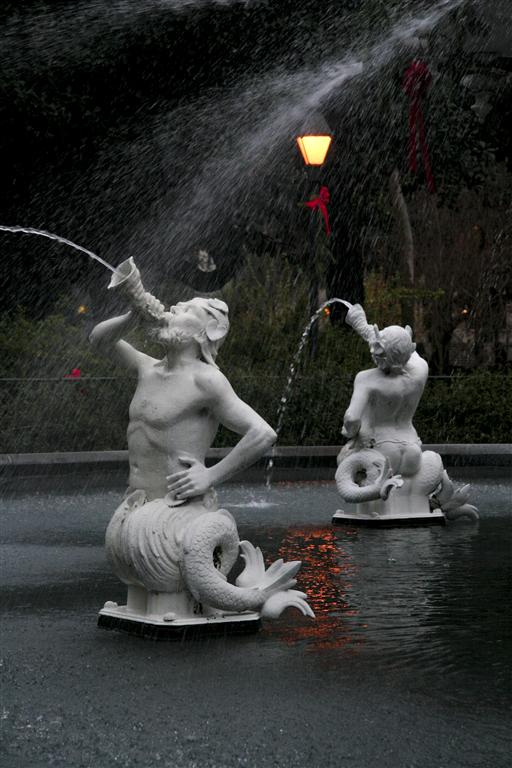 My brother, Peter, runs Brighter Day health food store which is across from this fountain in Forsyth Park, Savannah, Ga. What a great town to walk in.
This is the entrance to Wormslo Gardens next to my brothers house.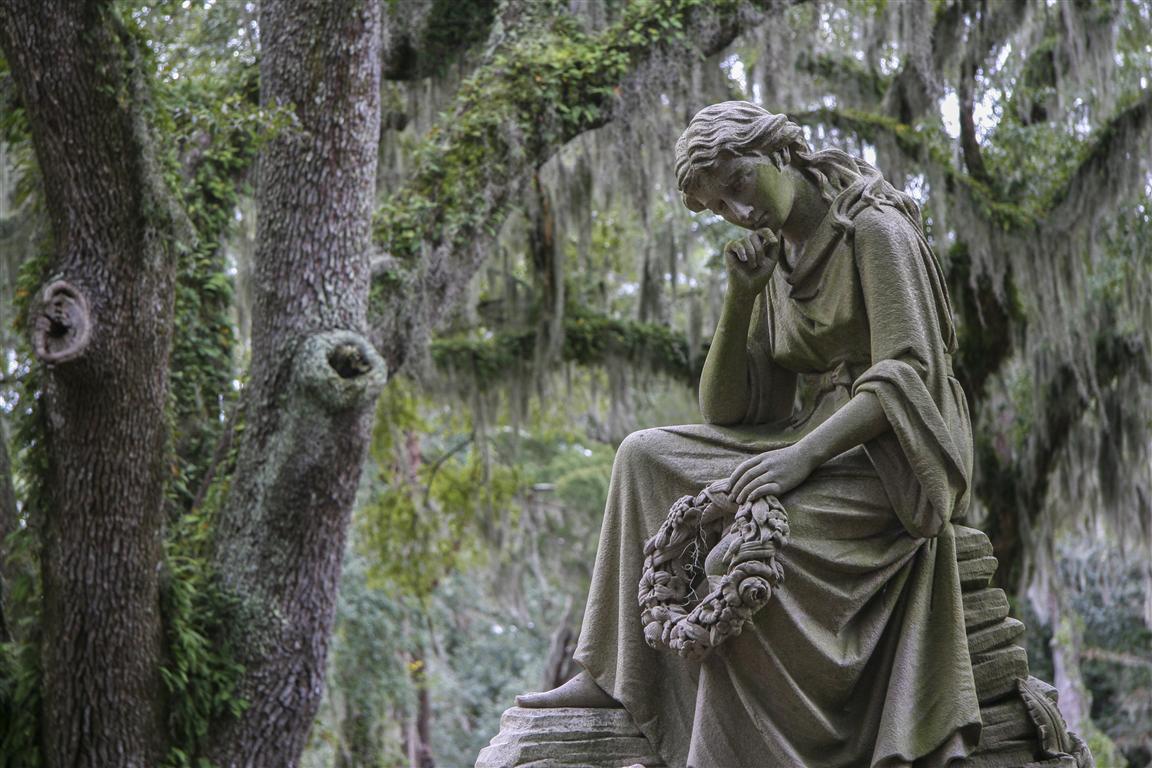 A visit to Bonaventura Cemetery in Savannah is not to be missed.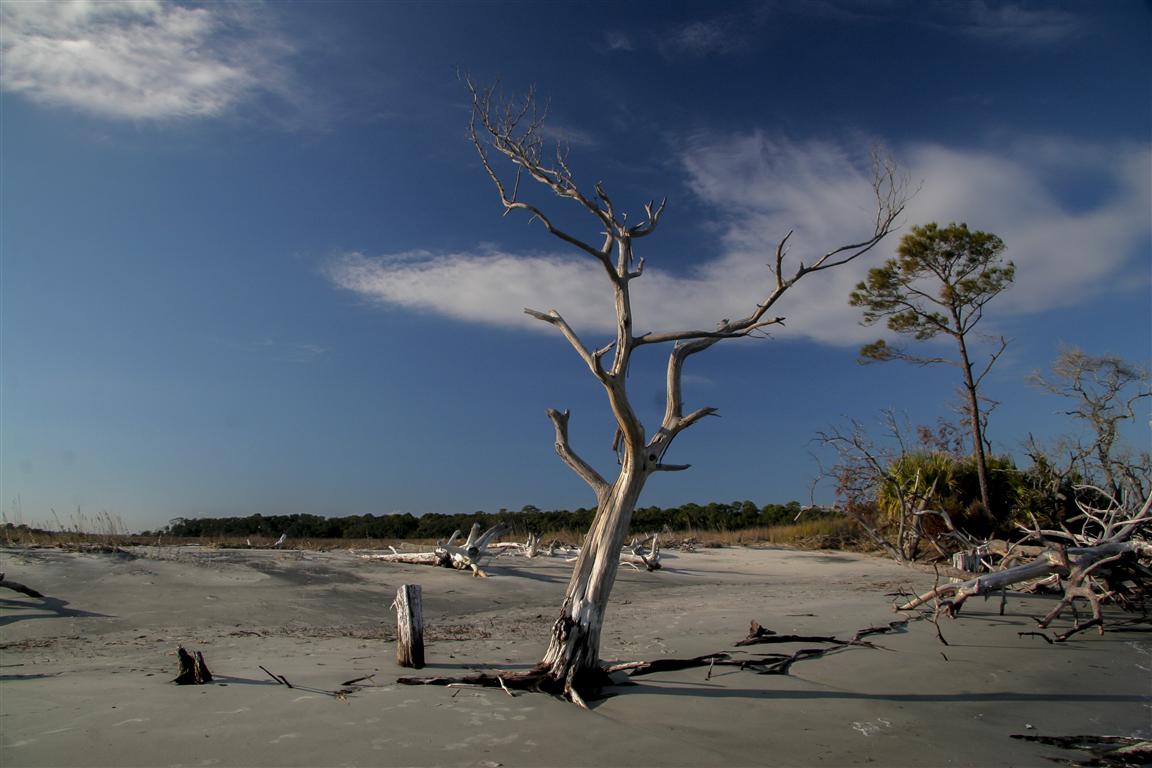 Not far from Savannah we were able to kayak to Tybee Island and walk the island beach.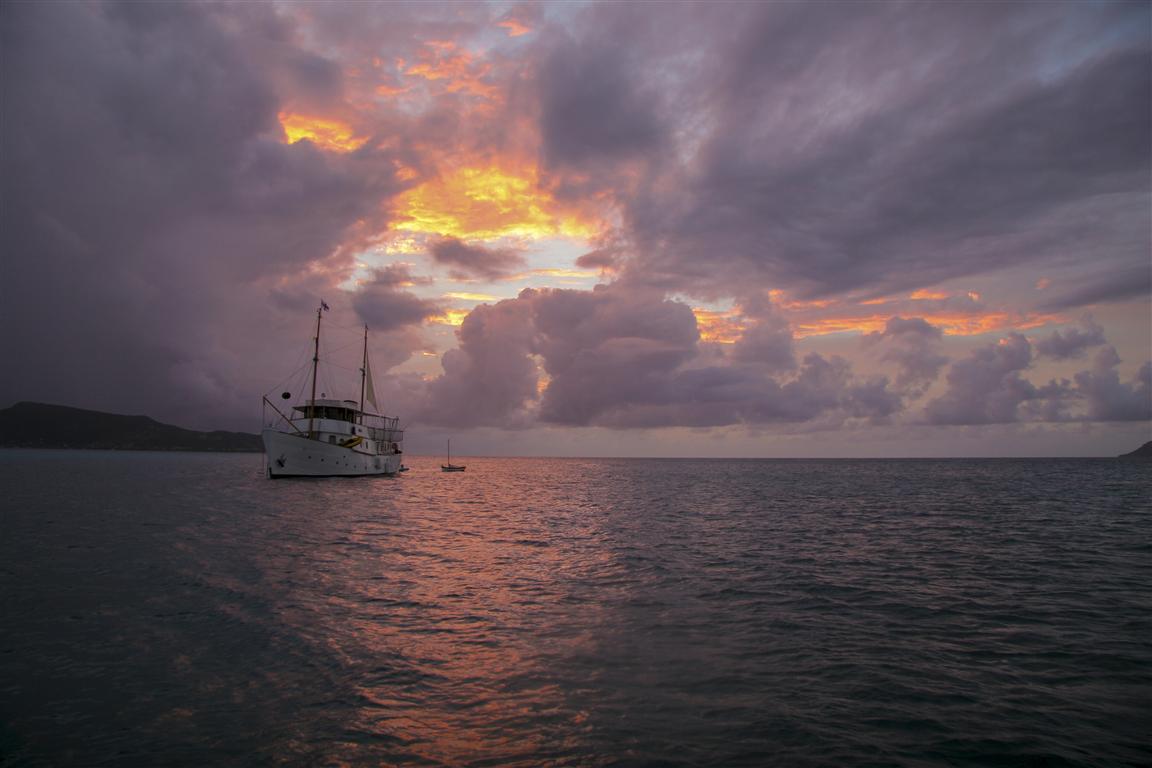 Sherry, the boys and myself chartered a sailboat in St. Vincent in the Grenadines. I photographed this gorgeous English boat anchored next to us at sun set. Then stay up all night on anchor watch as the wind threatened to drag our anchor. See complete photo journey of Grenadine Sailing
I had a job to do in Grants New Mexico. Sherry & I really enjoyed the wonderful geology of Acoma, El Moro. Further west is a hiking trail called Red Rocks.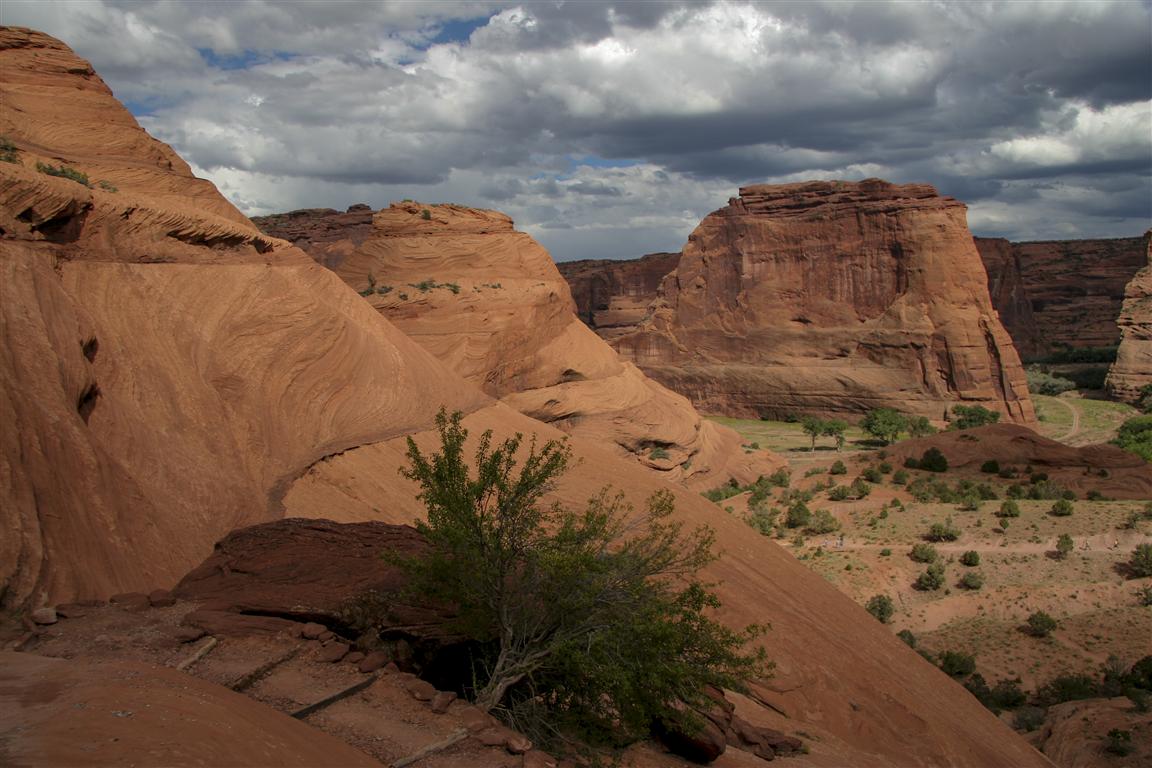 Just into Arizona is the beautiful Canyon du Chelly.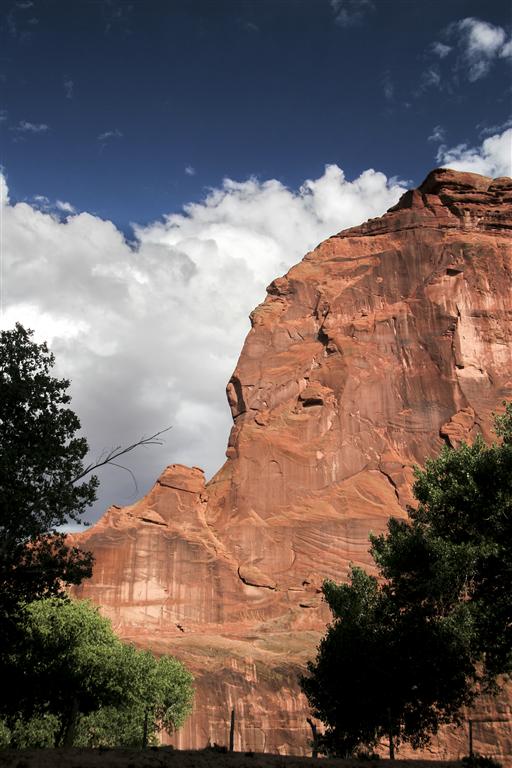 At the bottom of the trail are two ancient elders embedded in the rock, who have been watching over the cliff dwellings below them for 800 years.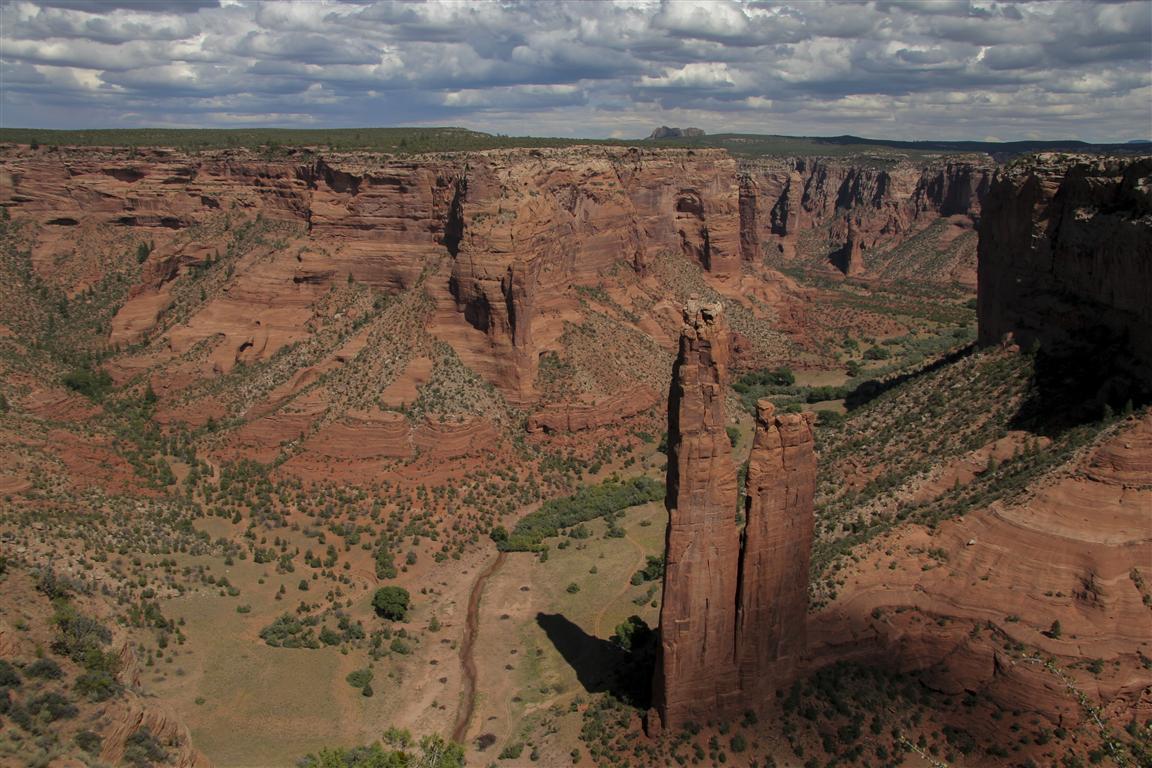 It's hard to get perspective on such scenes until you realize the tiny dots at the bottom are other hikers.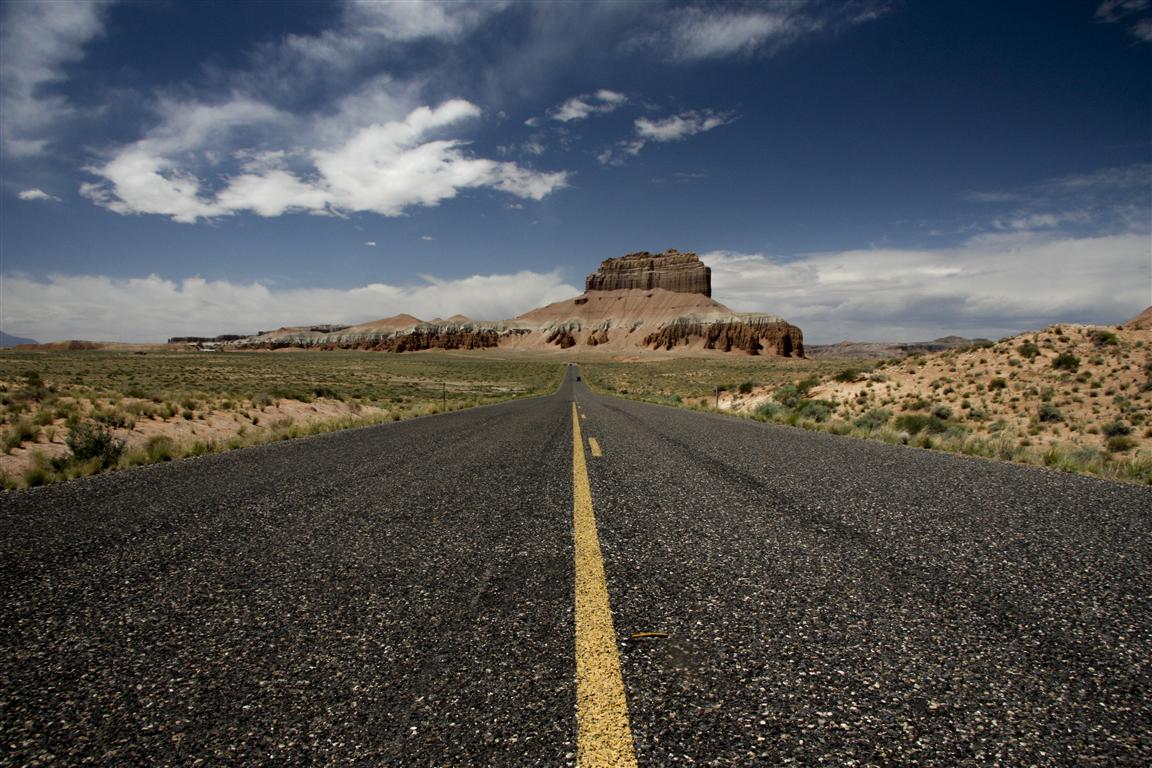 We headed North from there across the Western landscape.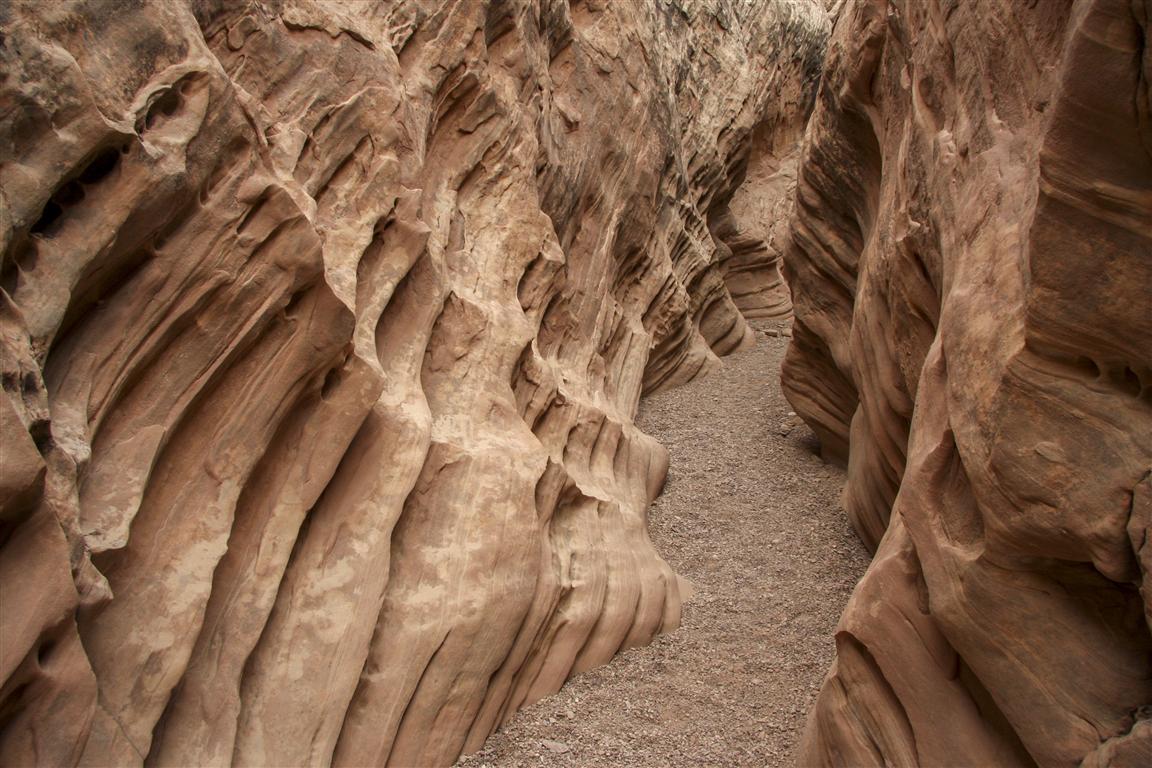 One of the stops was the slot canyon "Little Wild Horse". A few months before, my son Jeremy had to make a fast re-treat out of this canyon as it began to fill up from a flash flood.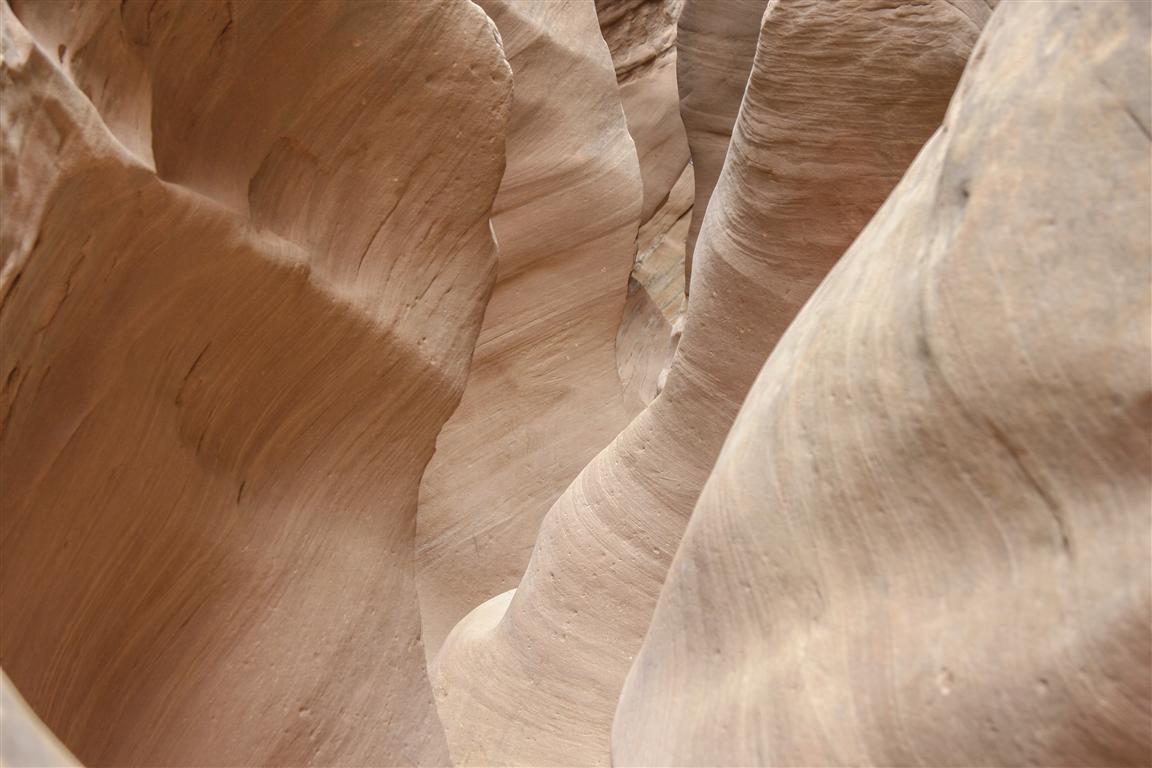 Hiking in and out of this narrow canyon is like being in another world
Not far away is Monument National Park.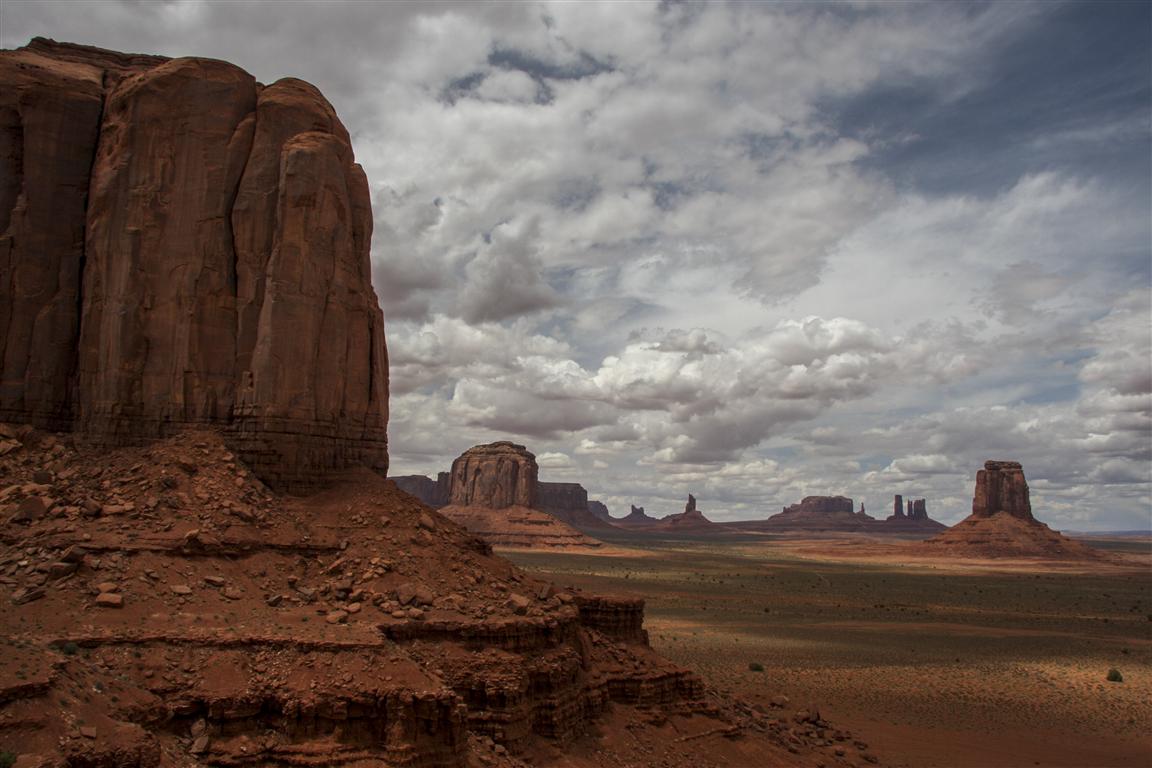 It's easy to understand why its called Monument.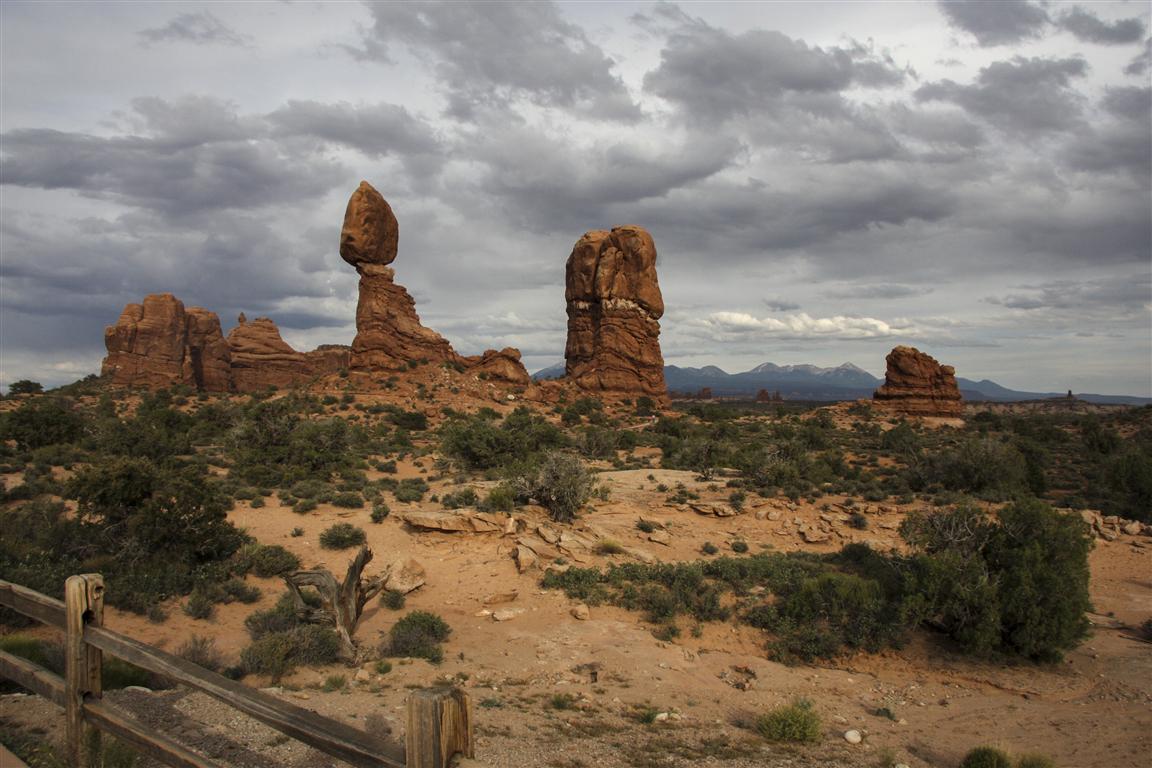 North of Monument is Arches National Park and the famous Balancing Rock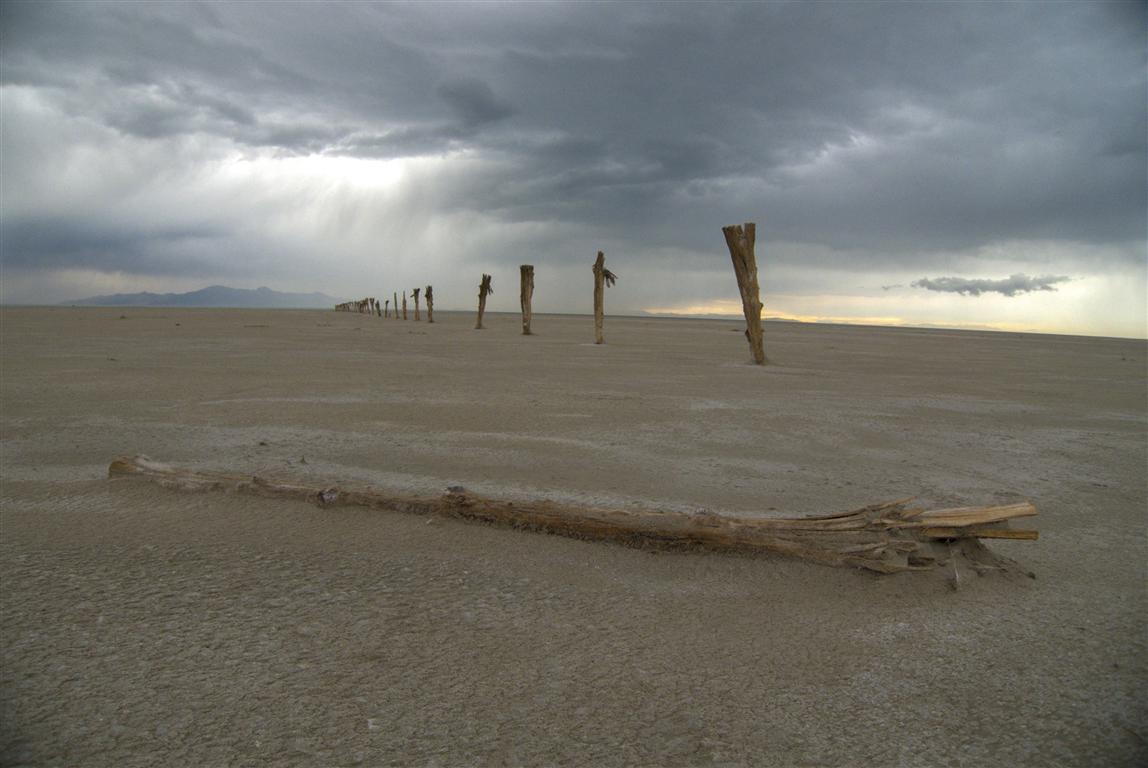 And if you travel farter North you end up in Salt Lake City. Jeremy took this picture on Antelope Island, in the middle of the Great Salt Lake.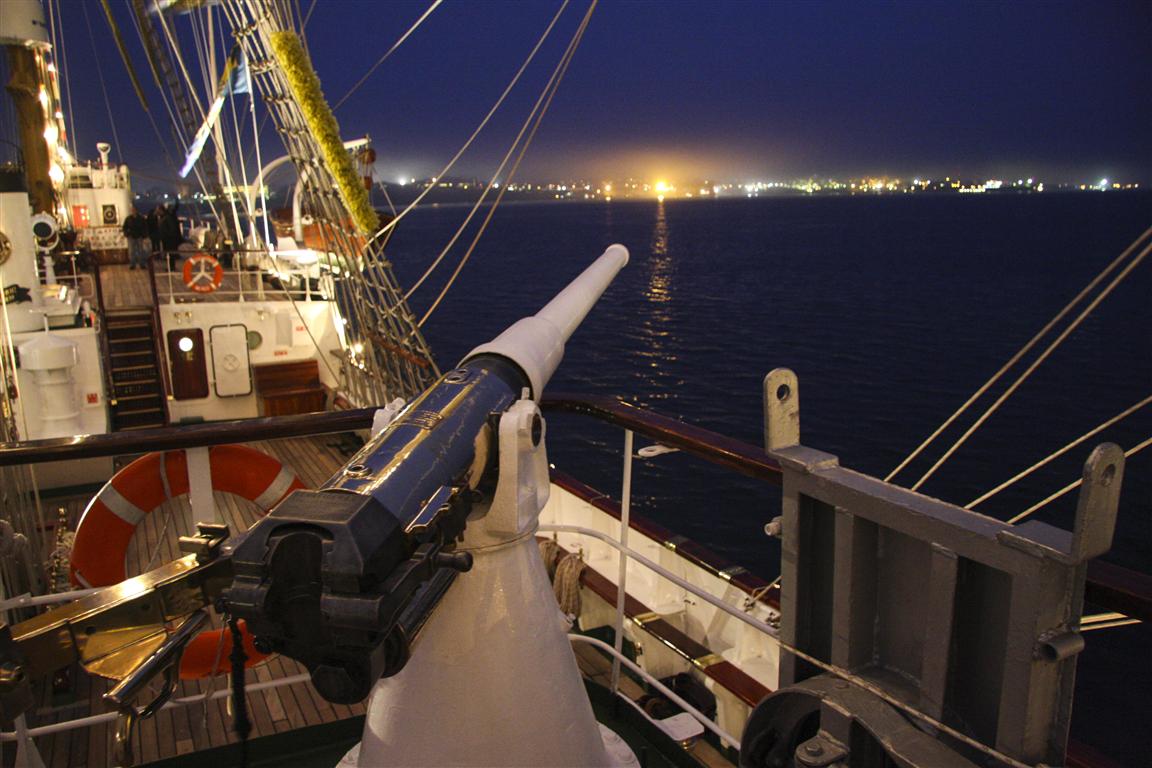 After teaching a school mitigation class in Halifax, Nova Scotia, we toured a Mexican tall ship in the harbor. Halifax is a wonderful town to stroll through.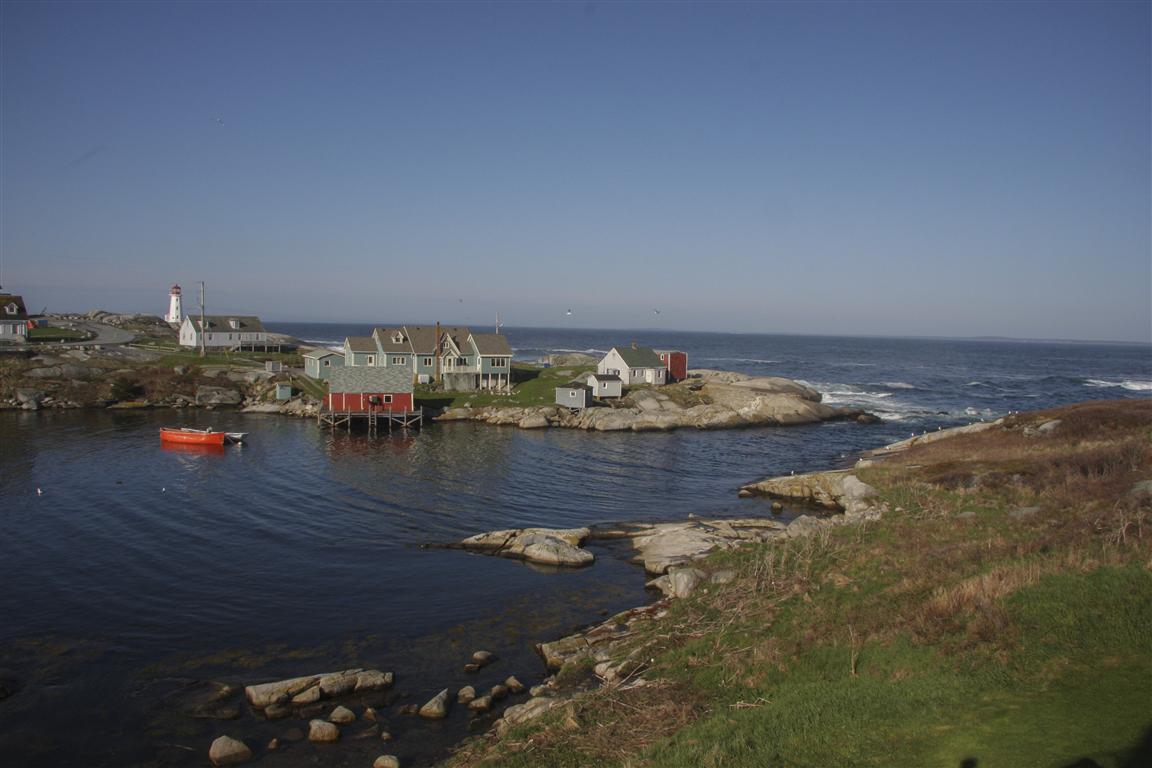 From Halifax we rented a car & stayed at a B&B with a view of the light house on Peggy's Cove.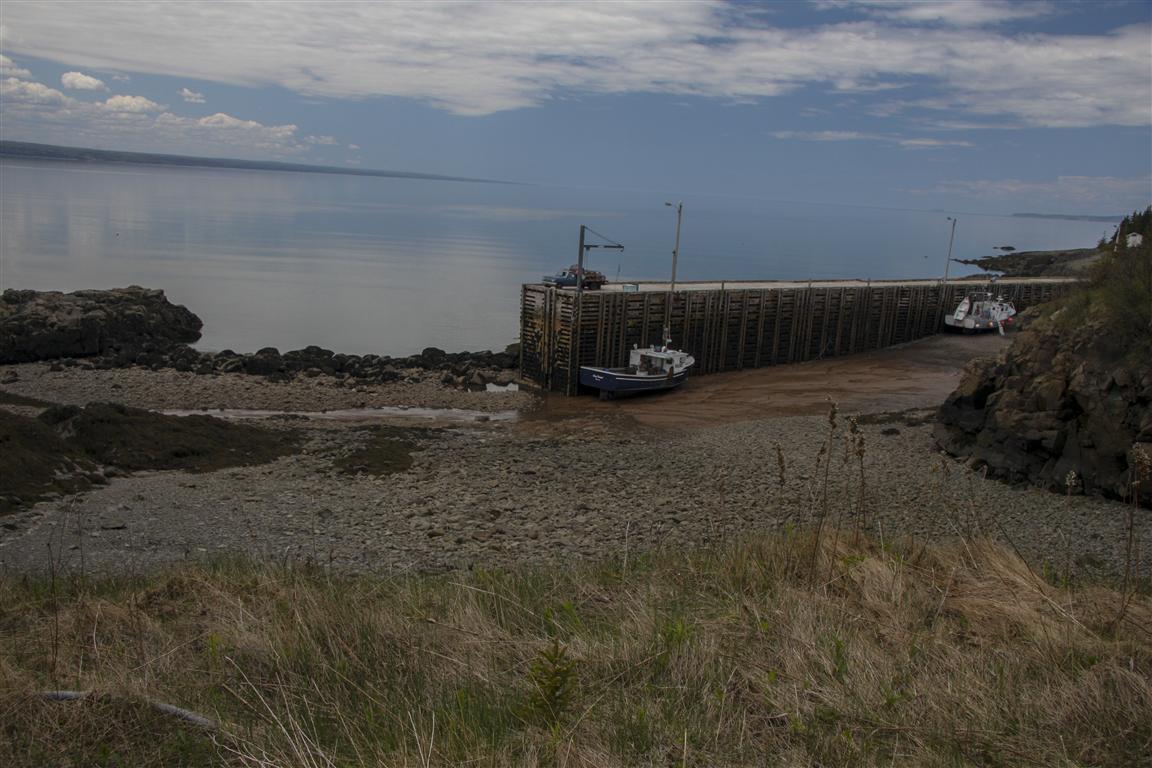 We drove across the peninsula to hike out on an over look of the Bay of Fundy and catch a glimpse of the highest tides in the world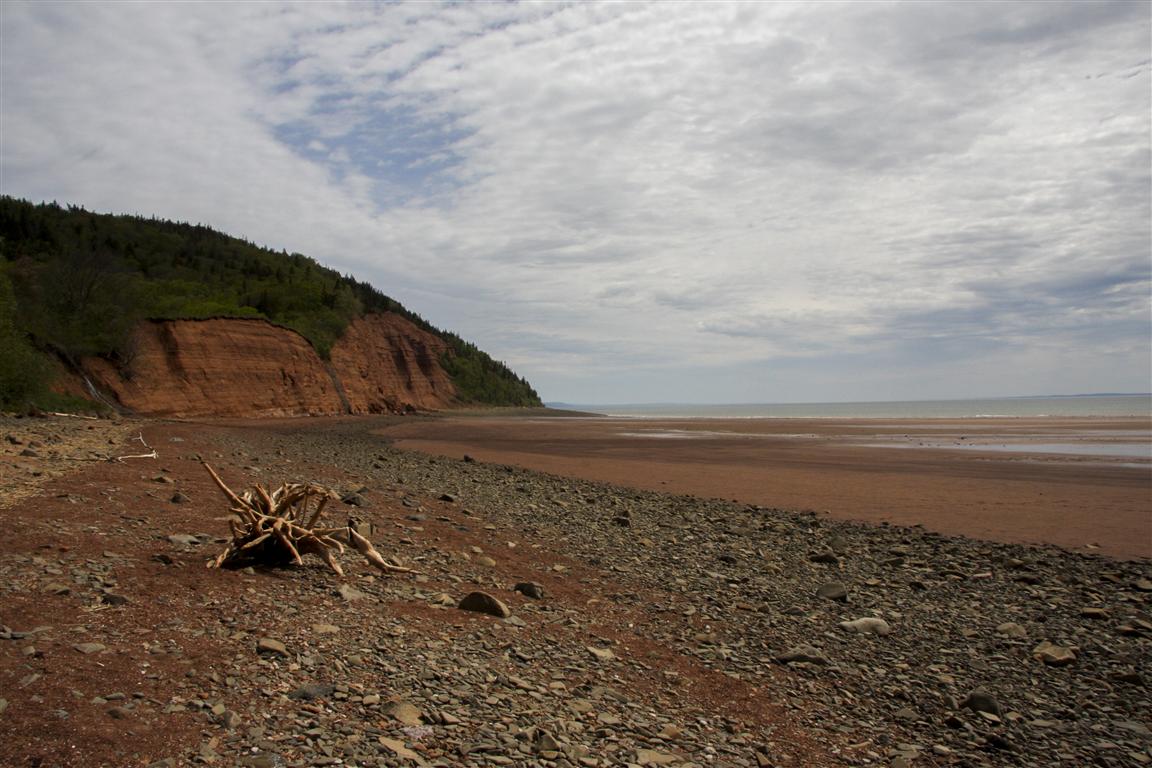 This was a wonderful walk on Bromidon Beach in the Bay of Fundy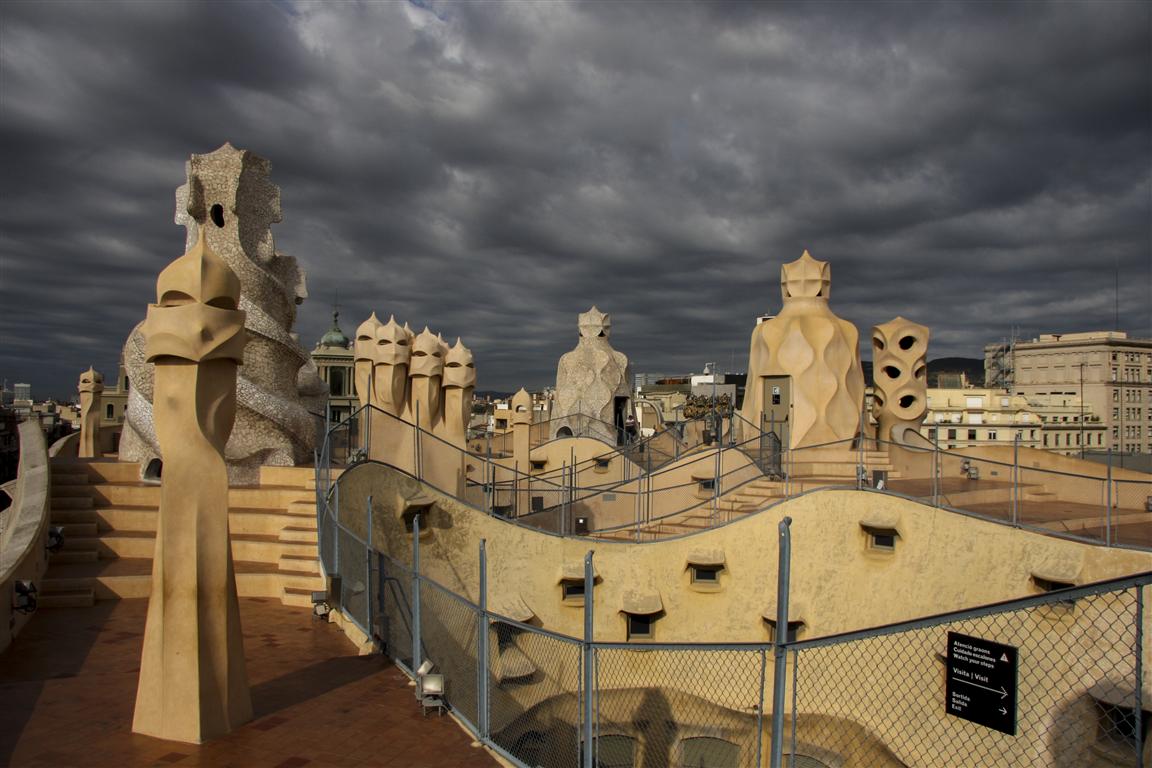 Sherry & I were invited to a wedding in Southern France. Our first stop was Barcelona where we fell in love with all of Gaudi's work. From about 1900 until his death in 1926 his spectacular organic architecture completely revolutionized Barcelona's architecture. These are his chimneys on the roof of Pedrera house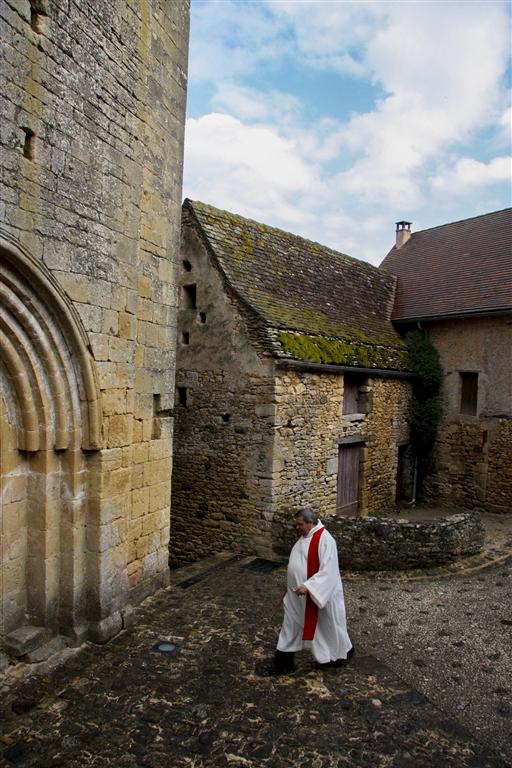 We attended the most magical wedding of two friends in this 12th century Urval church in the Dordogne region of France with the blessing of the local town friar.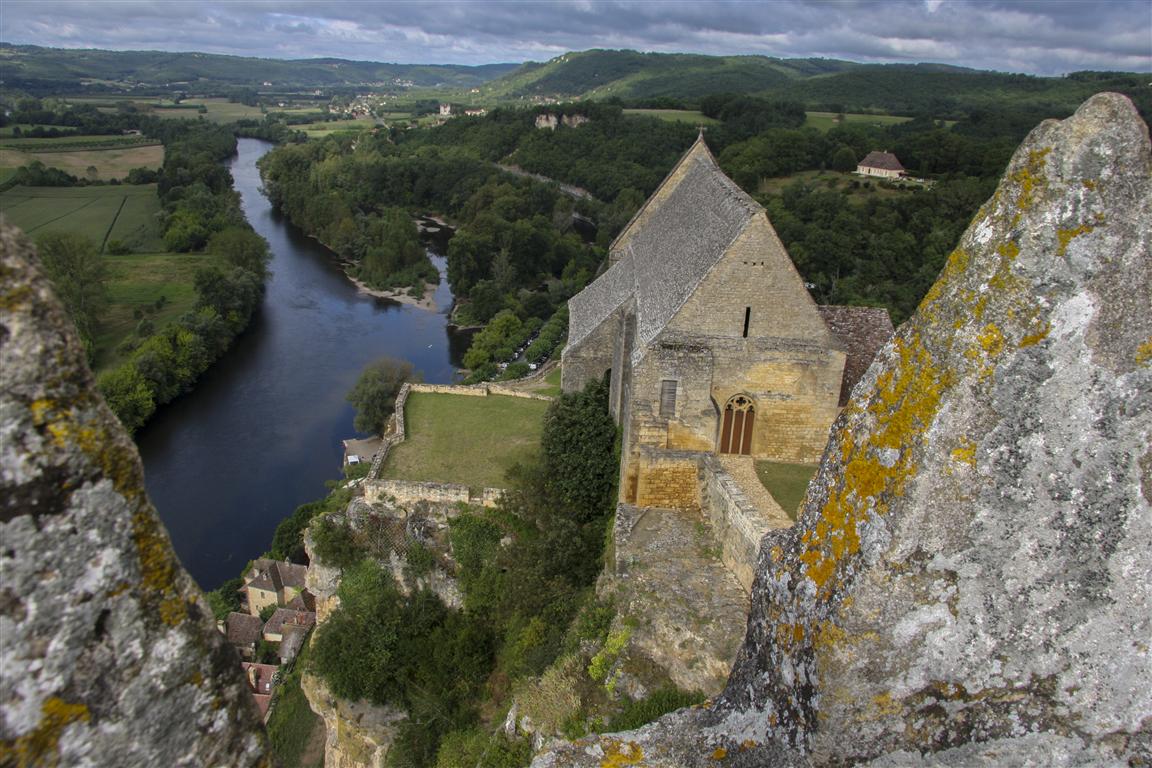 How beautiful the countryside is from this view of the Dordogne river from the top of Chateau de Beynac.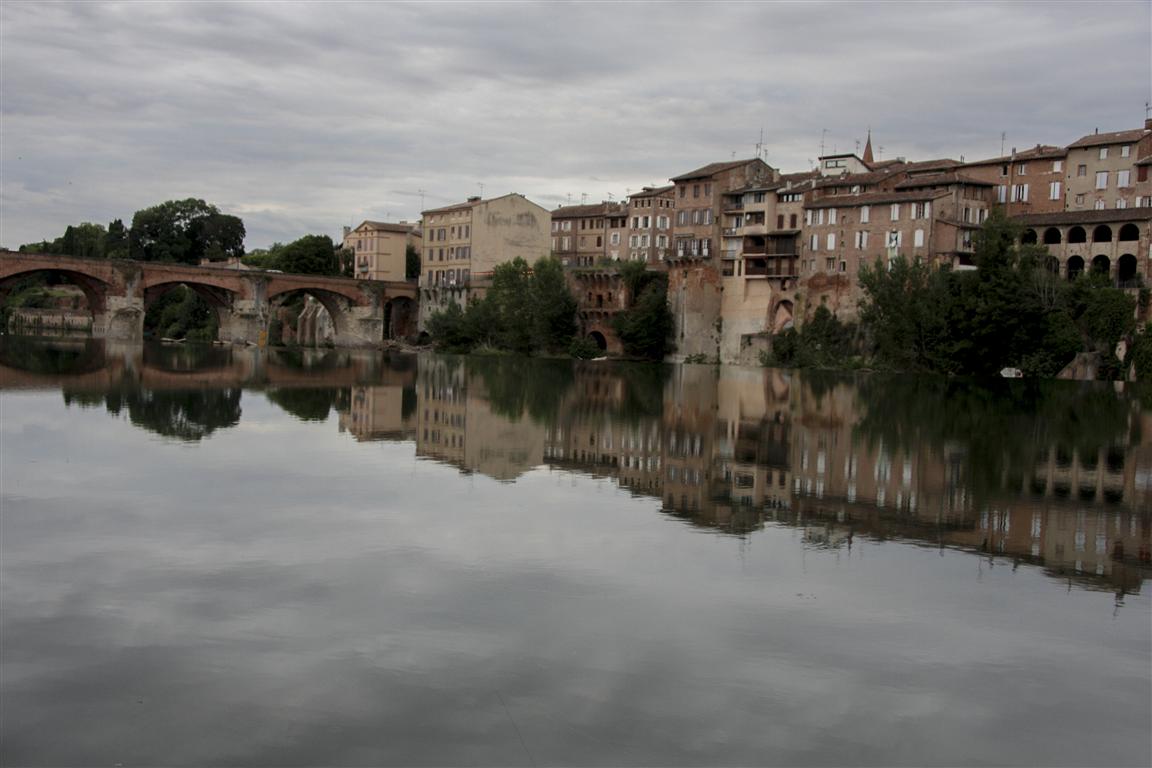 On our way back to Barcelona we spent the night in Albi and had wonderful dinner on the Tarn River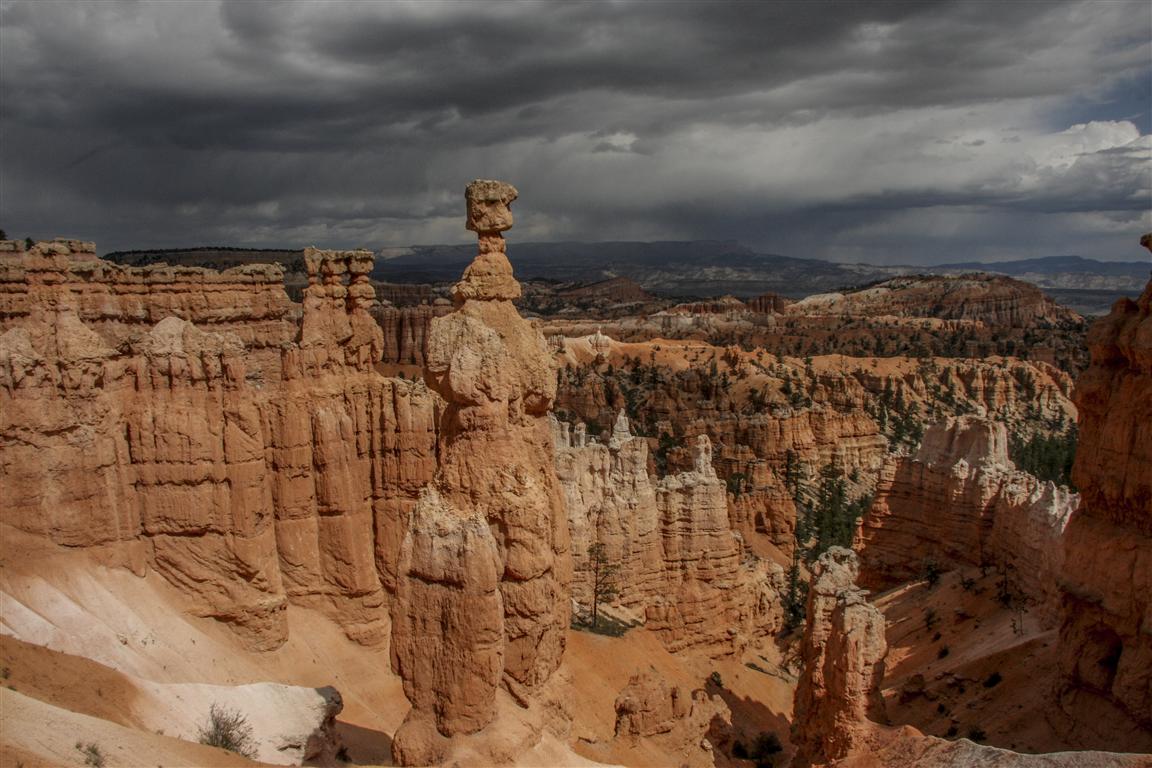 After a radon conference in Las Vegas, Sherry & I took off to catch some hiking among the hoodoos in Bryce Canyon, Utah
Not far from Bryce Canyon is Zion Park. Another must see location in Utah.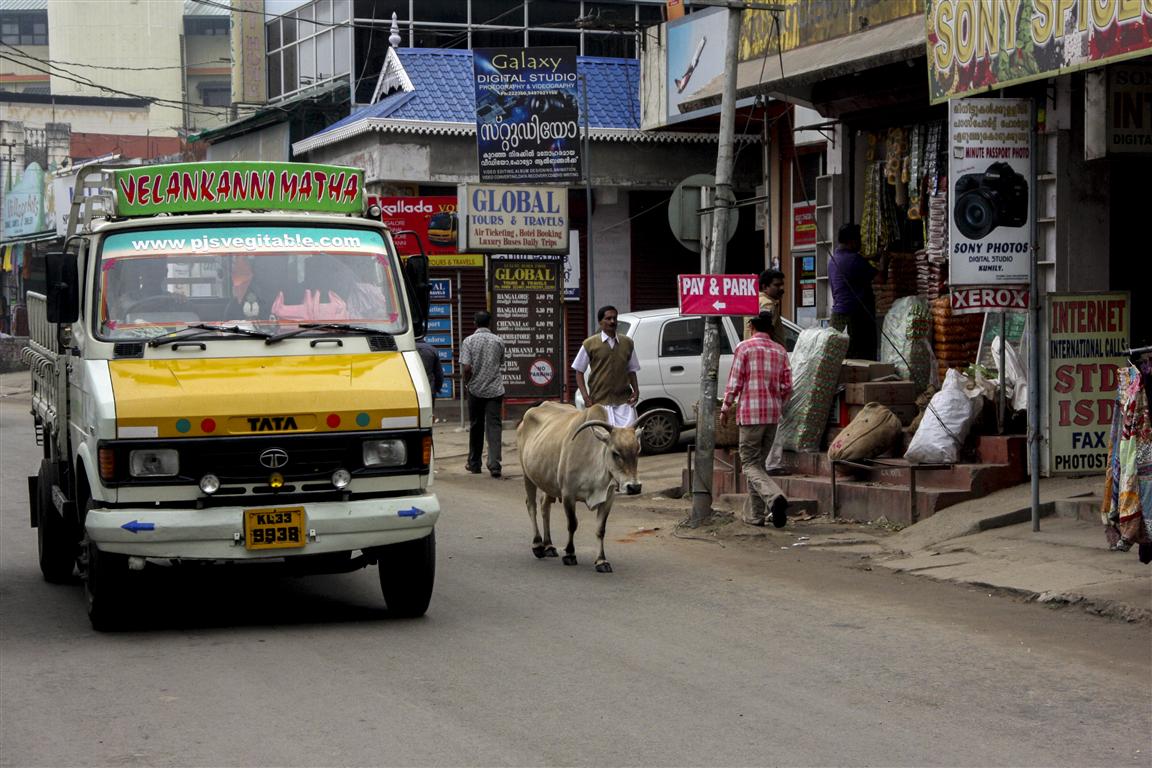 We have a good friend who lives in a mountain town in Southern India. The 1st thing you realize is honking your horn is the only rule of the road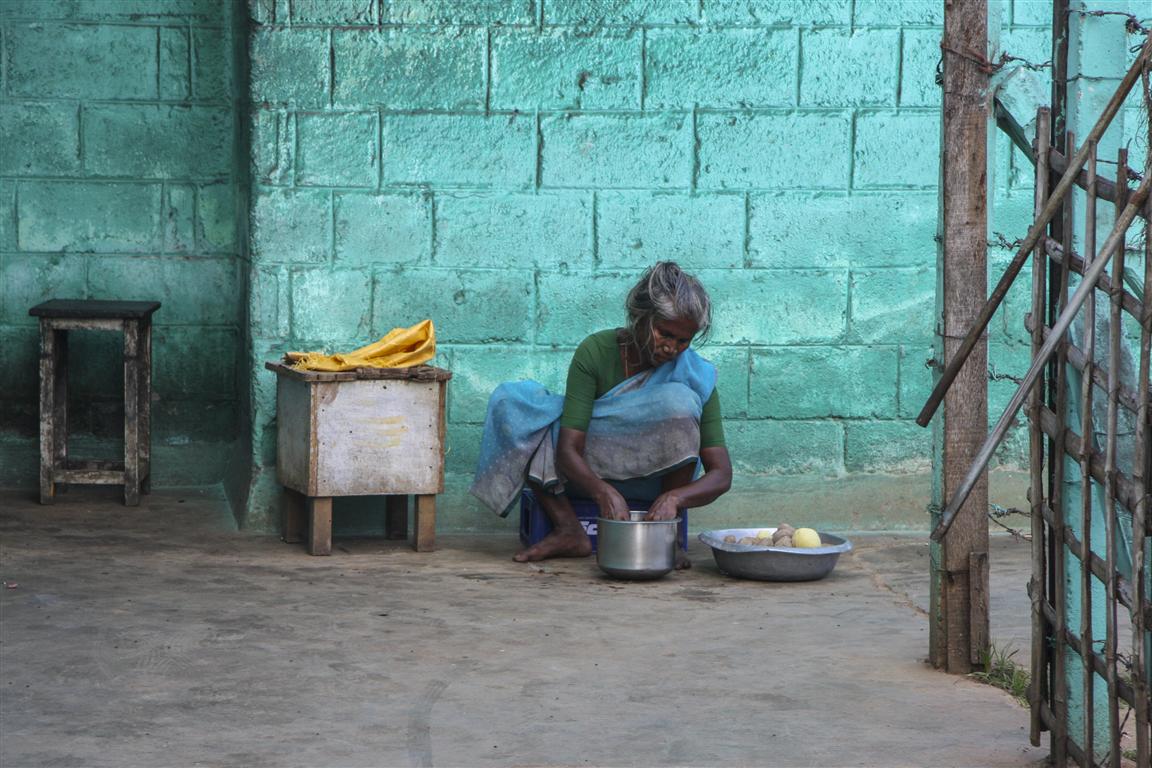 It was a four hour drive to her village. We stopped for some tea and this woman was washing behind the store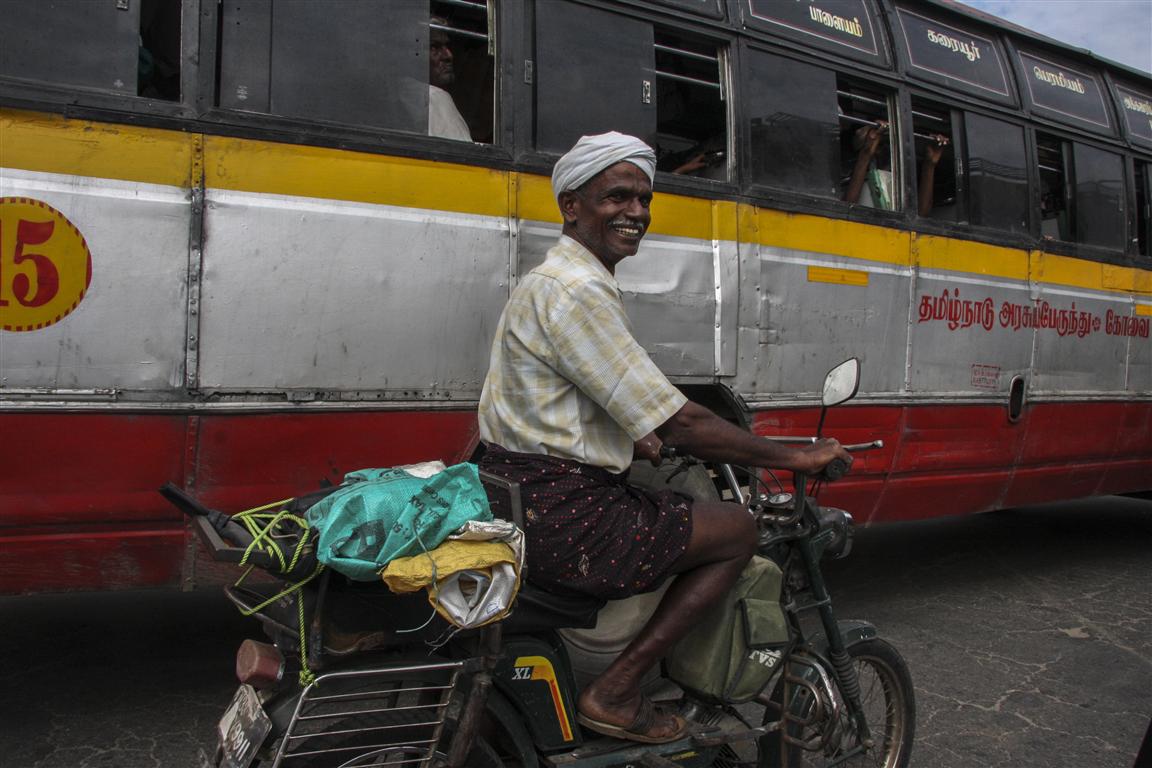 The locals always have a smile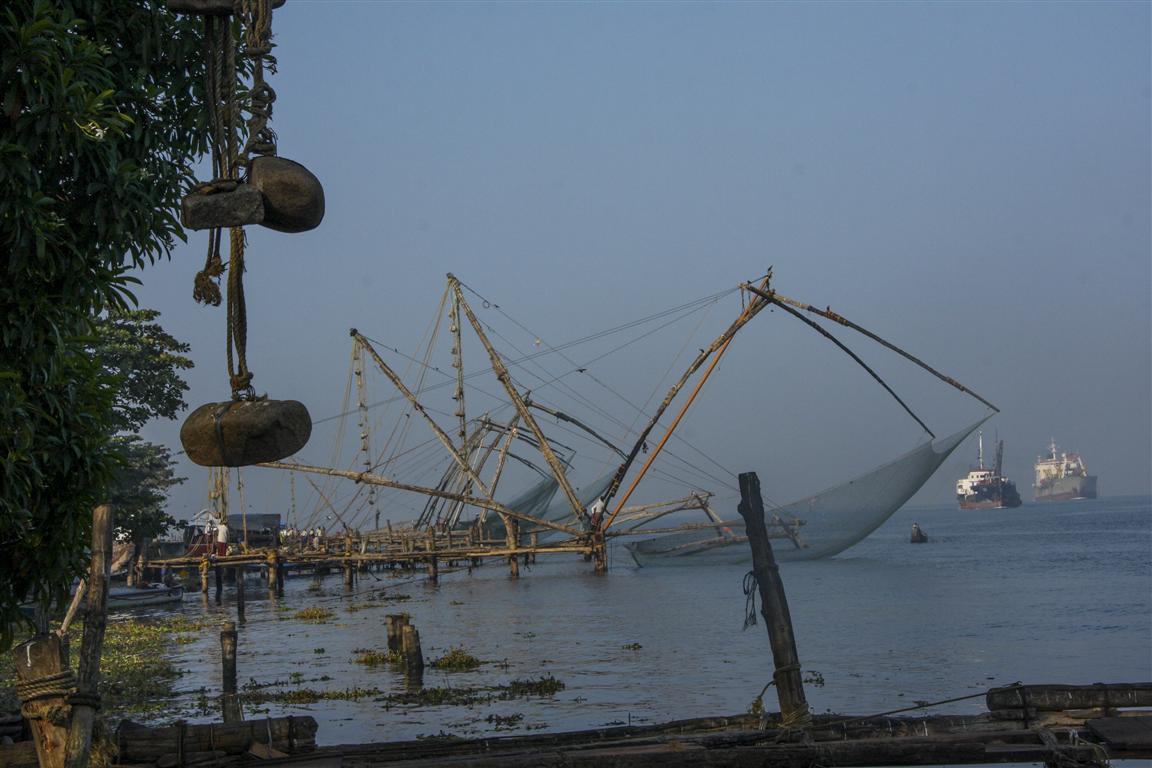 These were the Chinese fishing nets still used in Fort Kochi, India They are dropped in the water and then raised up with counter balanced stones.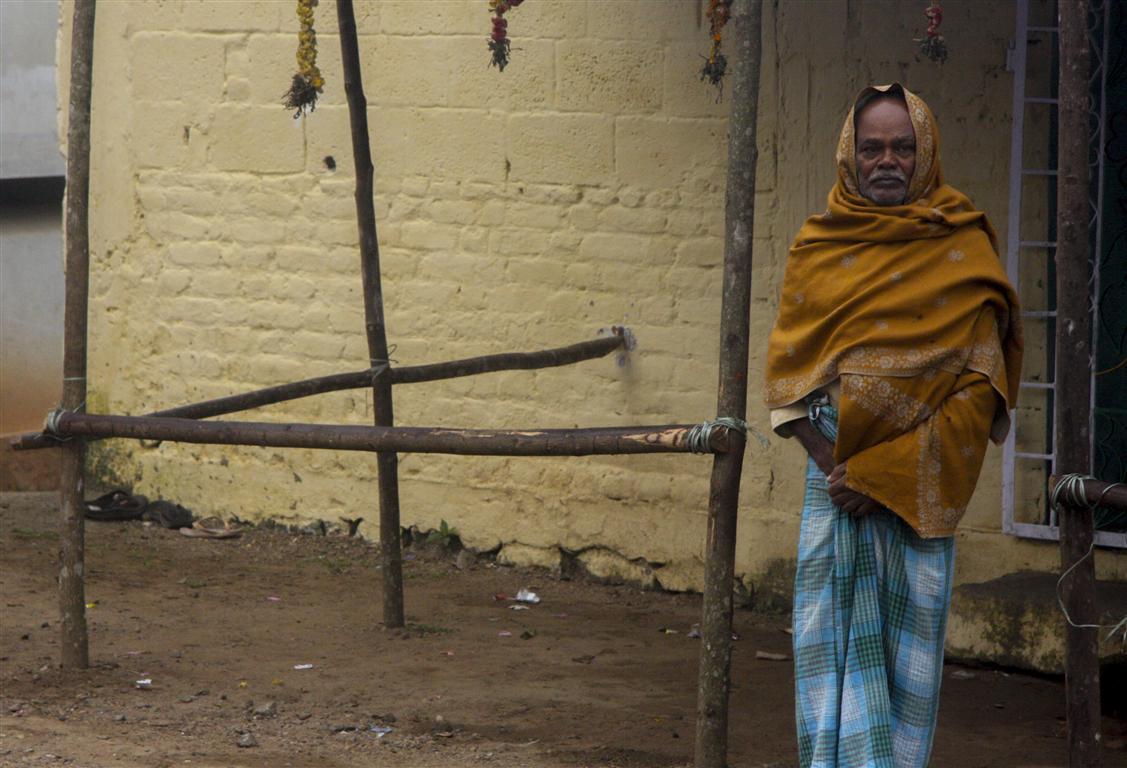 This Indian man was outside the cafe we stopped at for coffee on the way to the Periyar National Park Tiger Preserve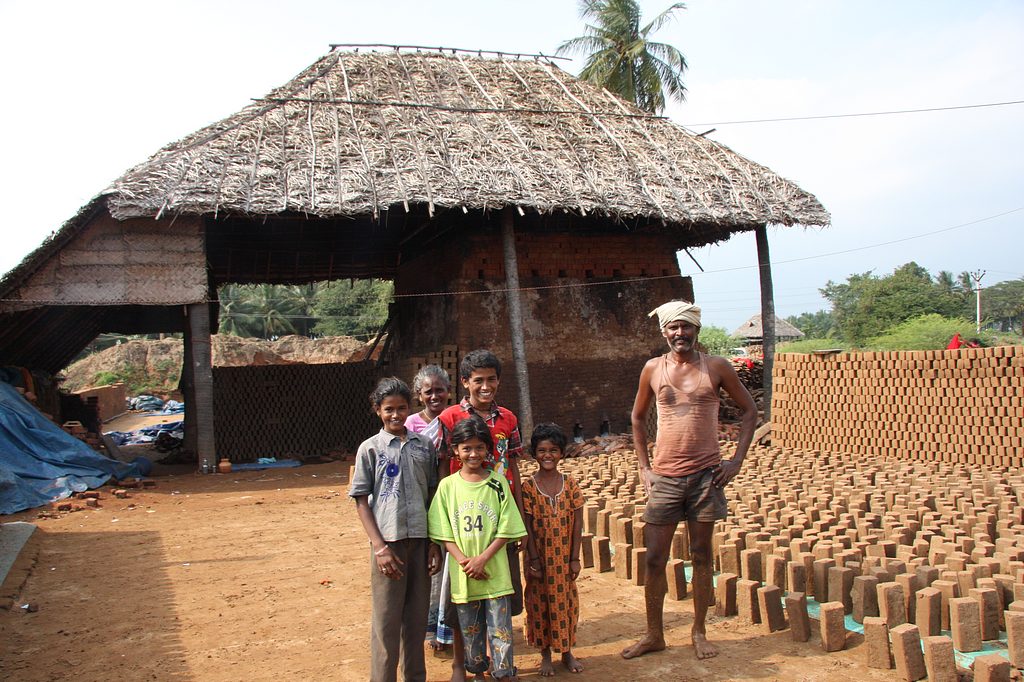 We stopped along the road in Kerala to check out this family run brick farm and the owner brought his whole family out to meet us. The kiln is under the thatch roof.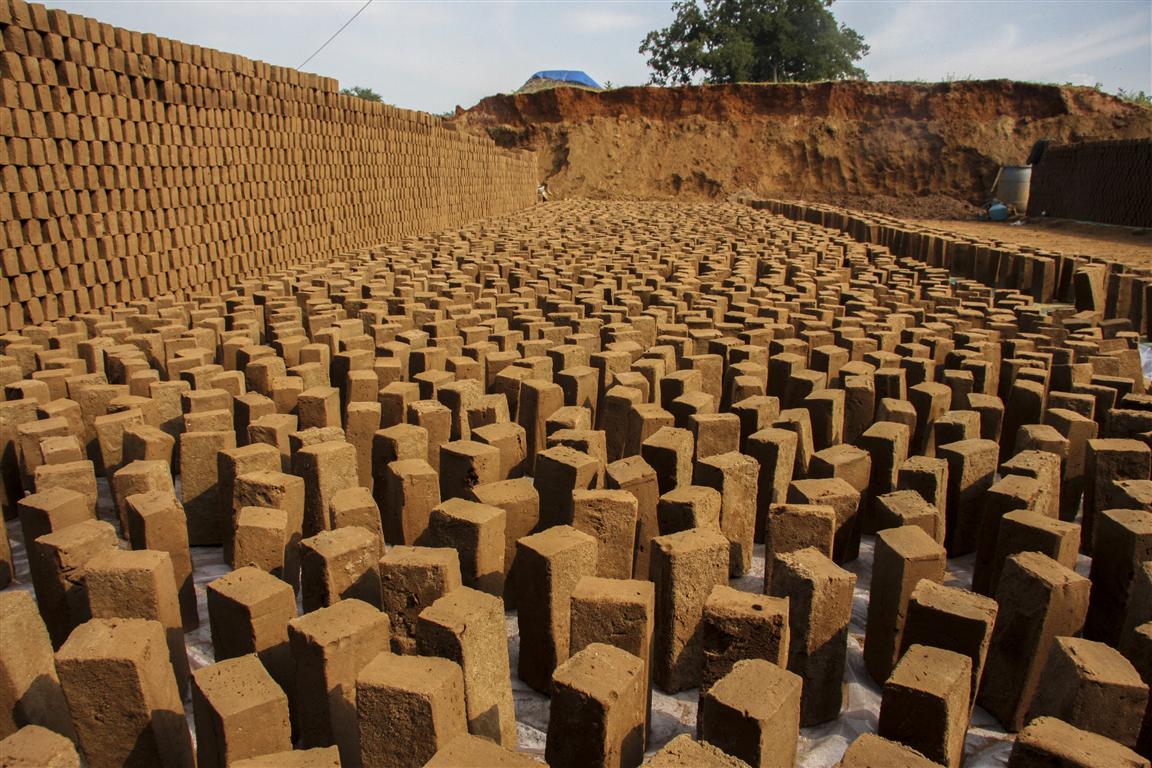 These are his bricks.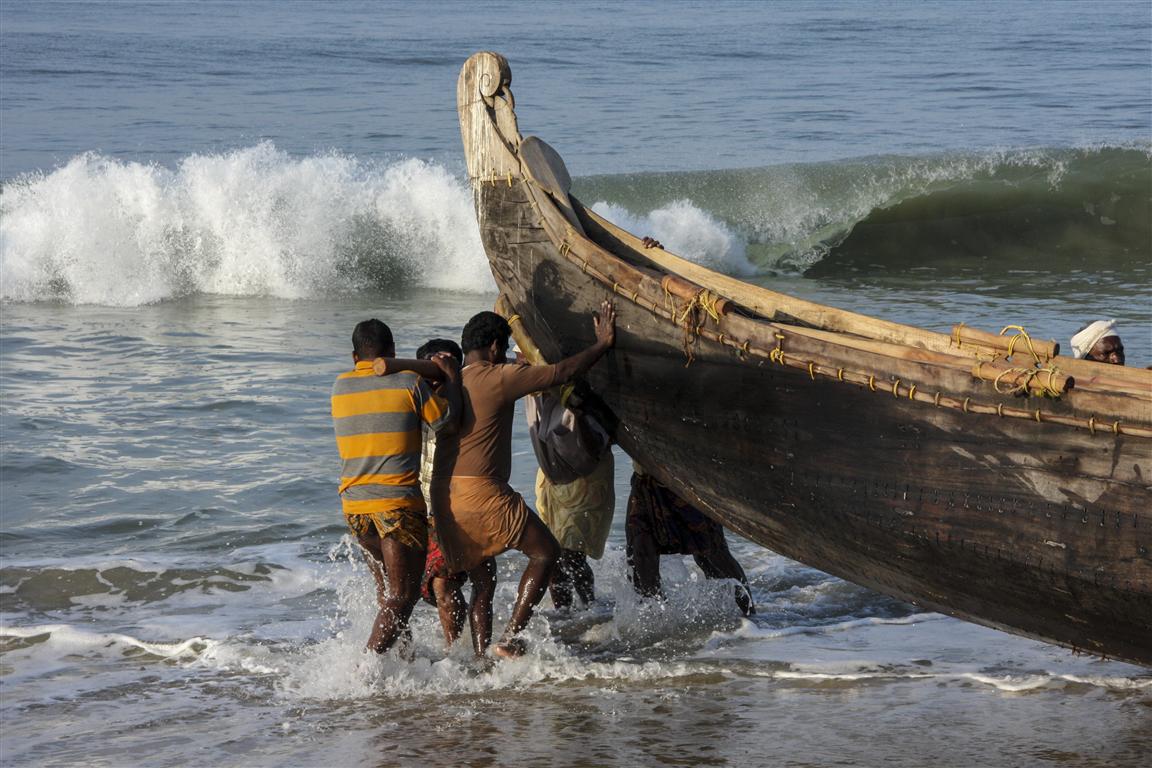 In Varkala, India, the locals work as a team Using these wooden boats they spread their nets in the water right off the beach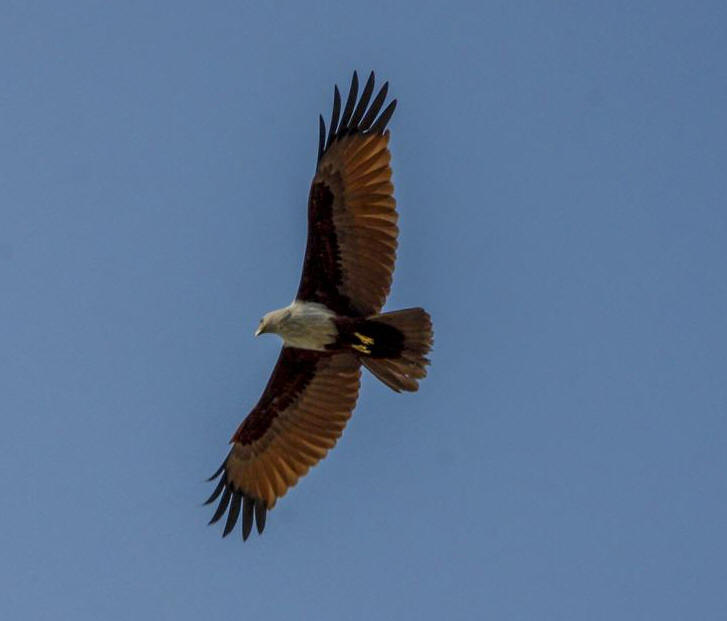 Eagles fly above the nets and try to swoop down and steal the catch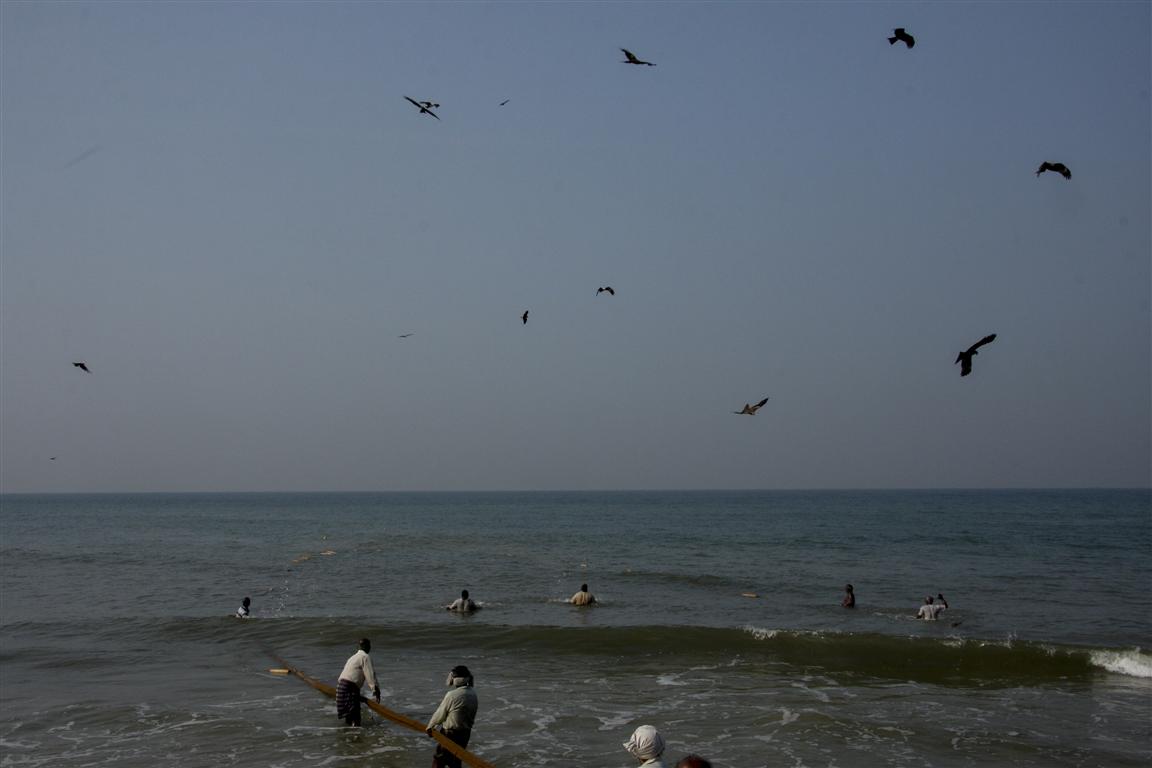 Once the nets are in place they pound the water with their fists to scar off these Eagles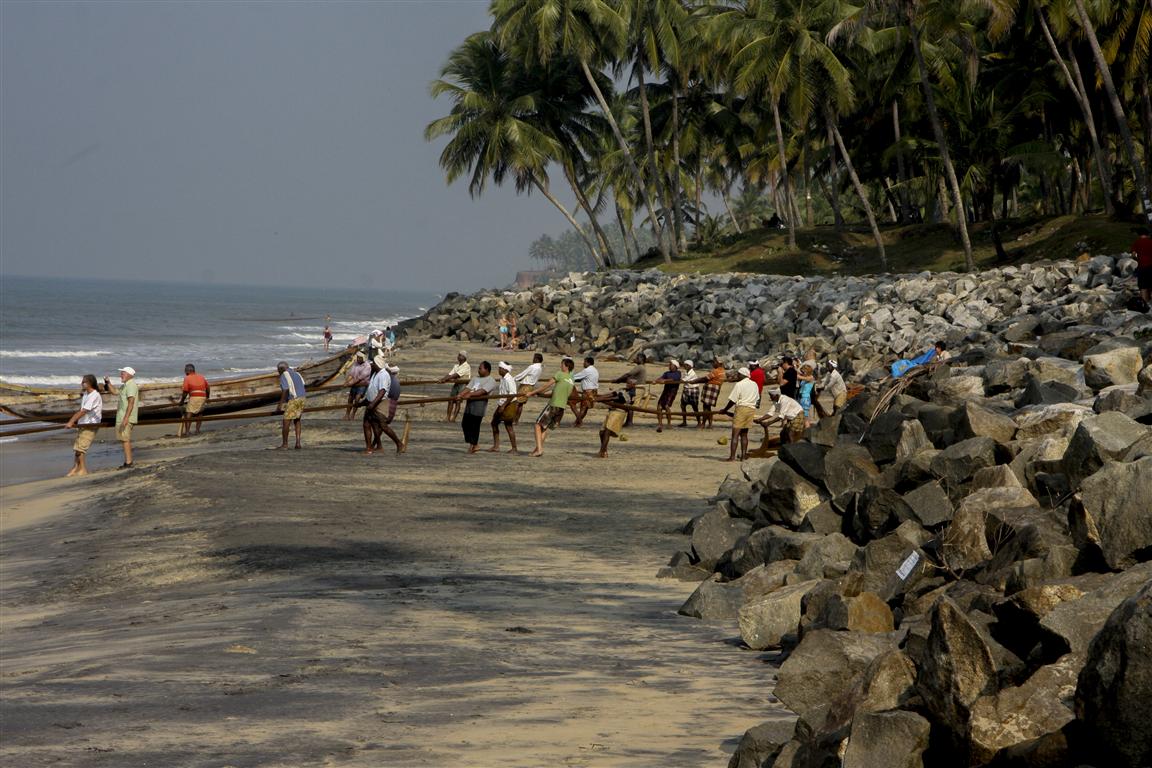 Everyone helps drag in the heavy nets up on the beach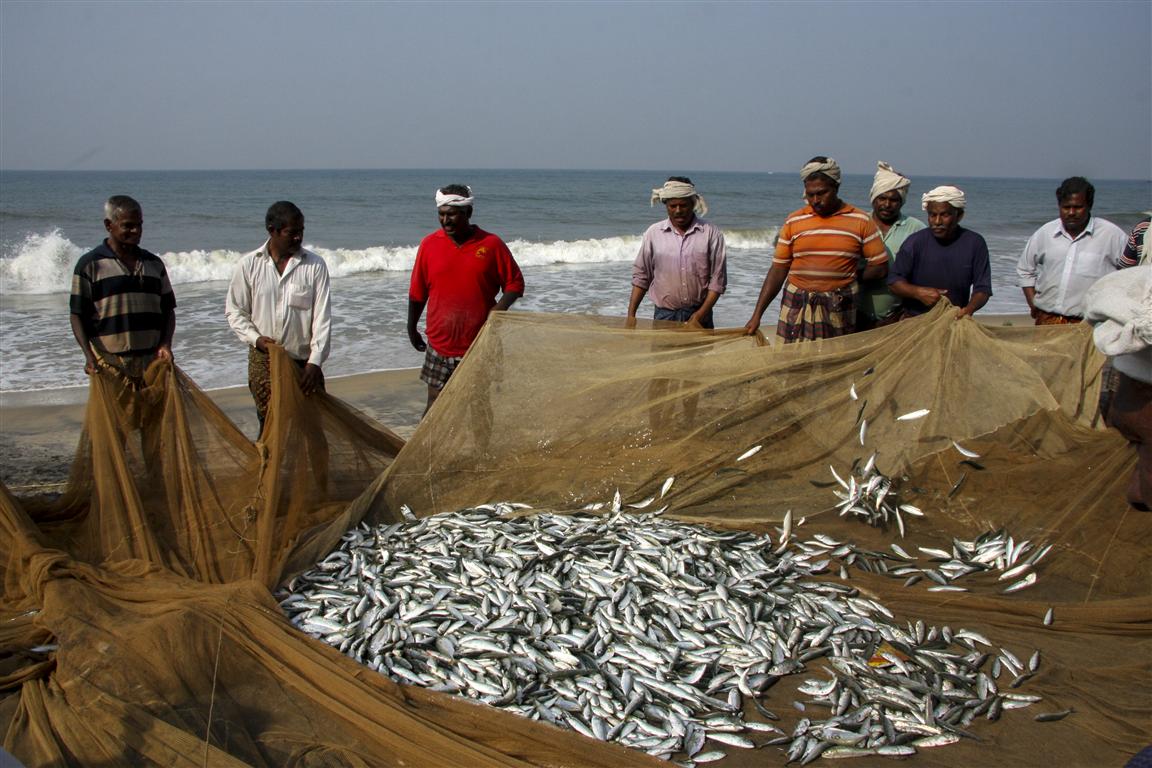 The fish are flipped into the center then they start bidding on who gets what and how much is it worth.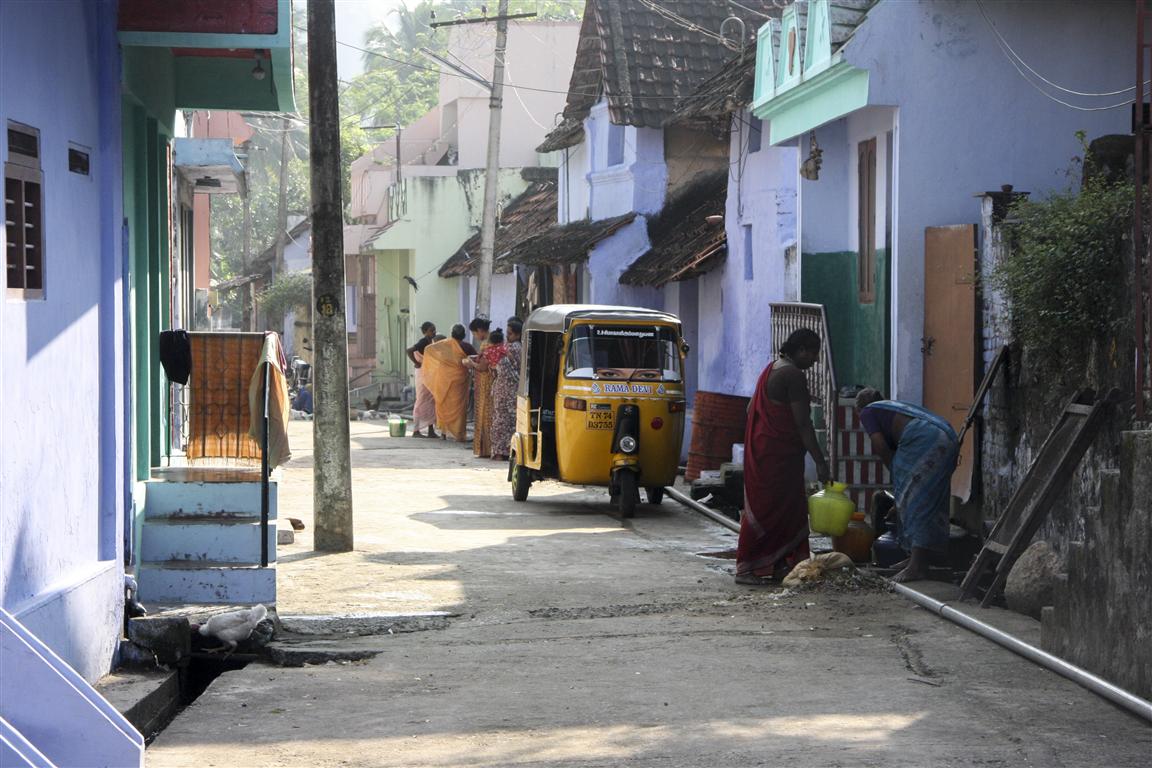 We visited a traditional Ayurvedic Clinic in Derisanmacope, India. This was a side street.
This was the local priest in the Derisanmacope village.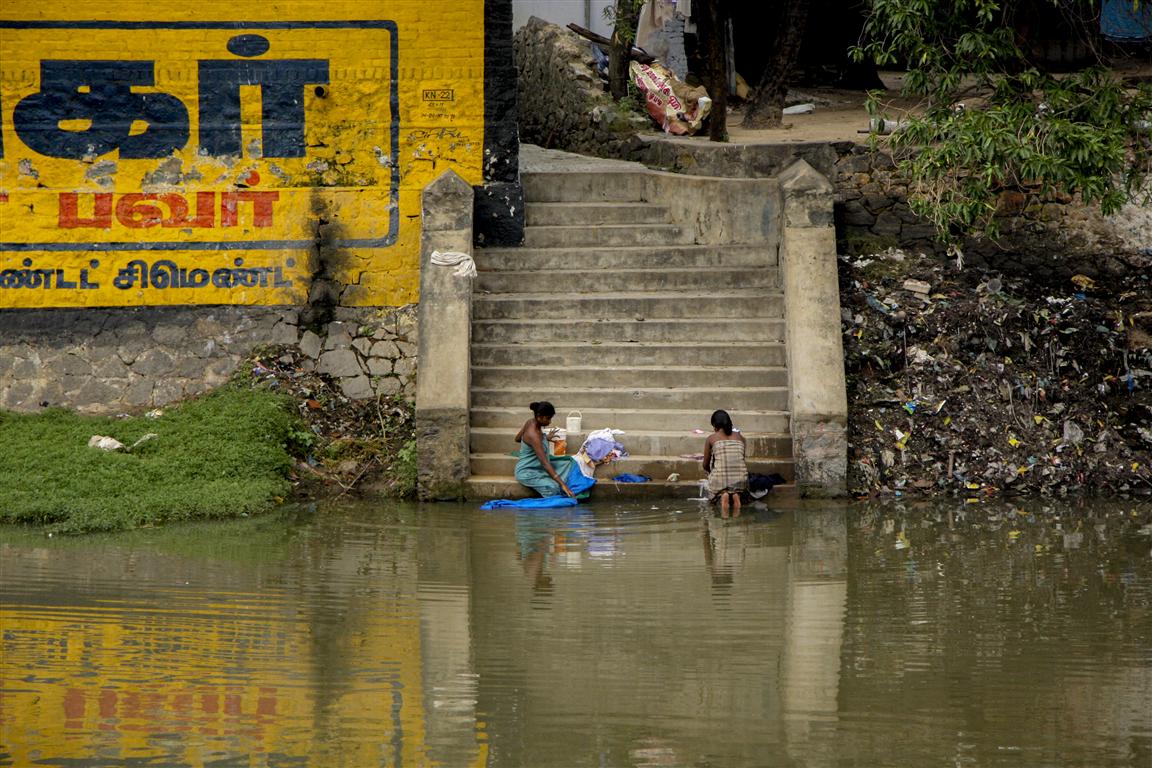 A couple of Indian woman washing their clothes in the river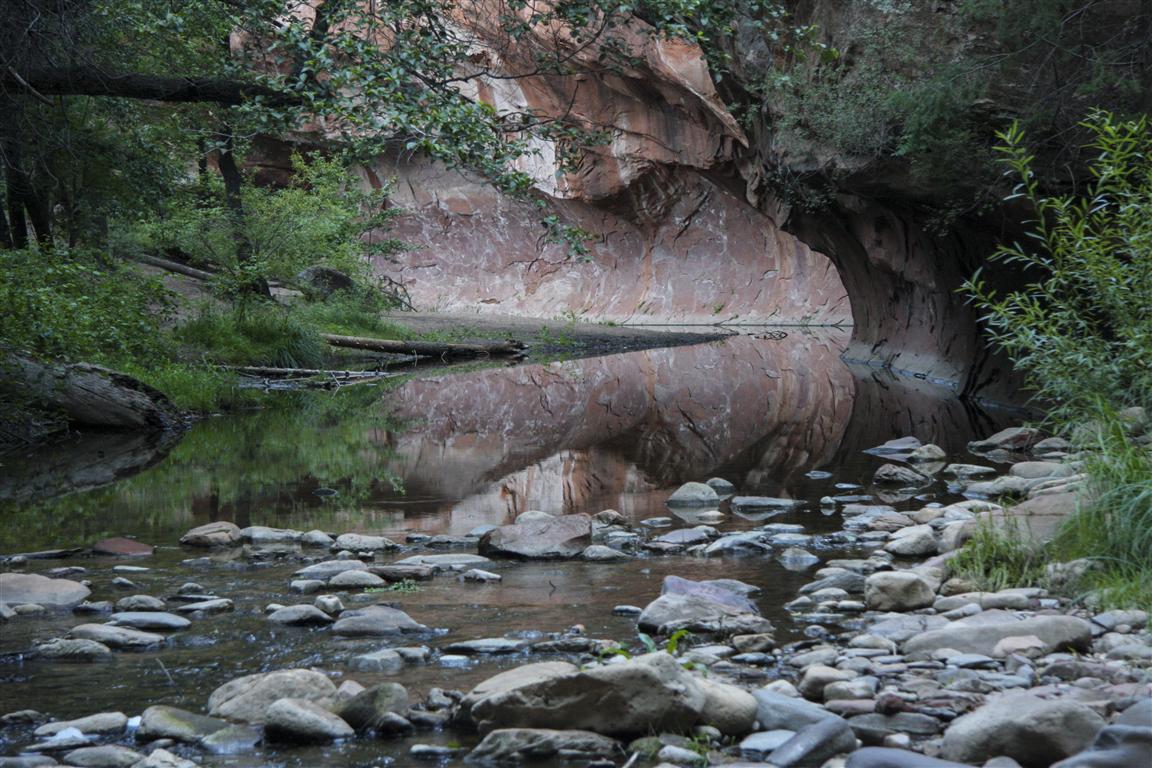 I had another job in New Mexico. This time after the job we toured around Sedona in Arizona, the Painted Desert, the Petrified Forest and the Grand Canyon. Just outside Sedona is a beautiful hike through West Fork Canyon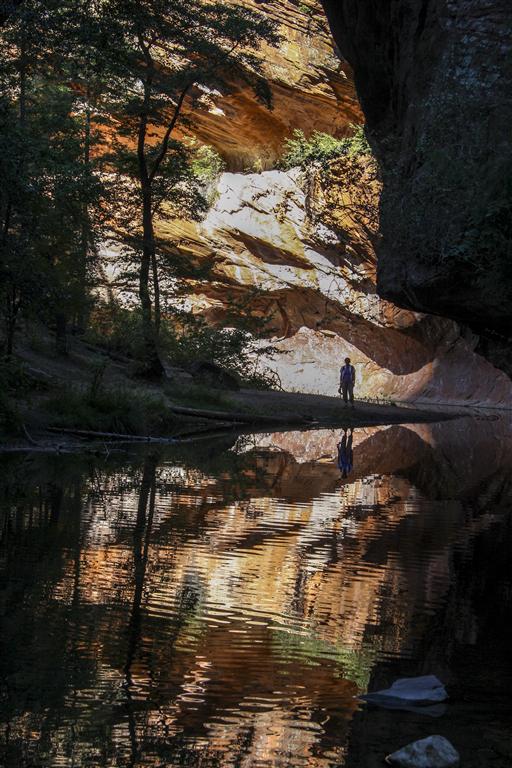 We started the West Fork canyon Hike late in the day. I caught this silhouette of Sherry on the water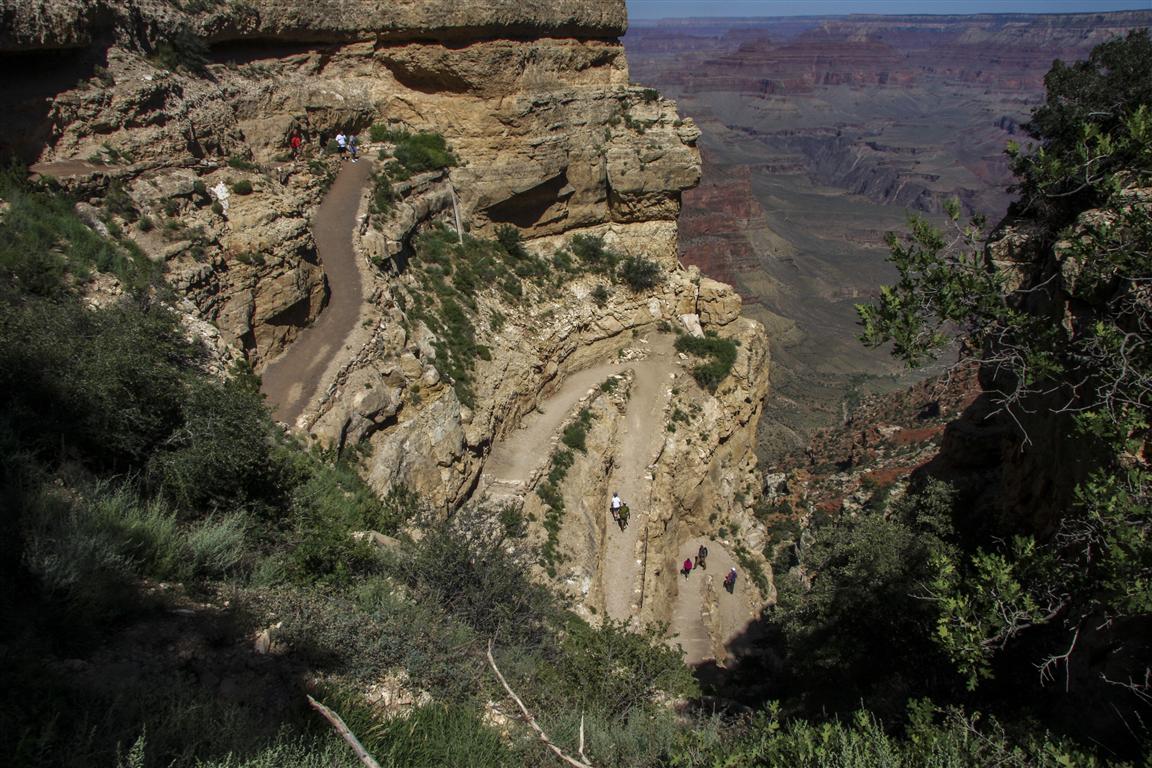 We left Sedona early one morning to make it to the Grand Canyon and started hiking down the Kalib Trail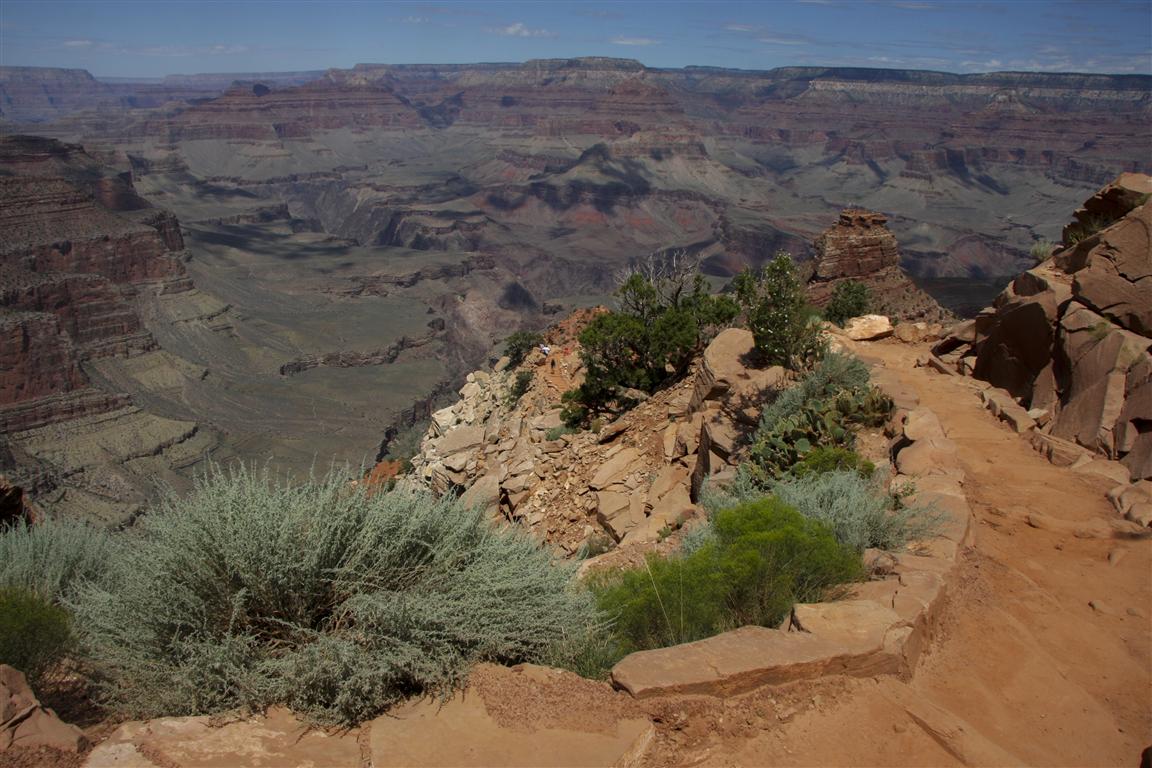 There had been a lot of rain that year and the vegetation and the morning light, created this incredible watercolor vista in the Canyon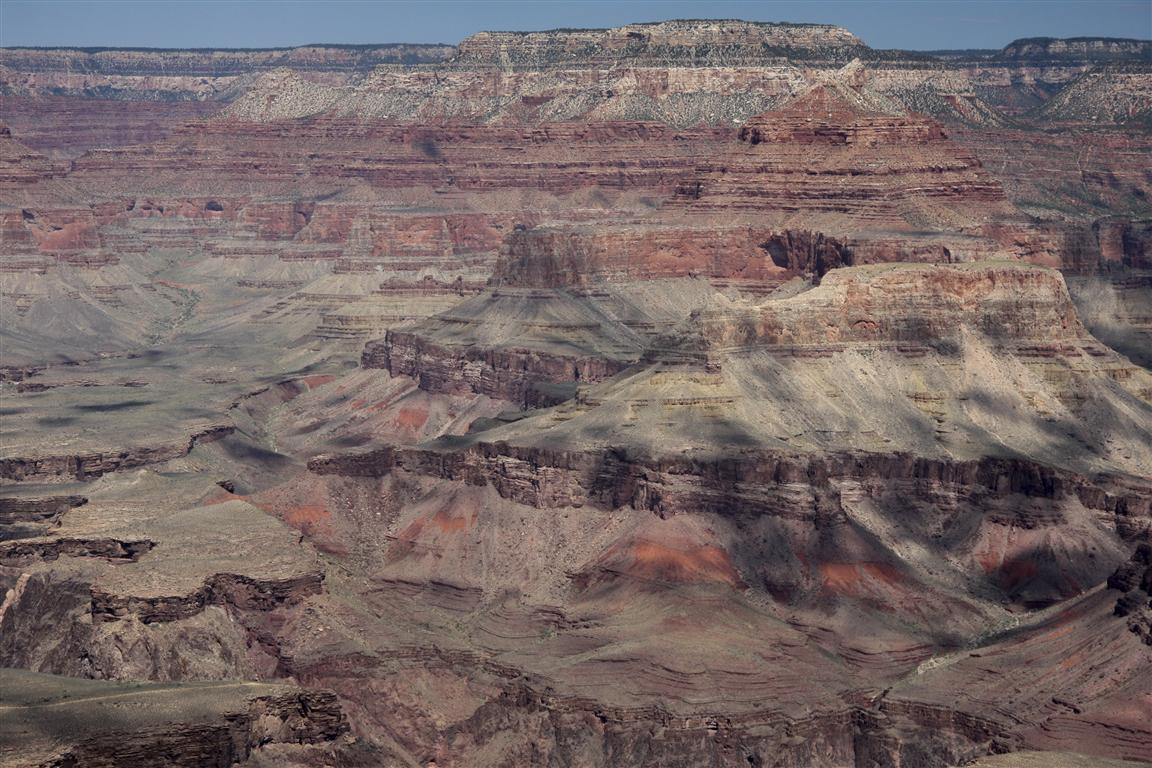 I've never seen anything quite like it.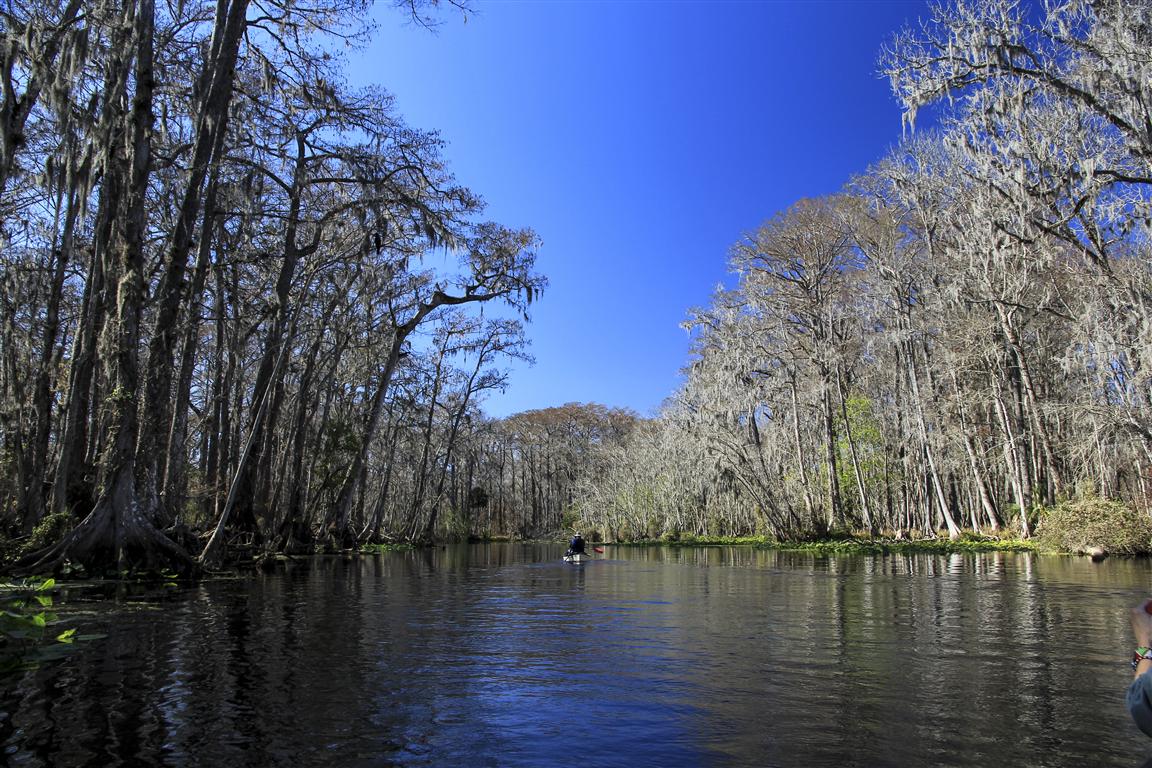 My sister lives next to Silver River in Central Florida. We rented some canoes to paddle up the crystal clear water.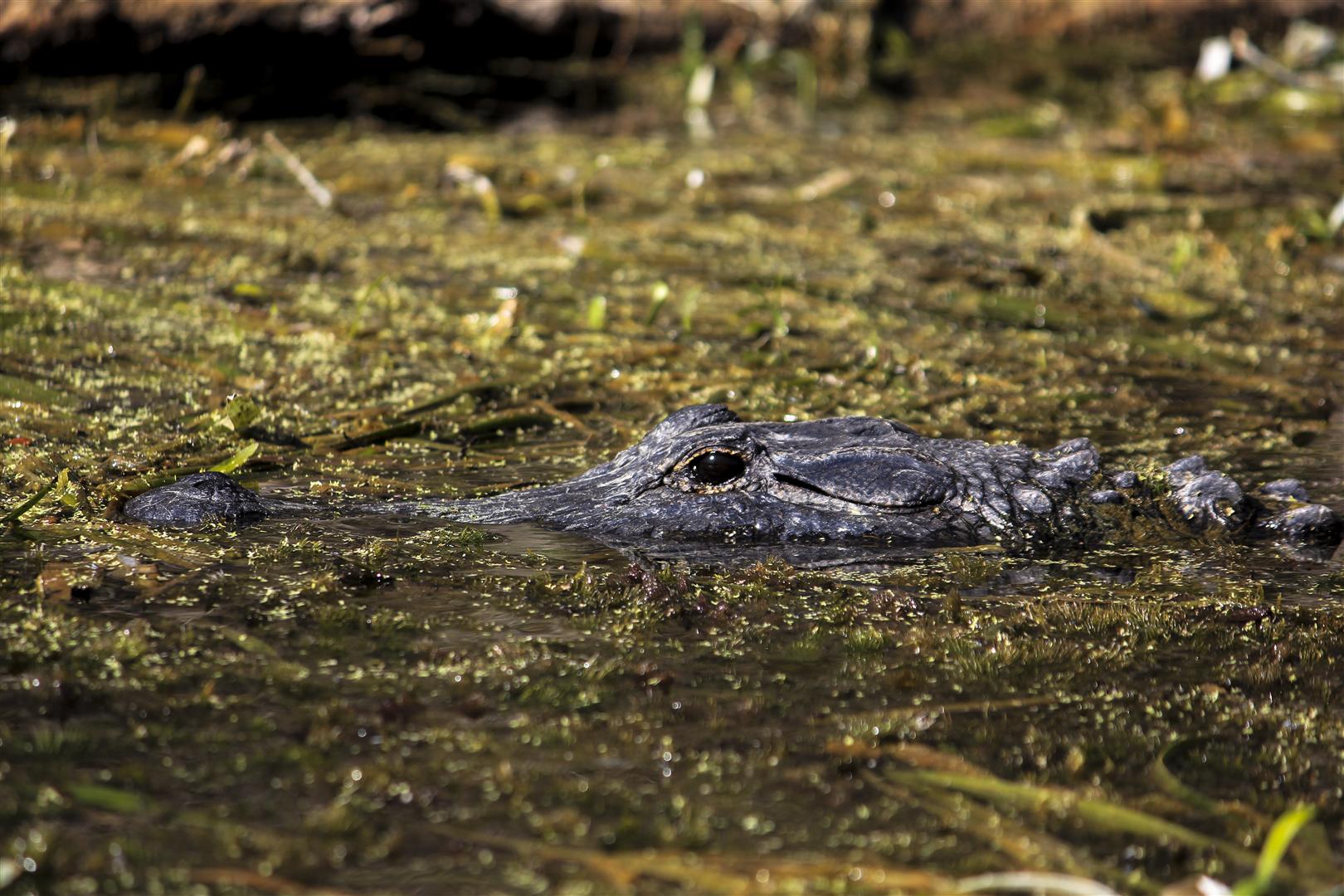 Along the way there were turtles sunning themselves and herons. There were signs that swimming was not allowed which I decided to abide by.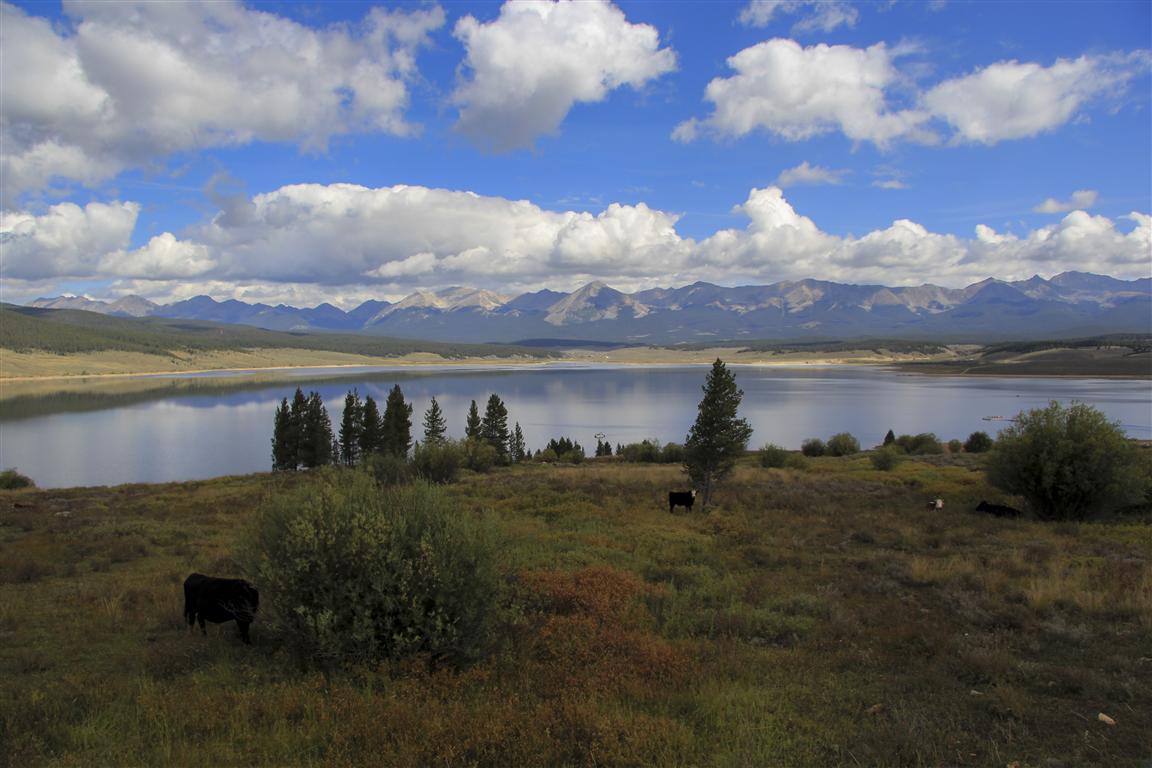 Jeremy and Havilah had their wedding in Crested Butte, Colorado. The 4 hour drive from Denver winds through Cottonwood Pass.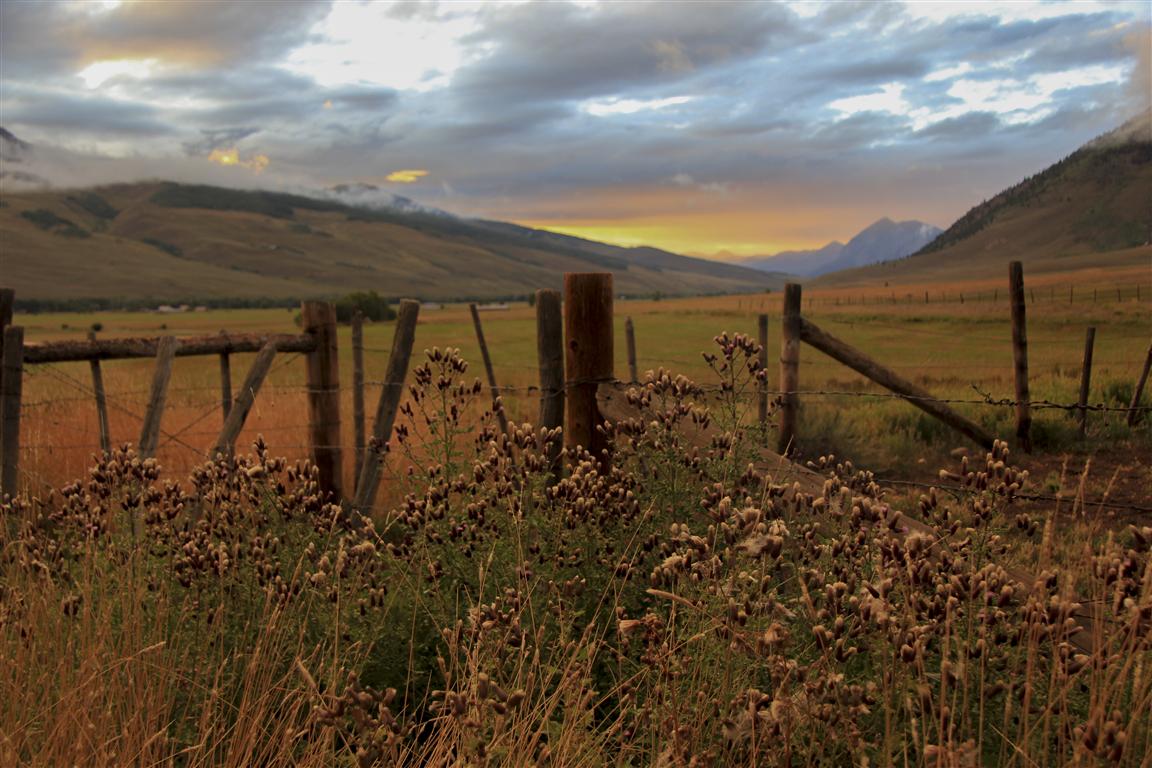 There is a short cut into Crested Butte on Jack's Cabin Road. It was late afternoon. The sunset light turned this mountain field into a perfect landscape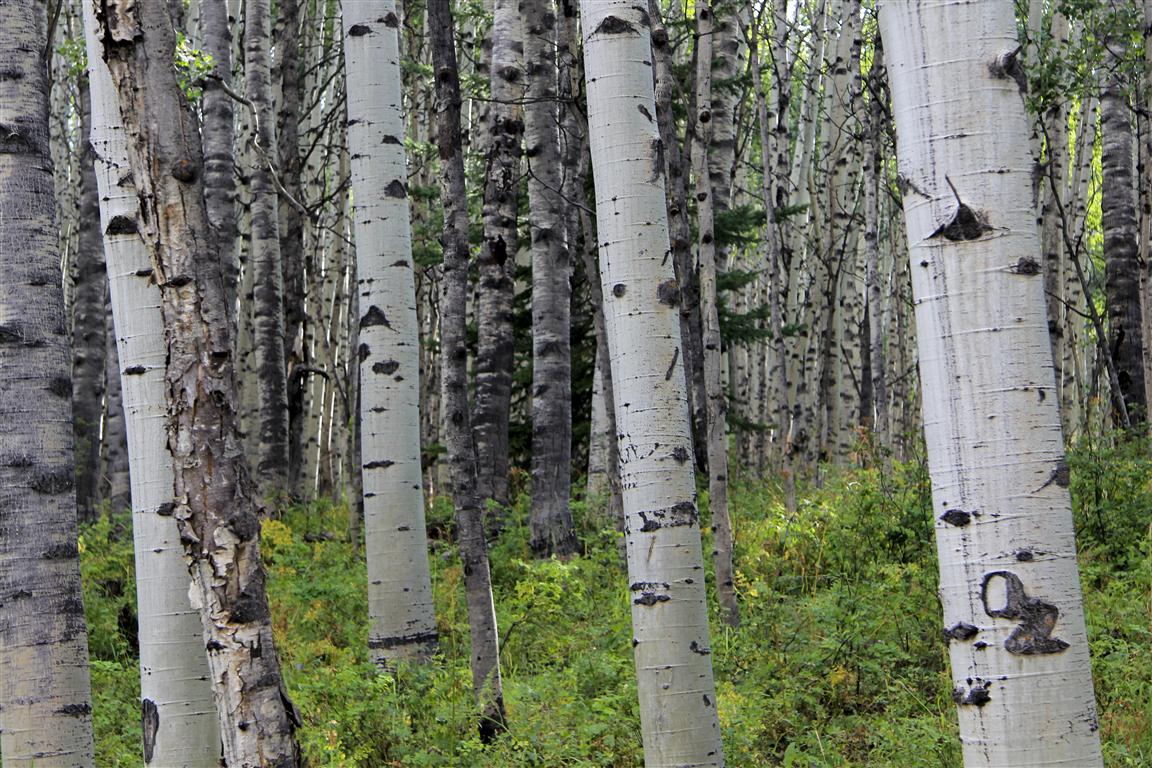 Above Crested Butte is Kepler Pass. You drive through groves of dense Aspen forests.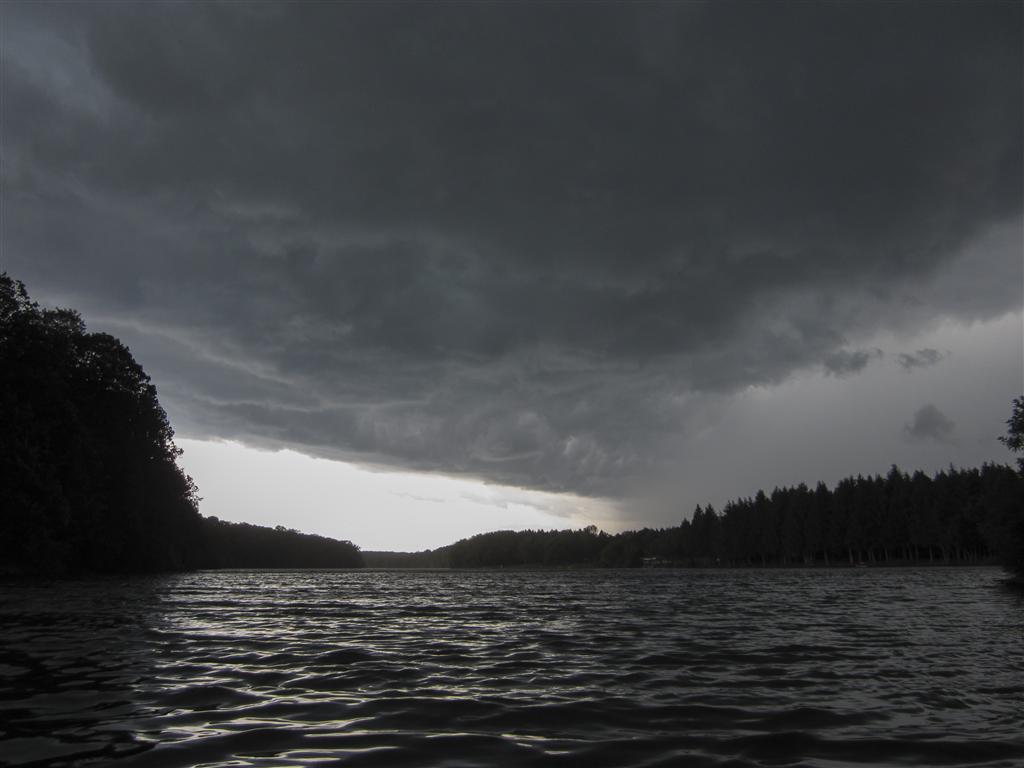 During the summer we like to kayak on near-by Noxamixon Lake. We had to shorten our trip when these storm clouds rolled in.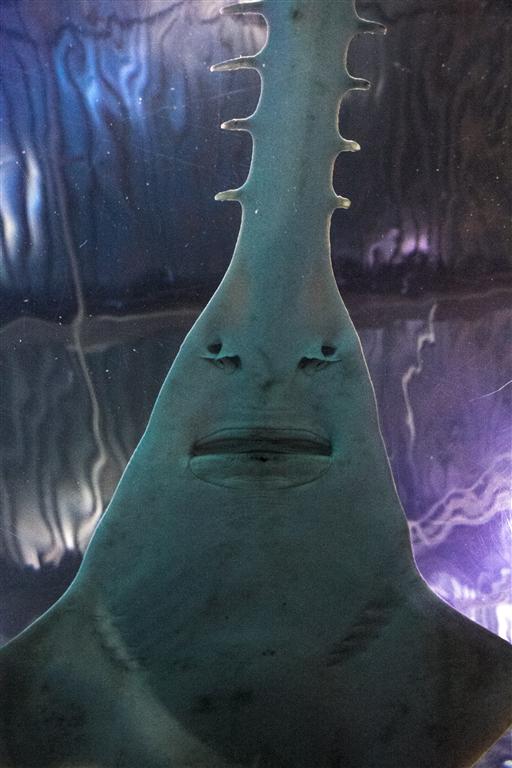 We took the day to visit the aquarium in Camaden NJ. You can walk through a glass tunnel and see the underside of this green saw tooth shark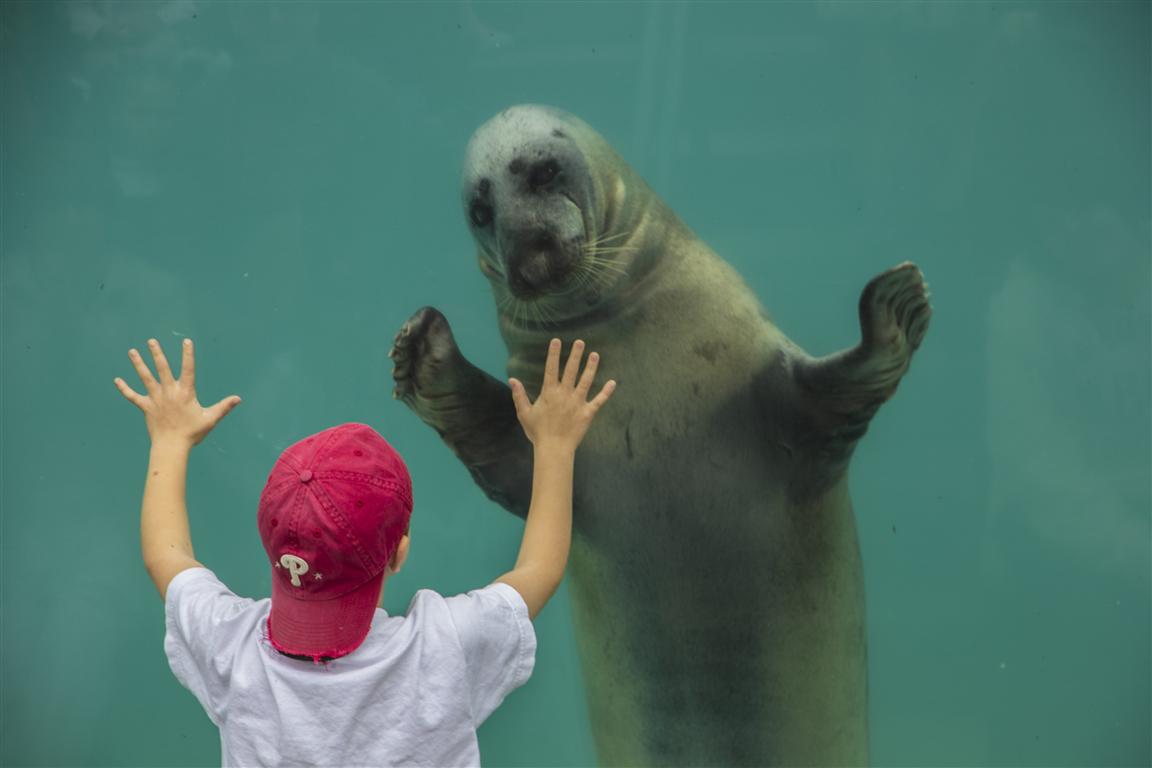 Outside they had a Grey Seal show One of the kids ran up to the window and made eye to eye contact with this seal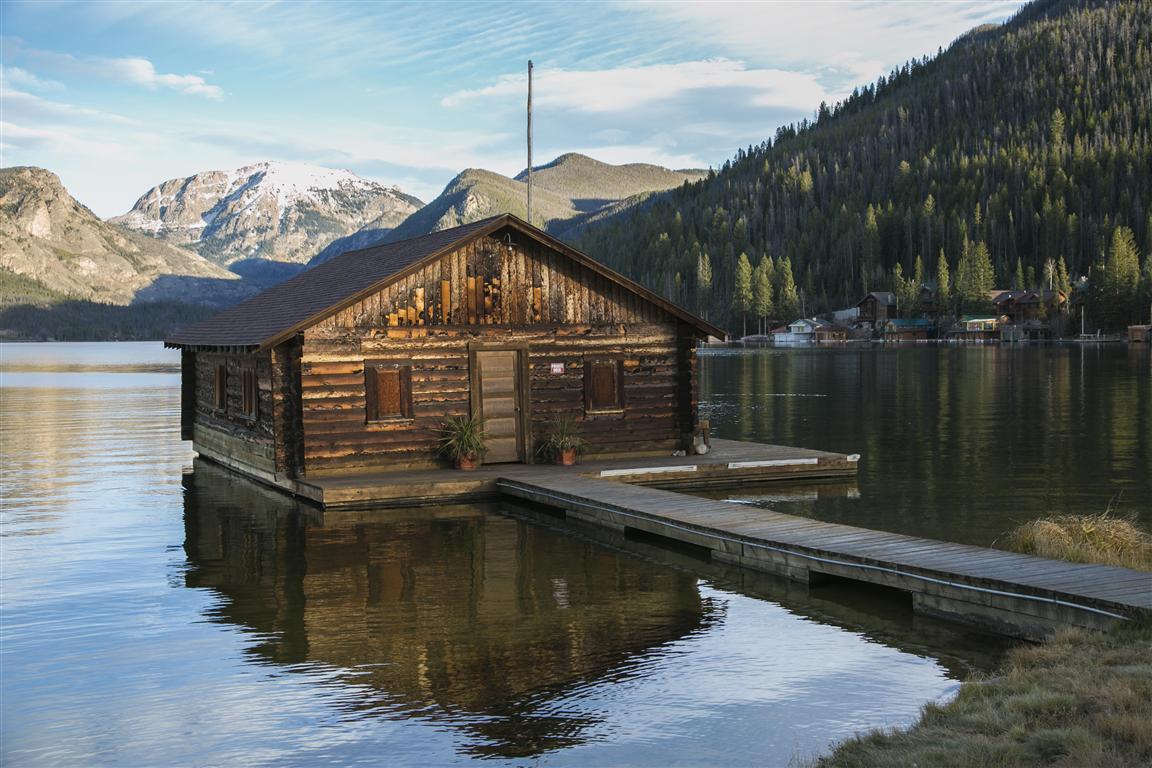 We were visiting my son in Colorado and spent two days at Grand Lake on the edge of Rocky Mountain National Park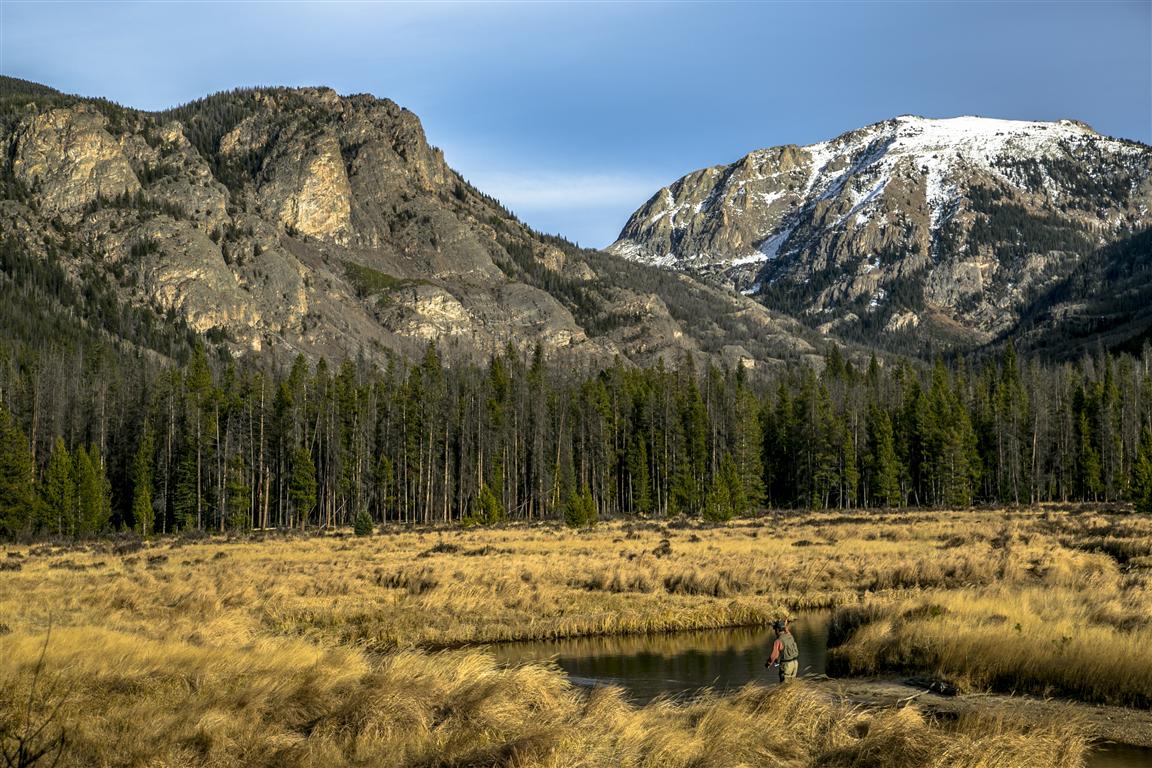 Adams Falls hiking trail above Grand Lake passes by a beautiful meadow as it winds up into the mountain.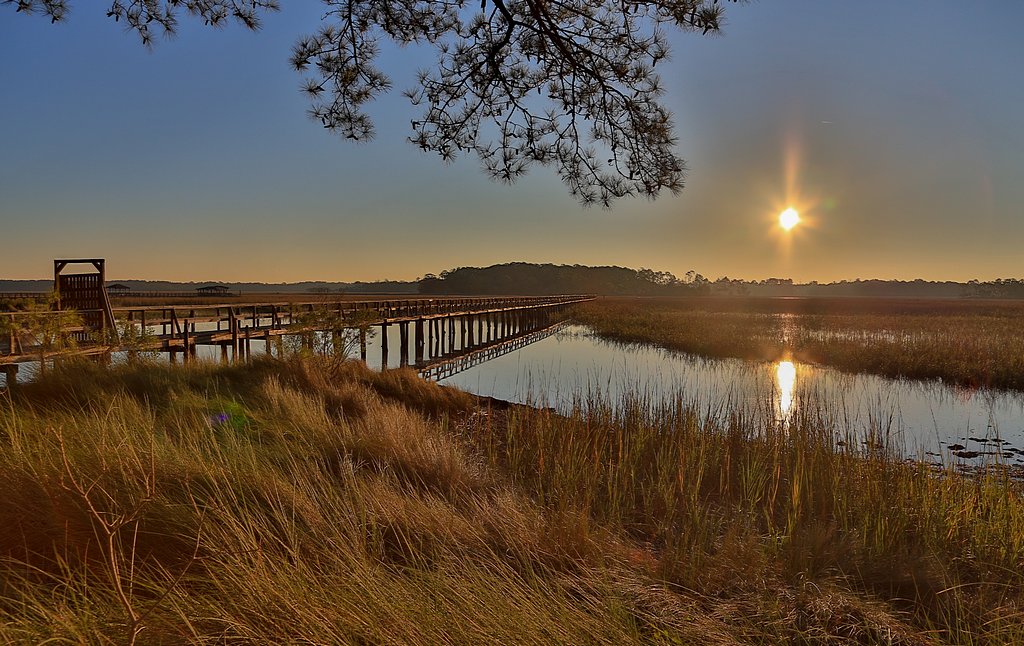 My Nephew, Andrew Brodhead is an awesome photographer. He taught me lots of new tricks. This is an HDR photo shoot of a sunrise looking out on the Marsh near his home in Savannah Georgia. Andrew's Flicker photos are worth checking out.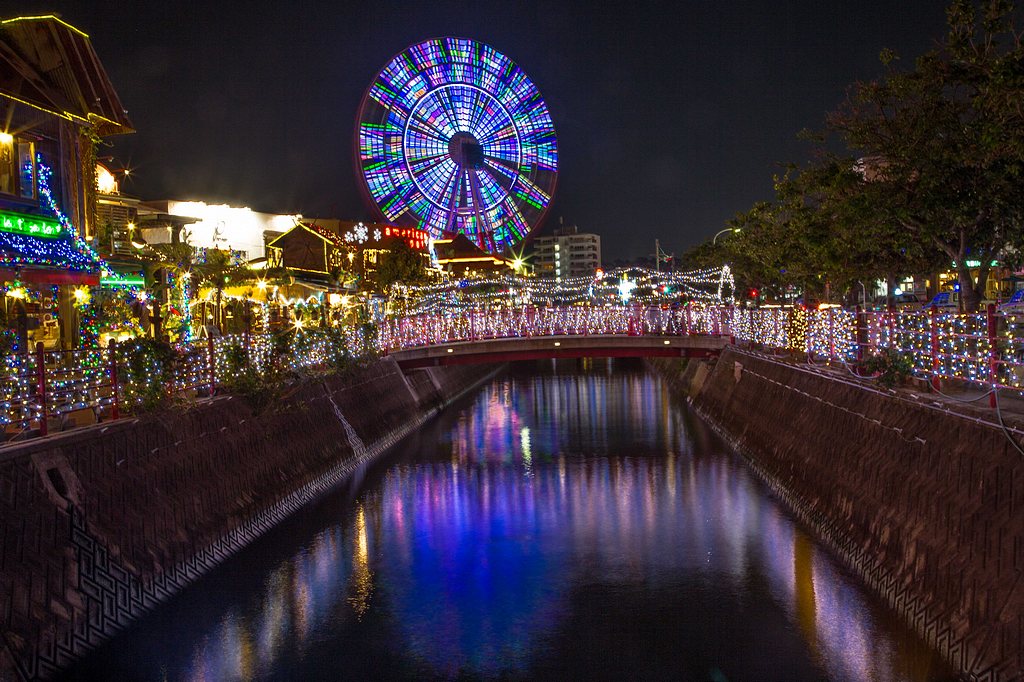 Down from our Hotel in Okinawa is a tourist area called the American Village. They have a Ferris Wheel with great colors when you take a long exposure.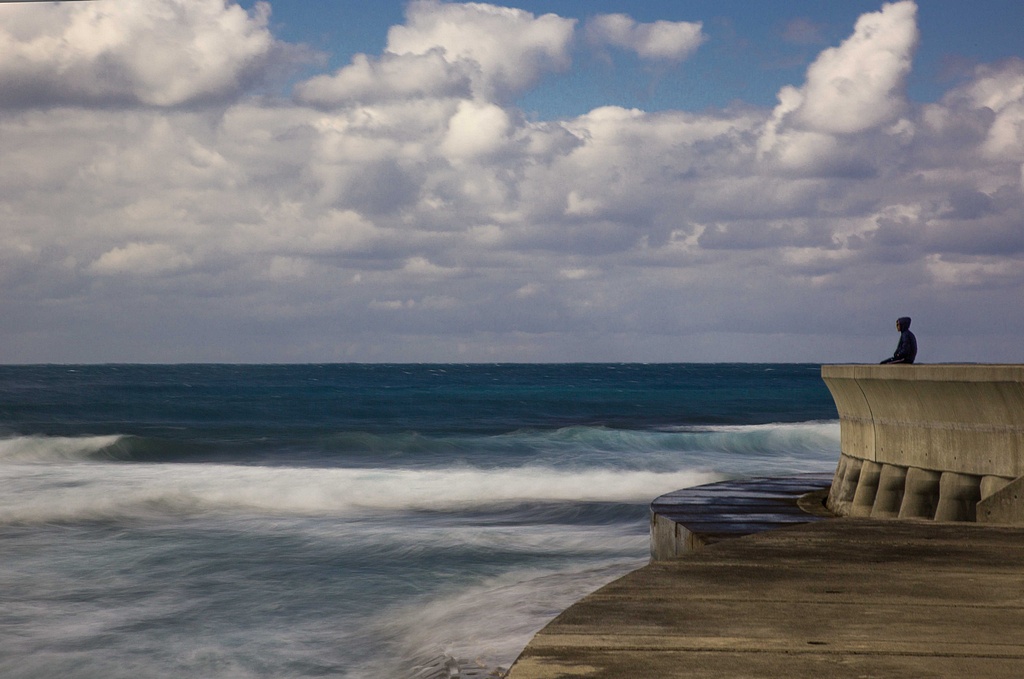 In the other direction from our hotel is the Sunabee Seawall. A lone person sits on the wall, enjoying the movement of the waves.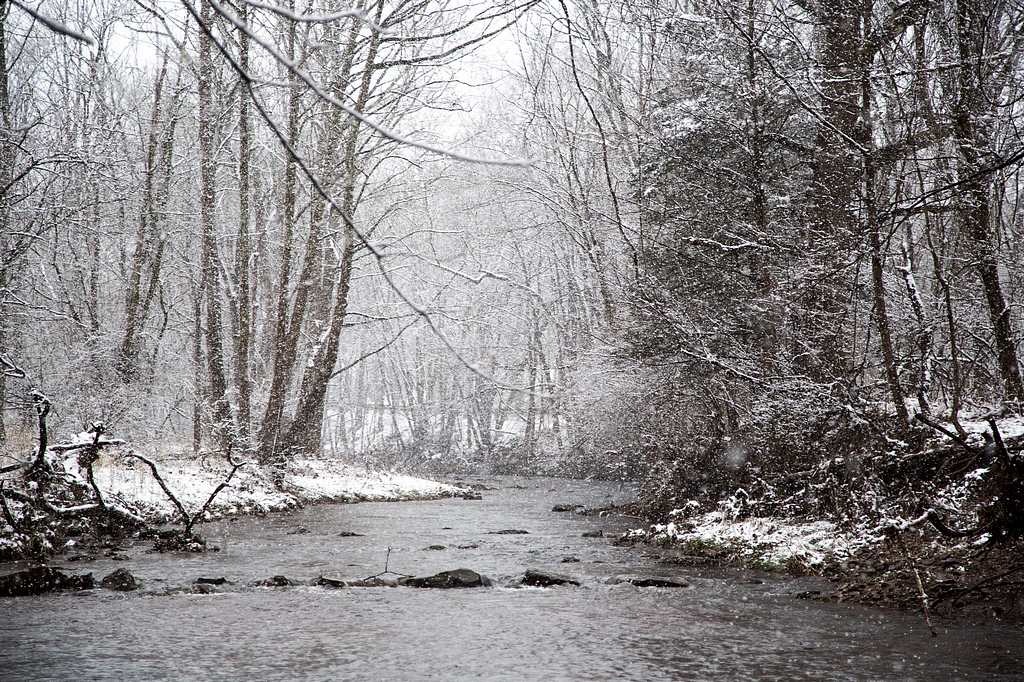 Behind my house is Cooks Creek. It flows all year. There was a light snow falling on Saturday and I managed to get this picture without getting wet.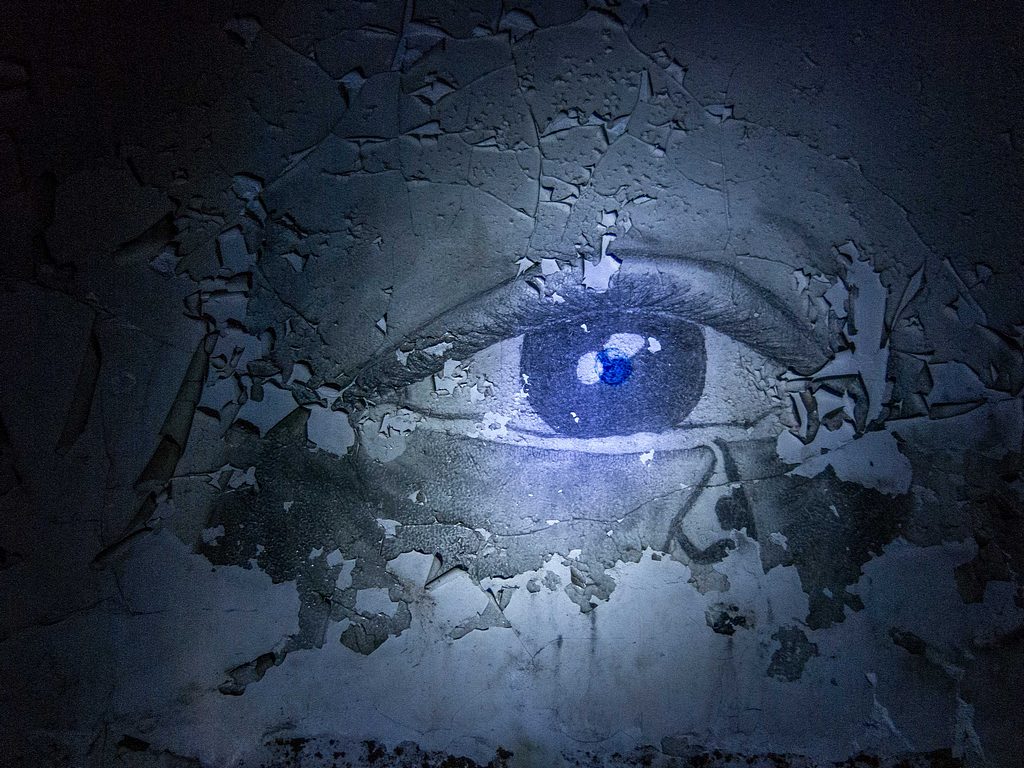 We were at a fund raiser in Philadelphia at the Eastern State Penitentiary and Sherry spotted this drawing on the wall of a prisoner's cell that I caught using a pen flashlight
We visited the Philadelphia Zoo and had a wonderful time especially watching the antics of all the different species of monkeys. This White Colobus monkey struck a royal pose.
There was a male Peacock at the zoo determined to impress a female. I can't say if she was impressed but I was.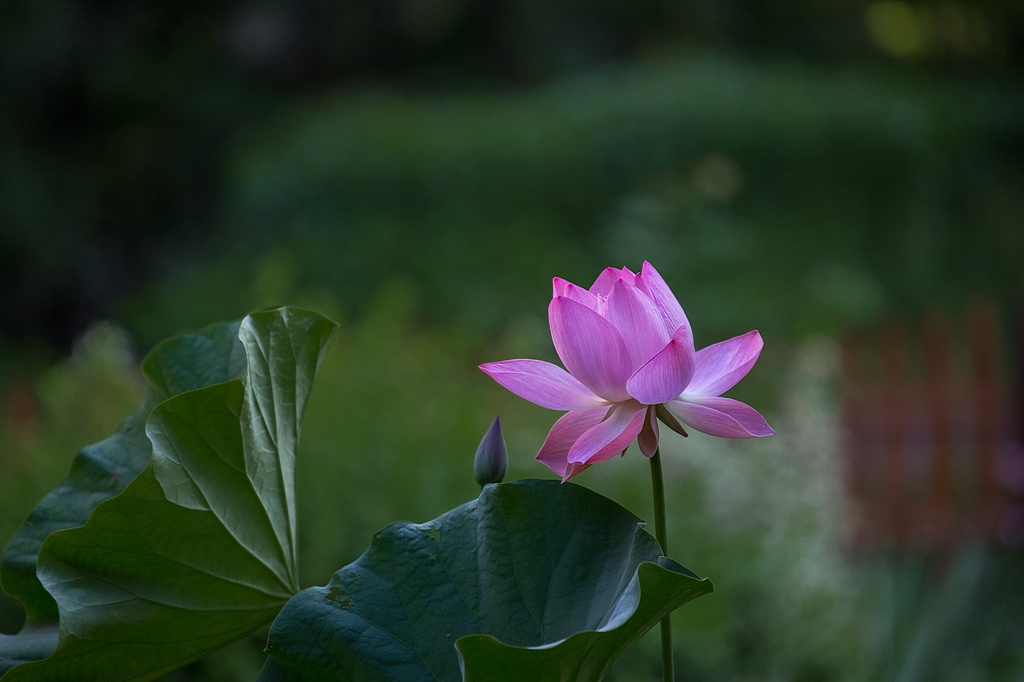 Every year I wait impatiently for the Lotus Buds to rise up out of my pond. When the bud reaches a height of almost six feet the outer greenish leaves open to reveal the beauty of the Lotus Flower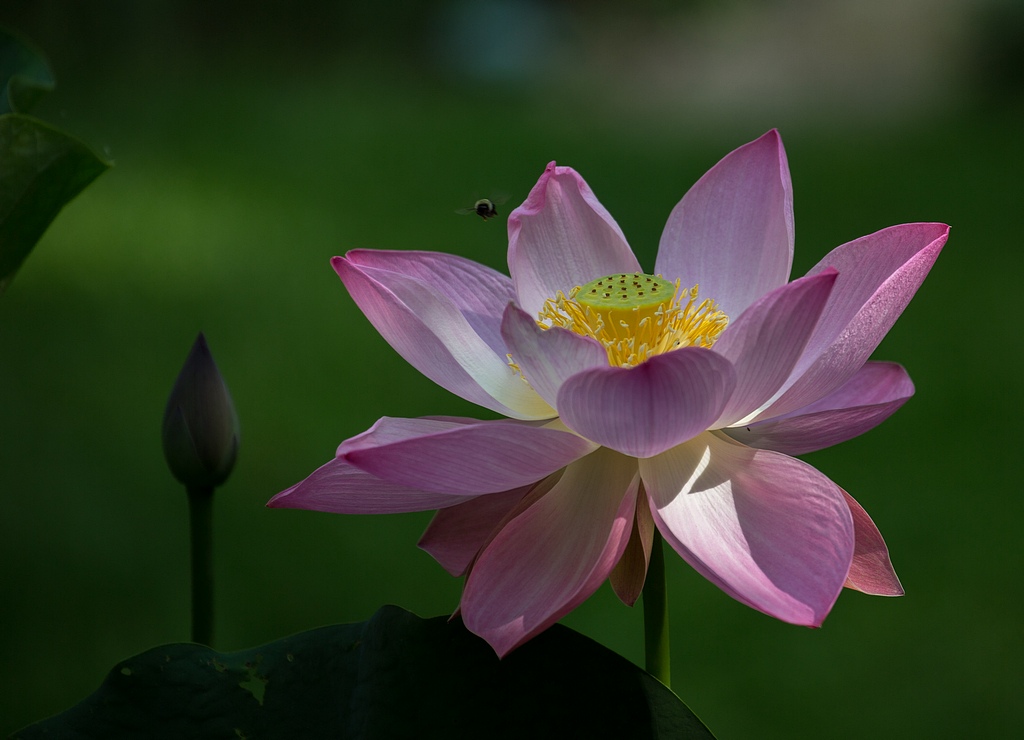 Inside the flower is a green upside down cone shaped "Carpellary Receptacle". The black bumps are the female stigma pistils that house an ovule. Around her are the male yellow stamens that split open and release pollen. This bee is helping to get the pollen on to the receptive stigmas.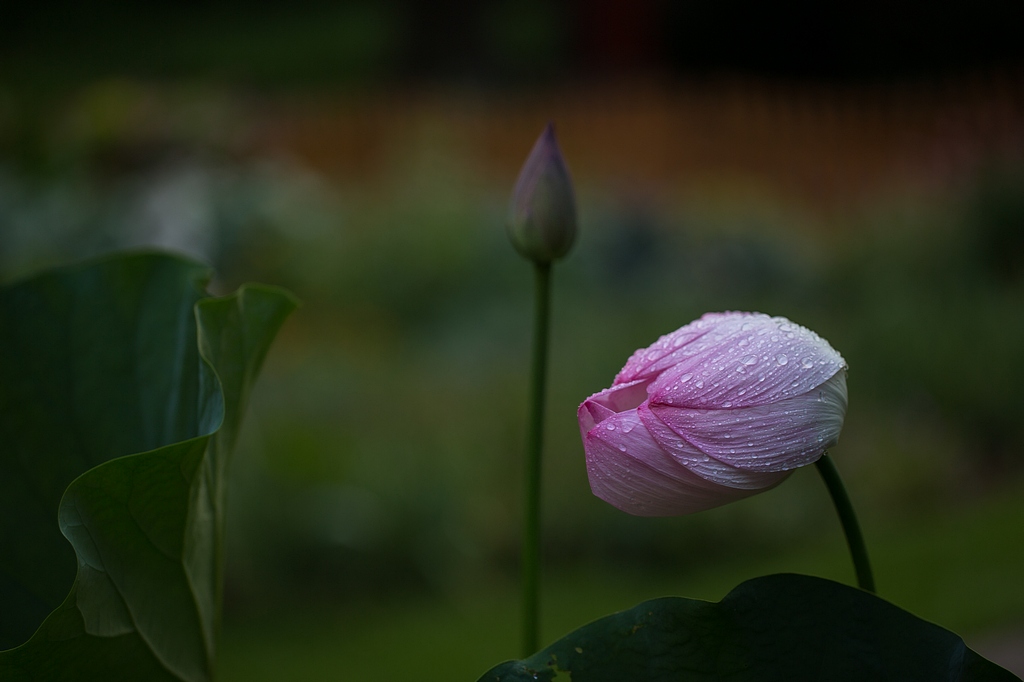 The next morning the yellow stamens are all fallen and the petals begin to fall.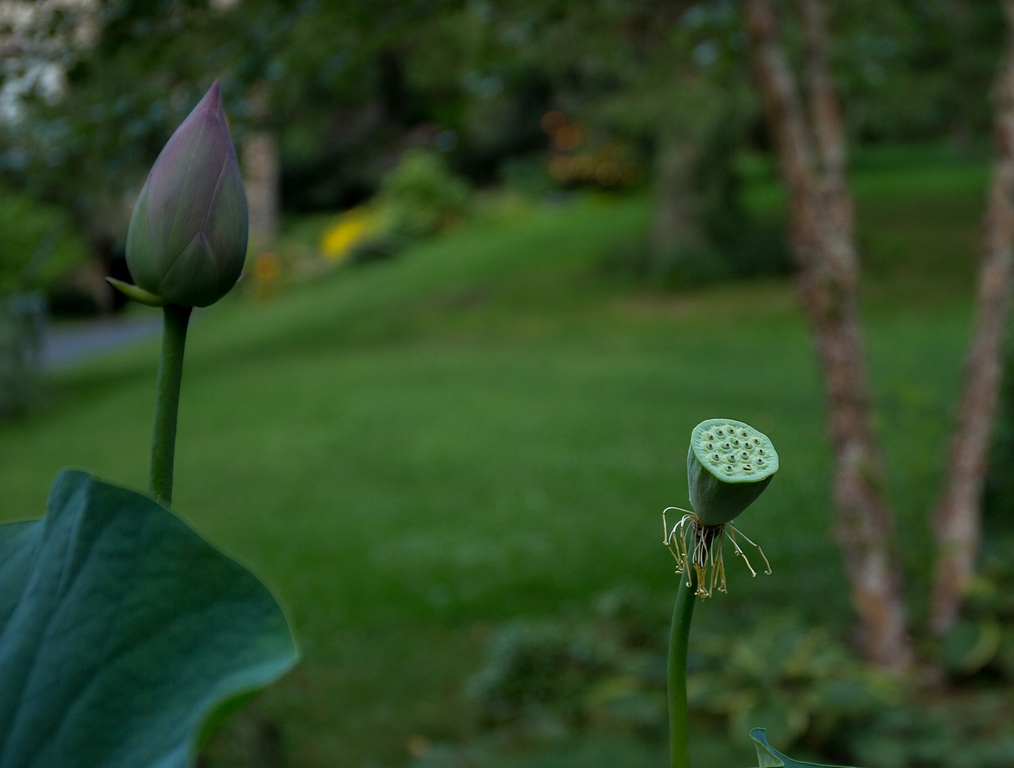 By the fourth day the petals are all gone. Then as the summer progresses the carpellary receptacle will begin to swell as each fertilized ovule in the base of each pistil develops into a seed.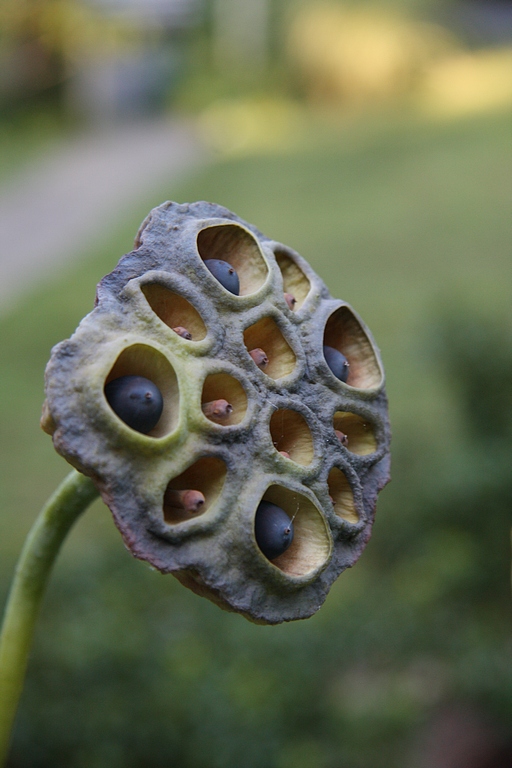 The seeds will fall and the ones that were fertilized could become a new Lotus Plant.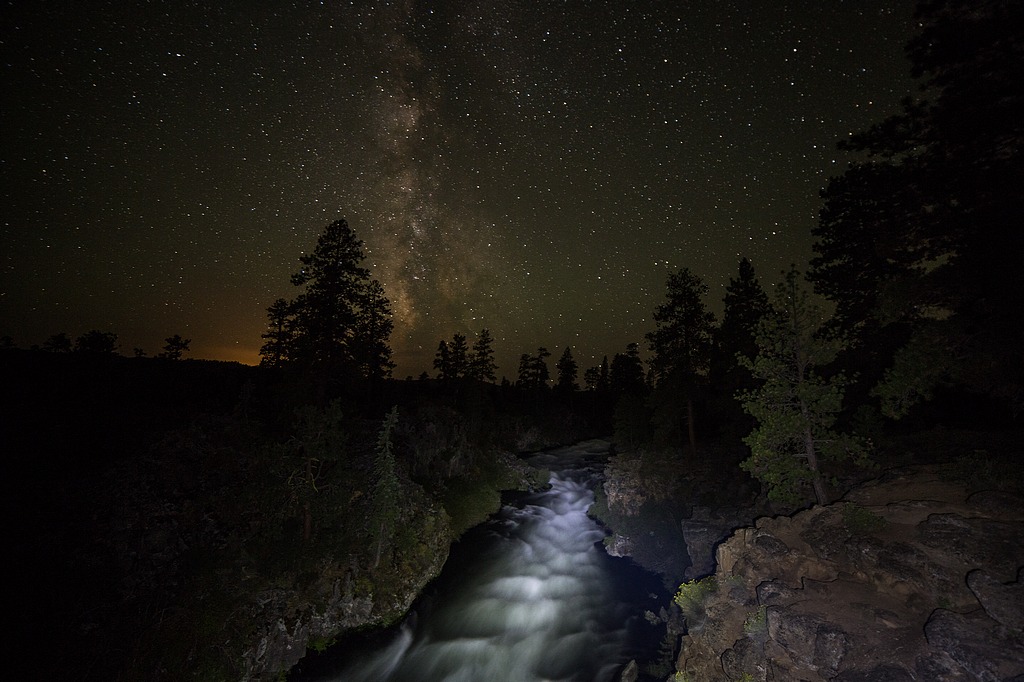 We had a fabulous trip visiting the coast of Oregon and Bend. This is the trail along the Deschutes River that I lit up with a flashlight and a long exposure.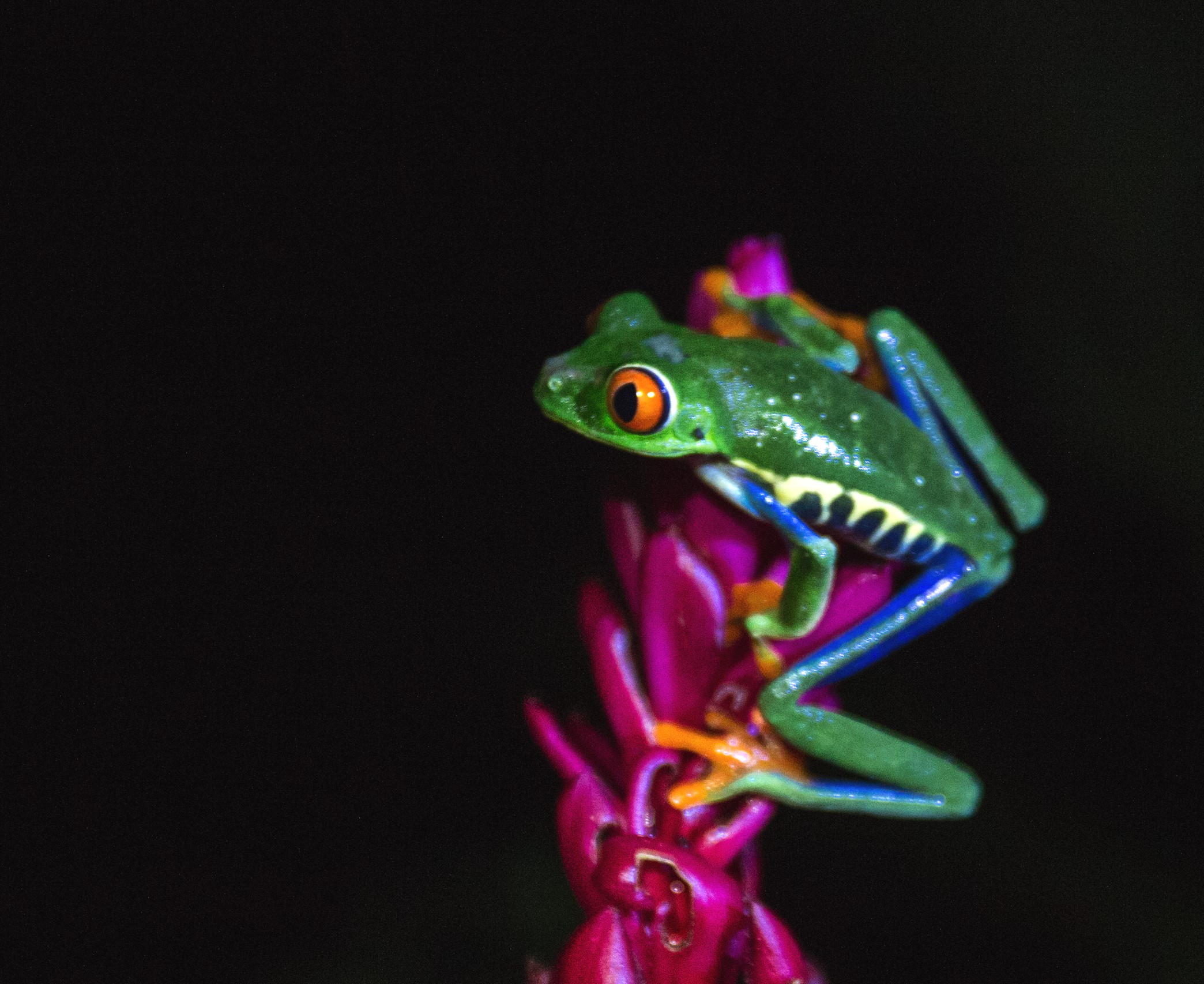 My son and new daughter in law were married in Costa Rica. We took a side trip to La Fortuna and found an excellent guide who found this red-eyed tree frog at his preserve on a night tour.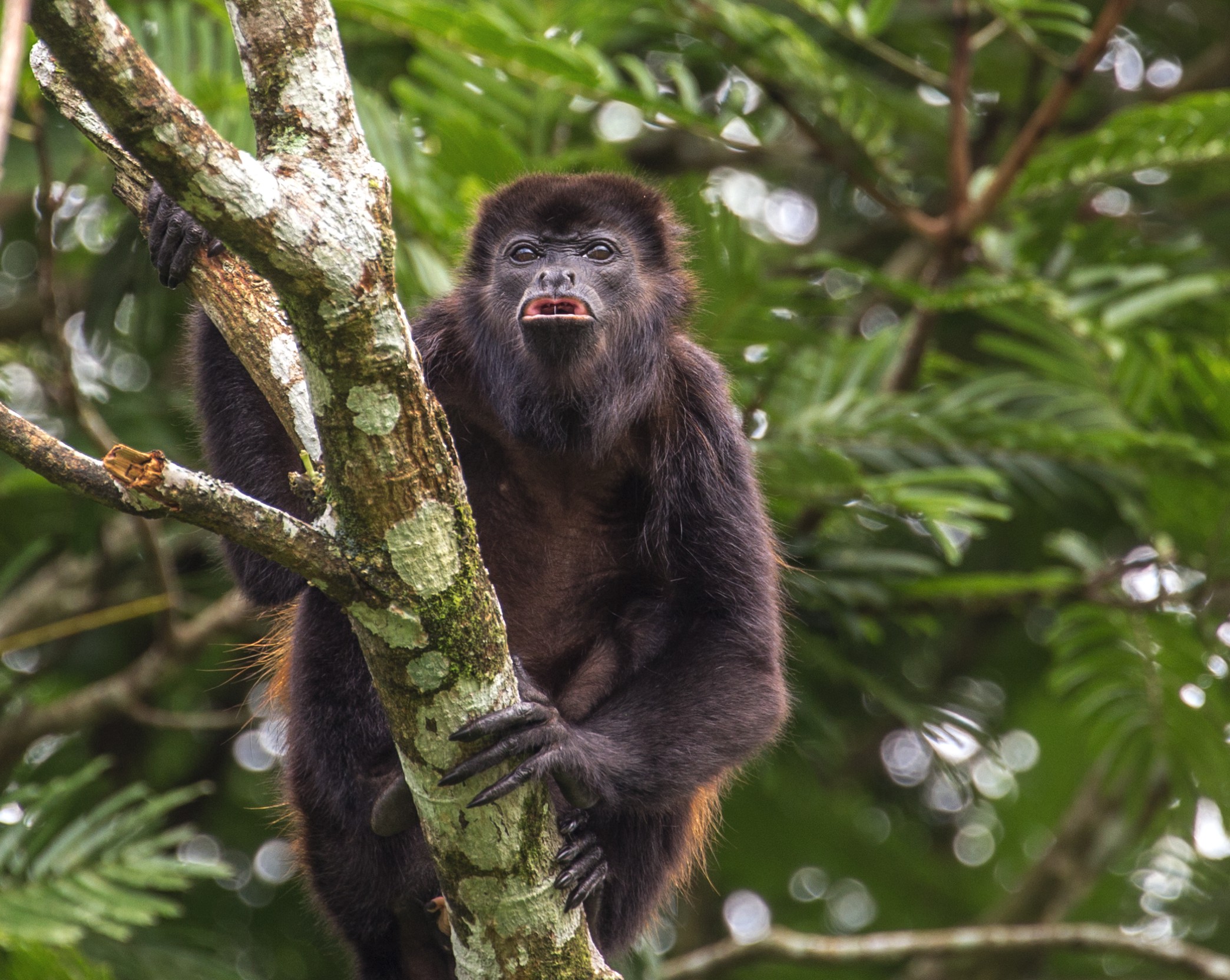 Earlier the same day we lucked out and spotted a group of Howler Monkeys. Our guide could give a perfect howler call and this one responded back.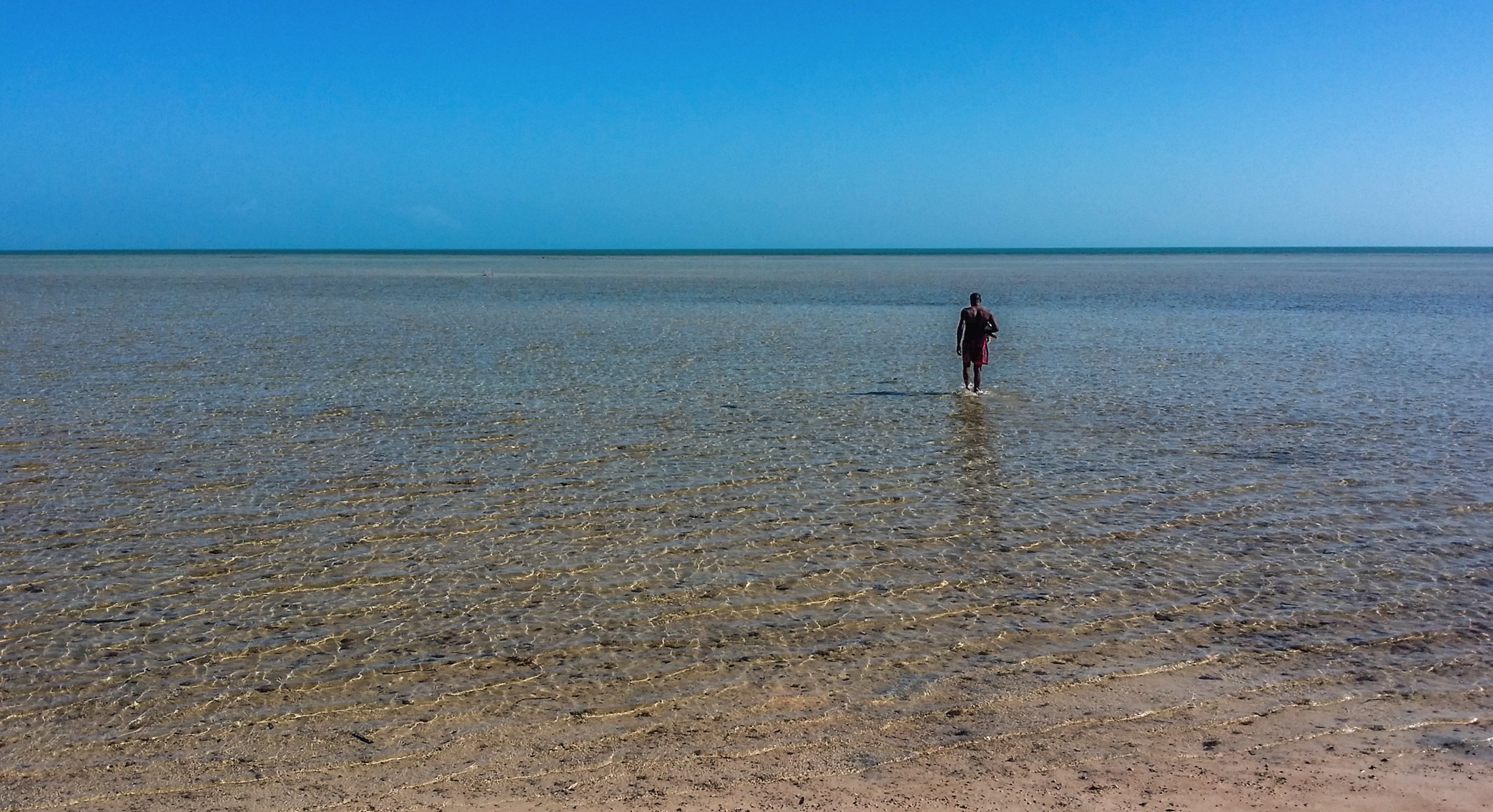 We needed a break from our PA Winter so we caught a flight to Nassau Bahamas. We spent a few days exploring the quiet western side of the island This was South Beach at low tide.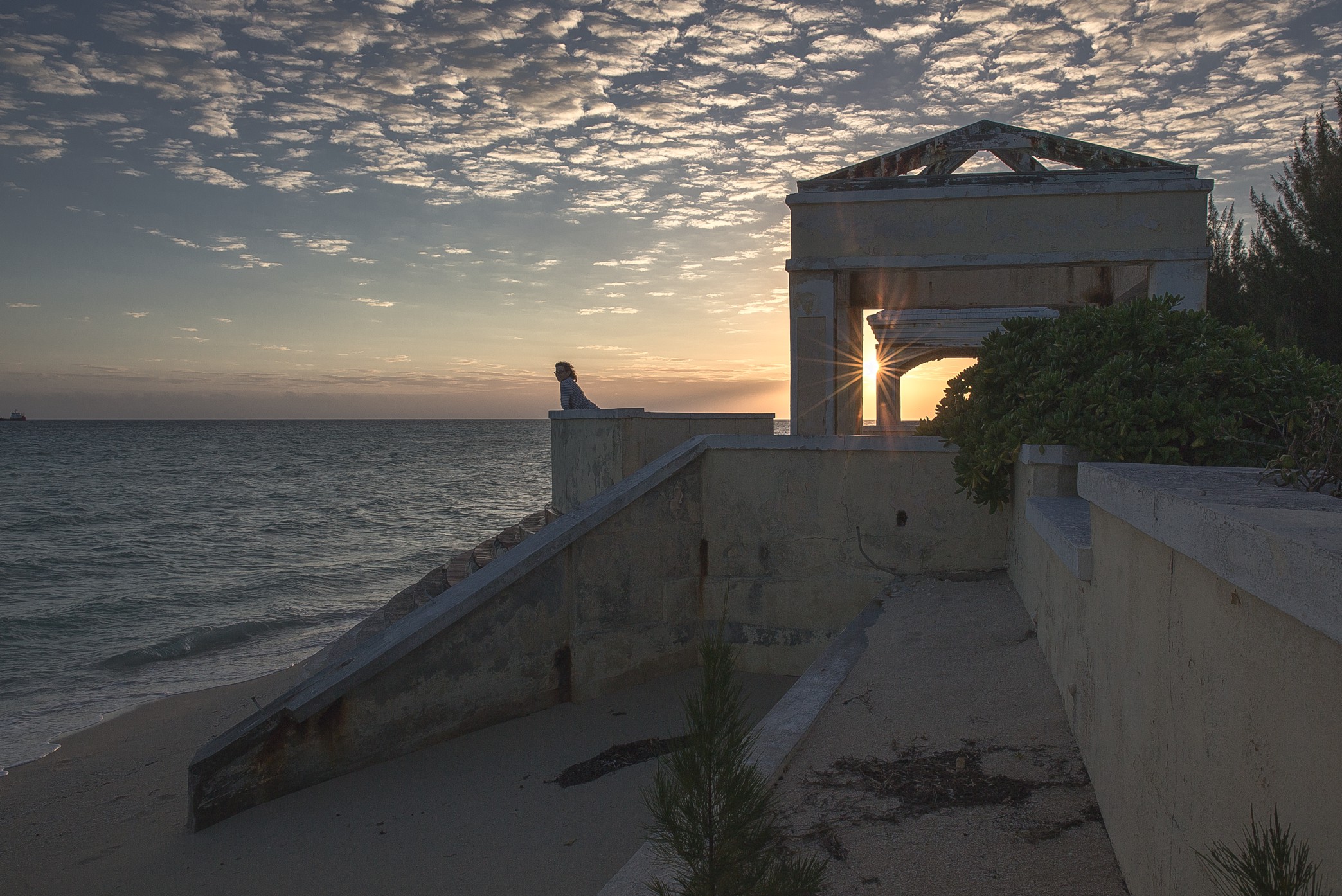 Not far away is an abandon bankrupt resort that we explored at Sunset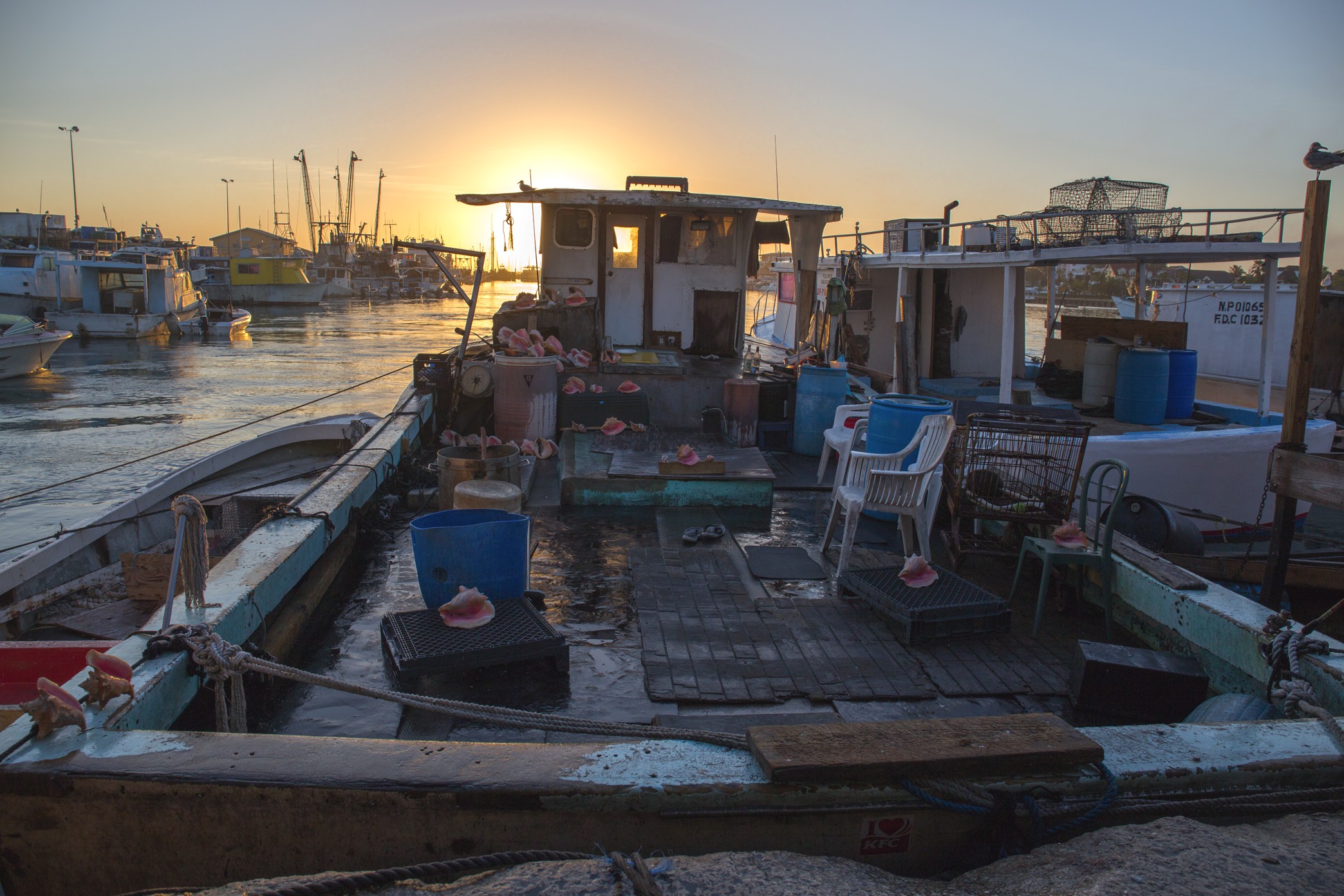 At sunrise I walked around Porter Cay to check out the fishing boats. Conch Shells our still harvested by divers in huge quantities.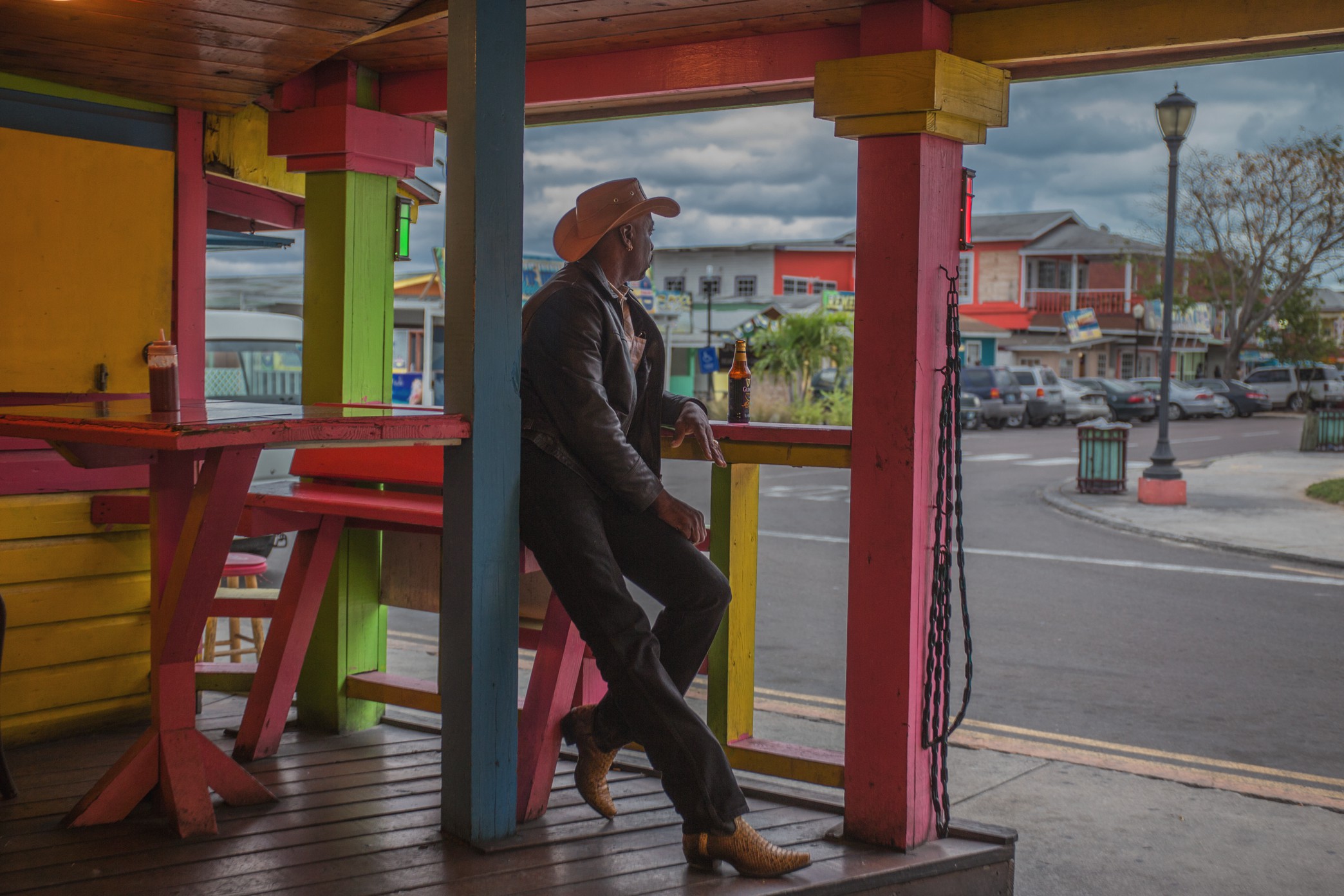 I had to have a conch diner at Fish Fry in Arawak Cay. This cowboy was enjoying a beer and watching the crowds at Goldie's.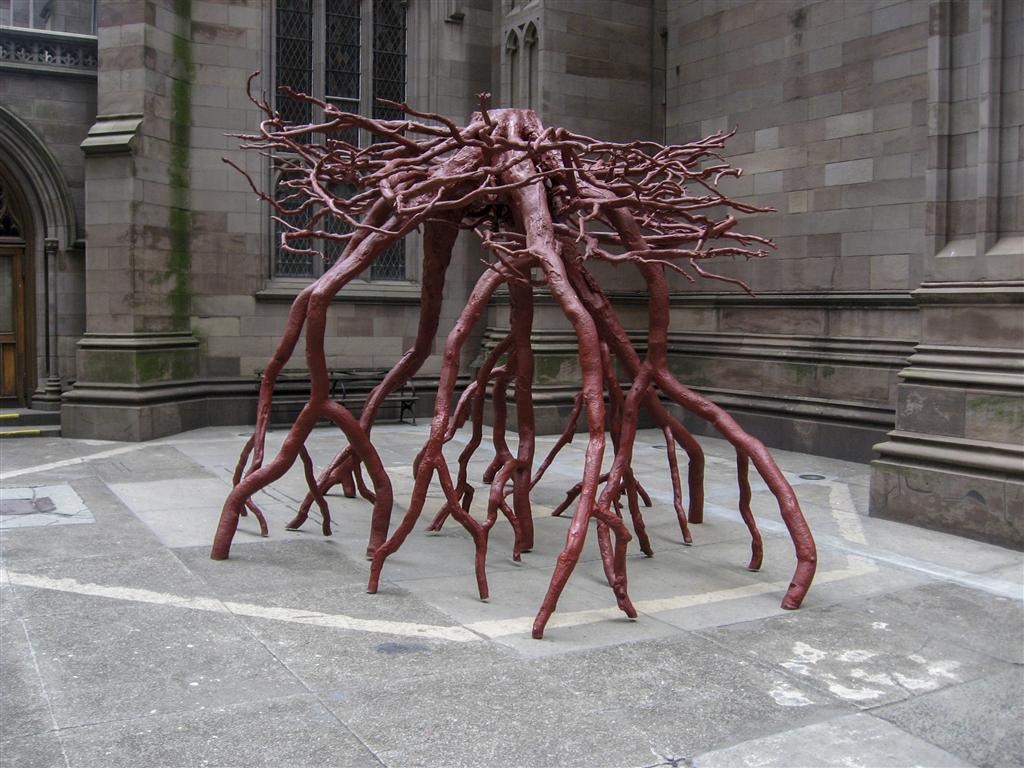 On September 11, 2001 the collapsing World Trade Center knocked over a century old sycamore tree in St. Paul's Chapel courtyard. The roots of this tree were painstakingly preserved in bronze by Steve Tobin, a world famous sculptor who lives near us in Quakertown, PA, as a reminder that, our strength and connectedness comes from what we don't see.