Photos of the WPB staff
WPB Home page Lots of Customer Comments
Bill Brodhead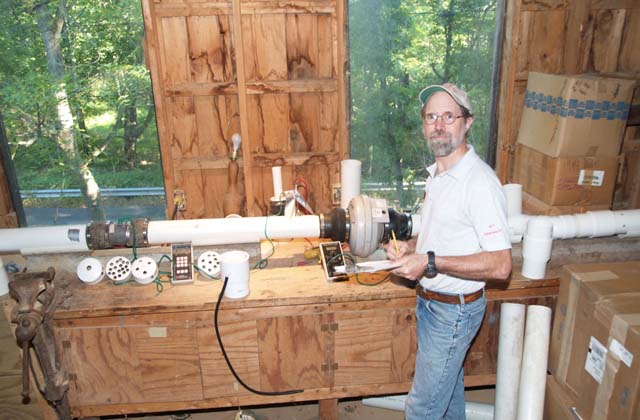 Bill checking the performance of a new radon fan.
When he's not working (which is most of the time) he enjoys
digital photography, kayaking, sailing, scuba diving and traveling.

PA DEP Cert # 0736 - Check out Bill's travel photos
If you are a sailor you can download Sailing Terms & Concepts
or download a list of LV restaurants that have vegetarian dishes
or learn about Bill's prostate surgery

Chris Owens


When you call the Office you are most likely going to get Chris. She's very efficient unless you ask her about 4-wheel drive racing with her husband and son (almost every weekend).

Mark Dilts

Mark is WPB's foreman and job installation expert.
Nobody does nicer work (unless you distract him by talking about fishing).
- PA DEP Cert # 2159
Check out job customer comments about Mark


Brian is second in command
behind Mark.

Brian worked in a cabinet shop before he started working for us,
so you know he likes his work
to be precise.

Sherry Brodhead


If you have a book-keeping question you will need to speak to Sherry. If she's not in the office then she's working on the multiple flower gardens around our property or helping organize an event for the Cooks Creek Watershed Assoc.
| | |
| --- | --- |
| Peter Brodhead | Jeremy Brodhead |
You might have Peter (left photo) or Jeremy (right photo) at the job site. Peter is a graduate of University of the Arts in Philadelphia and Jeremy graduated from Penn State with a molecular biology/bio-chemistry degree, spent a year in Singapore and is now getting a nursing BSN degree. The boys love rock climbing, mountain biking and making videos. Check out Peter's video productions or his recent trip to Nepal & India or Jeremy's Travel photos


By the way - Here is how we keep Deer Out of our property & garden.