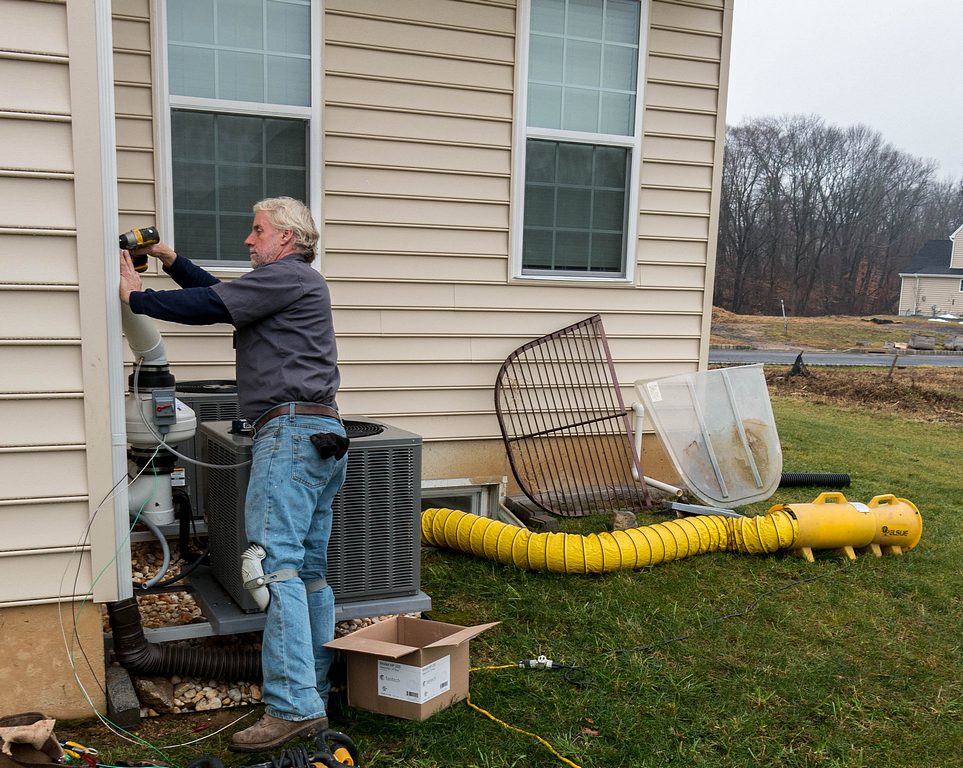 WPB foreman Mark Dilts installing radon exhaust fan for house that measured 3700 pCi/l. WPB uses the yellow basement ventilation fan during system installations for houses that have extremely high radon. levels. The radon system WPB installed at this house reduced the levels to less than 3.0 pCi/l.
Pennsylvania has more homes
with extremely high radon than any other state
and some of the highest Radon levels in the world.
In 1982 Bill Brodhead began radon testing the solar and super insulated homes he built under the trade name of Buffalo Homes. In 1983 Bill installed the first sub-slab depressurization system in Pennsylvania in one of his homes that had elevated radon levels. Then in December of 1984 a record high level of 2600 pCi/l of radon was measured in the basement of a Boyertown, PA home (Watrus house). This was the highest indoor radon level at the time ever recorded in the world.
After the radon level at the Watrus home was discovered and remediated, Bill was asked to work on several homes in the area. Bill has been installing radon systems since then with his company, WPB Enterprises, Inc., along with teaching radon classes, publishing papers and working on radon research projects. WPB predominately works around the Lehigh Valley Area of Pennsylvania (Allentown, Bethlehem, and Easton) however we provide working crews for Navy projects in the Pacific and consulting on system design all over the country for radon and other soil containments.
Over the years WPB has worked on several homes that have had radon levels above 1000 pCi/l. This has included a home in Annadale NJ in 1988 that measured around 3500 pCi/l which to our knowledge was the highest recorded indoor radon level in the USA. Since that time WPB mitigated a home in Reading, PA in 1995 that was 1866 pCi/L, a home in Zionsville, PA in 1994 that was 1252 pCi/l and a new home in Easton, PA in 2004 that was 1400 pCi/l.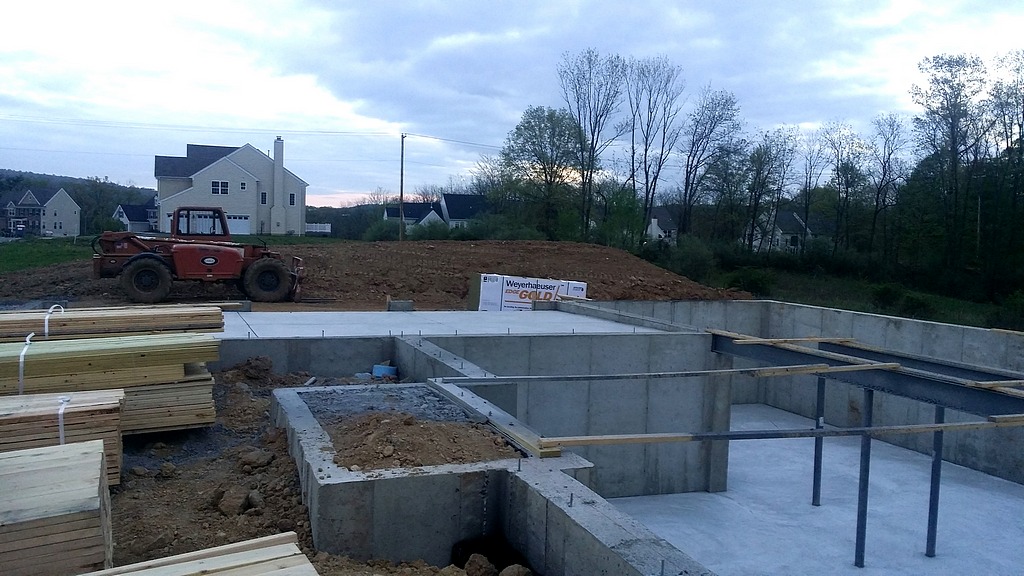 Radon can be trapped under any concrete slab and find pathways into the house. Here is a picture of a new foundation showing the dirt in the front entrance foundation.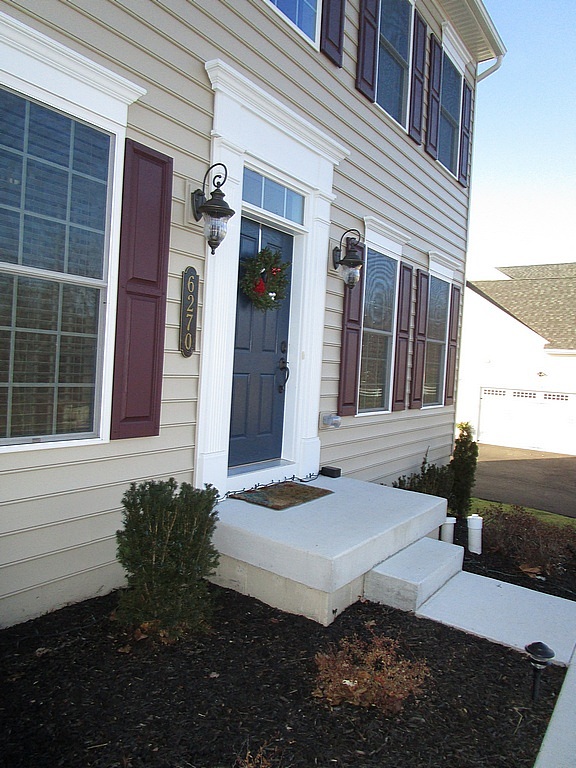 Even though this front entrance slab is outside the house, it can be a source of radon in the basement
In September of 2014 WPB installed a system for a home in Upper Saucon Township, Center Valley, PA that was 1400 pCi/l. Within a few weeks we worked on several neighboring homes that had levels of 1295 pCi/l, 1200 pCi/l, 1024 pCi/l and 1950 pCi/l. This followed up with other neighbor's home having levels of 1800, 2500 and 2748 pCi/l. One home had a level that was 3,715 pCi/l. This home was the highest indoor radon level ever measured in Pennsylvania. We were able to reduce the radon levels in this home to less than 3.0 pCi/l. In 2016 a home in the development measured around 2200 pCi/l with the passive system installed by the builder and over 6000 pCi/l when the passive system was capped. The level when the passive system was capped is likely the highest residential radon level ever recorded. We are continuing to work on reducing the radon to acceptable levels in all the homes we are contracted to work on. Buildings with these kinds of levels require special attention to all possible radon sources and often take system enhancements to achieve acceptable results.
Lehigh Valley Live / Easton Express Times Newspaper Article Dec-2014
Morning Call Newspaper Article Nov-2014
Morning Call Newspaper Article Nov-2016
The most important lesson learned from this experience is that all home owners should perform a radon test in the lowest livable level of the home. Radon levels do fluctuate so any result can change but the initial test you perform will give you solid information about the level of radon risk you might be exposing yourself to.
Visit our Testing Information page to learn about radon testing your own home.
To see some pictures of what a radon system looks like go to:
WPB Job Photos page or to Actual System Installation page.